ENTER THE CHARLOTTESVILLEFAMILY MOTHER'S DAY ESSAY CONTEST
Being a mother is perhaps one of the most rewarding–and sometimes challenging–jobs in the world. This year, we want to celebrate Mother's Day by hosting a Mother's Day Essay Contest!
Mother's Day Essay Contest Rules
In your essay, written in first person, please describe to us your most memorable mother moments or what you love most about being a mother. Entries can be funny or heartwarming—it's up to you!
Guidelines:
– Essays must be 500 words or less
– Please include your name, phone number, email and home address along with your essay submission
– All entries must be submitted by email only [email protected] by Friday, May 12th, at midnight.
Essay Contest Prizes
The winning essay will be published in the summer issue of CharlottesvilleFamily Life & Home Magazine.
Only the winning essay writer will receive an amazing gift basket full of local goods from the Wine & Country Shop and a certificate of recognition. A copy of the summer issue will also be mailed to the winner, courtesy of CharlottesvilleFamily.
Limit to one submission per entrant. By entering, entrants warrant that her entry is original and does not infringe the intellectual property rights of a third party, has not been previously published in any medium and permits CharlottesvilleFamily to print or post the essay either in CharlottesvilleFamily's magazine or online. By submitting, entrants grant the editors free license to edit, publish, promote or republish at any time. Judging will be completed by CharlottesvilleFamily's editorial staff and will be based on originality, creativity, appropriateness to contest guidelines and overall writing quality. The judges' decisions are final and binding. The winner will be notified by phone and/or email on or around May 14.
Prizes: The winning essay writer will receive a gift basket of local goods compliments of The Wine & Country Shop. The winner will be required to pick up the prize at 4282 Ivy Road, Charlottesville, VA 22903, upon being notified. No prizes can be mailed, emailed or reimbursed.
We look forward to reading your submissions!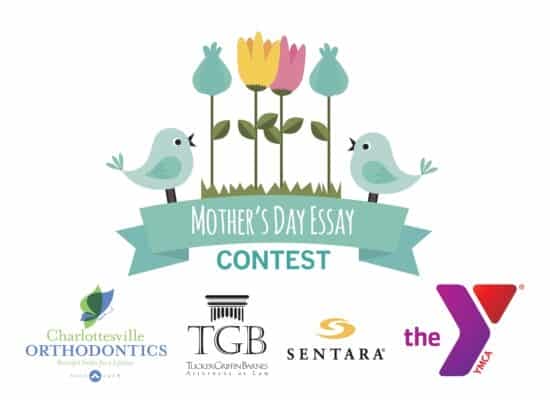 CharlottesvilleFamily.com, a collection of local resources including a popular calendar of events, family services guides and features on education, health and family day trips for parents and teachers in Charlottesville, as well as the CharlottesvilleWelcomeBook.com a guide to resources for Charlottesville tourists and newcomers. Ivy Life & Style Media also creates other projects including Wine & Country which celebrates elevated living in Virginia Wine Country. Wine & Country Life, a semi-annual life & style magazine, and Wine & Country Weddings, an annual art book celebrating elegant Virginia weddings, are complemented by the Wine & Country Shop in Ivy, VA—a beautiful lifestyle boutique that brings the pages of the magazines to life. The Shop features over 40 Virginia artisans with everything from tailgating essentials and Dubarry attire to locally made foods and award-winning Virginia wines and craft beverages for your next event. Wine & Country covers the grape-growing foothills of the Blue Ridge Mountains from Lynchburg to Leesburg, including points in between like Charlottesville and Middleburg.