WHY & HOW WE SHOULD INCORPORATE MUSIC INTO OUR HOME
As parents, we all want our children to be healthy and happy. We want them to be kind to others and feel successful and fulfilled by pursuing their goals. We want them to be strong, resilient, lifelong learners. And for the most part, we know that in order for these things to happen, our kiddos need to eat healthy foods, get lots of physical activity and spend time outdoors. But, how can we make sure our little ones are getting all they need to develop a healthy, strong, flexible brain that will be ready to process all that they will need to learn and understand? Participating in music—whether listening to it or actively making it—is proven to have a profound impact on developing brains, particularly as it relates to feeling safe and cared for, overall happiness, literacy skills, communication skills and social emotional skills. All of those things are essential to our children being successful in school and life. Mary Anderson, co-founder, teacher and ukulele enthusiast of
My Music Starts Here
in Charlottesville, has also taught preschool and elementary general music for over 16 years. Growing up in a musical household, she was surrounded by music and learned how music connects us as human beings. After earning her Bachelor's in Trumpet Performance from Virginia Commonwealth University, she went on to get her Master's in Music Education from Boston University. Together with her husband Mike, they started "Songs & Stories with Mary and Mike," a new children's show on PBS that airs Mondays and Fridays at 10:30 a.m. on VPM Plus. All 10 episodes can also be watched at any time
here
, and feature special guests like children's author Marc Boston and musician Tevin White, Albemarle County Public School teachers Marian McCullough, Molly Foster and Destinie Thomas, along with young musicians Matthias Stewart and Justin Parker. Read on to find Anderson's tips on how to engage young children with music.
The Importance of Music for Our Children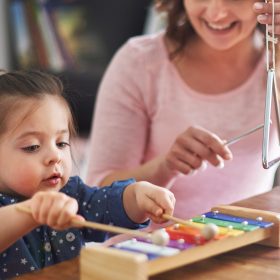 With the use of some pretty spiffy technology, doctors can watch what happens in a person's brain during specific activities. Because of this, we now know that when we engage with music, our brains light up in almost every single area and start firing synapses—the pathways our brain builds to perceive information. It's like a firework show in our brains! So, for young children, listening to and participating in appropriate music is kind of like weightlifting for their brains. It activates multiple areas of their brains and strengthens those synapses connections, which has a profound impact on their ability to learn and process new information. This might sound complicated, but we assure you that it's not. Parents and grandparents have known this stuff since the beginning of time. As parents, our natural instinct is to scoop up our precious screaming infant and gently rock and sing to them. When our toddler is wandering around the waiting room of the doctor's office, touching everything in sight, we pick them up, bounce them on our knee, and start speaking a nursery rhyme or chanting words to a song. We know that music works, so we do it, even without all of the scientific data behind it. So how can we make sure our little ones have a brain built for learning and creativity and problem-solving? We can give them music. Here are five easy ways you can start today.
5 Ways to Implement Music Into Your Child's Life
1. Bounce, Clap & Pat.
Keeping a steady beat with your baby or toddler is one of the very first ways you can start engaging your child musically. Bounce them gently on your knee and chant their name to the beat. Clap your hands, stomp your feet and pat your lap to create a fun pattern for your little one to mimic. Do you have a favorite nursery rhyme? Share it with your child. For some extra brain developing goodness, pat the steady beat on their knees while you say it.
Research shows us that the parts of our brain we use when we start learning to read and process language are the exact same parts of the brain that we use when we keep a steady beat. So, by seizing opportunities to keep a steady beat with your child, you are actually preparing them to learn how to read! A bonus is that your child just thinks you are having fun together and being silly.
Keeping a steady beat with your baby or toddler is one of the very first ways you can start engaging your child musically.
2. Listen to Music Together.
Just as we strive to give our children a balanced diet full of healthy foods, we must also be aware of our children's musical diet. When they are small, babies' nervous systems are still developing. Loud, harsh, electronic sounds can be damaging and harmful. So instead of blasting your favorite music when you are in the car with your little one, swap it out for something more soothing and easier to process, like some Vivaldi, Bach or Mozart. The musical patterns and gentle instrument timbres of acoustic instruments is pleasing, and it will also stimulate your child's brain as he works to process it. And who knows, you might arrive at your destination with an overall sense of calm and well being, too! As your child grows, start expanding their musical diet by mixing in all different kinds of music. The music that you love is part of the fabric of who you are, of your family and perhaps your cultural story. When you share it with your child, you are opening a shared experience that can release all the good bonding hormones between parents and children. So go for it and have fun. Just remember to be sensitive to their developing nervous system and watch to make sure they are enjoying the music along with you instead of being bothered by it.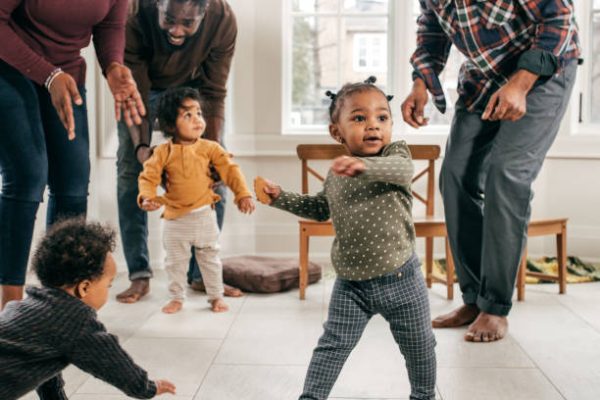 3. Move to Music Together.
One of our favorite things to do with a group of little ones is create a playlist of five songs from all different musical styles. As we listen to each song, we ask the children to move how the music is telling them to move. After each song, we ask them what the music was telling them to do. For example, when I played Aaron Copland's
Hoe-Down
, several children started galloping around the room like horses. When I asked them about it, they had such incredible insight into what they heard and did an incredible job describing the music. Take your next after-dinner dance party with your kids to the next level, and make sure there are at least a few pieces of music mixed in from different genres. Observe as they move differently and then ask them about it. This activity is so much fun, but it is also helping train children to be good listeners, to detect emotion in music and people, to move expressively and to use their growing vocabulary to describe what they hear. It's a major bang for your buck!
4. Sing Together.
When we sing to our babies, regardless of how we sound, chemicals are released in both our brain and our children's that help us bond together, and feel safe, cared for and loved. As our babies grow into toddlers…then little kids…big kids…and (eek!) teenagers, they can sing
with us
, and the benefits of making music together explode to include actual brain building. This chemical release and brain building is powerful stuff and can be accomplished simply by choosing some songs to sing together at each stage of your child's development. Have a toddler at home? Go for songs like
The Itsy Bitsy Spider
and
Twinkle, Twinkle
. Have an early elementary kiddo? Try songs that are more lyrically challenging like
Down by the Bay
and
Had a Little Rooster
. Older elementary and middle school kids thrive with more challenge, lyrically, musically and in understanding the deeper meaning of the song, so now is the perfect time to start introducing songs with more historical, religious or even political significance. Just remember that it truly does not matter what you are singing together. It is the act of making music together that matters the most and has the most powerful outcome.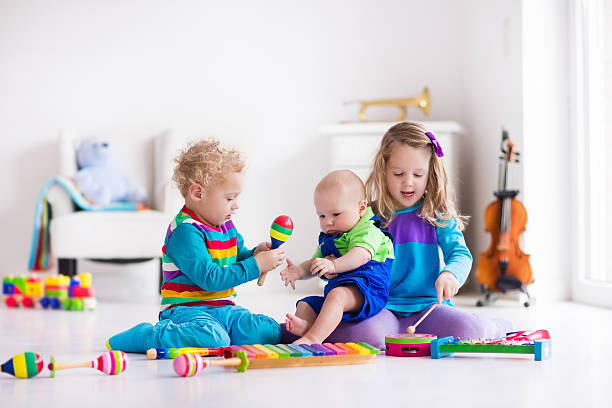 5. Sound Exploration.
Starting when your little one can sit up and use his or her hands to bang on things (6 to 12 months old), they are experimenting with sound. You can encourage this by giving them developmentally appropriate materials with which to experiment. Pots, metal bowls, wooden spoons, egg shakers and plastic cups in different sizes were favorites in our house. But as your child grows, consider adding some musical toys that actually make different pitches like xylophones, ukuleles, harmonicas and keyboards. As your child plays, talk to them about the sound, and more specifically the differences between sounds. Does one string sound higher than another one? What happens when they move their mouth to the other side of the harmonica? Asking questions like this is yet another way you can have fun with music while also turning it into a brain-building activity for your child. Around the age of 5 or 6, start considering something more formal in the way of music education. This could include joining a children's choir, taking dance classes, being involved in a musical theater program, or picking up an instrument and finding a teacher. Or, you might find that simply singing together with your child, enjoying dance parties at home, bonding over a shared love for listening to music or going to a concert together are a better fit for your family. However you choose to engage your child with music is up to you, but know that when you do, you are not only enjoying something together and strengthening your relationship with them but also building a stronger, healthier brain that will support joy, creativity, thoughtfulness, critical thinking, communication skills and listening skills.
---
MARY ANDERSON is a mom of two young children and co-founder of My Music Starts Here. She is currently co-producing a new children's show for PBS called Songs and Stories with Mary and Mike. Watch an episode at vpm.org/songsandstories.
---
YOU MIGHT LIKE


CharlottesvilleFamily.com, a collection of local resources including a popular calendar of events, family services guides and features on education, health and family day trips for parents and teachers in Charlottesville, as well as the CharlottesvilleWelcomeBook.com a guide to resources for Charlottesville tourists and newcomers. Ivy Life & Style Media also creates other projects including Wine & Country which celebrates elevated living in Virginia Wine Country. Wine & Country Life, a semi-annual life & style magazine, and Wine & Country Weddings, an annual art book celebrating elegant Virginia weddings, are complemented by the Wine & Country Shop in Ivy, VA—a beautiful lifestyle boutique that brings the pages of the magazines to life. The Shop features over 40 Virginia artisans with everything from tailgating essentials and Dubarry attire to locally made foods and award-winning Virginia wines and craft beverages for your next event. Wine & Country covers the grape-growing foothills of the Blue Ridge Mountains from Lynchburg to Leesburg, including points in between like Charlottesville and Middleburg.