FAMILY STAYCATION IDEAS FOR THIS SPRING BREAK
Believe it or not, Spring Break is almost upon us! Do you have your week of fun planned out for the family? If not, we are here to help you come up with activities and places you and the kids can venture to this year! These tried-and-true selections are a few of our countless favorites. We've also provided you with some helpful tips on planning your outing with ease. Don't fret over forgetting to check this and check that; we've given you everything you need. Be sure to check out the ideas for car-ride games to keep the kids entertained along with the list of local spots to please their sweet tooth, or yours.
How To Plan Your Daytrip Outing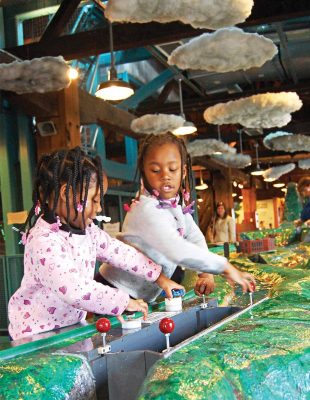 Always Call Ahead or Check the Website.
Although all seven of these daytrip ideas are well researched, we would hate for you to get to one of them and have it be closed! For this reason, always call ahead or at least check the website to make sure hours, admission price, activities and events have not changed. We've provided the website and phone number of each place below, but intentionally left out the hours, hoping this will force you to call or visit their website before setting out. Sorry, it's for your own good!
Do your research.
Once you decide where you are going, do a little bit of research online to find interesting places along your route where you can stop for a quick break. Virginia is dotted with famous battlefields, historic sites and charming little towns, so take advantage of these. Rather than just stopping at the roadside rest areas, consider having a picnic if the weather permits at a state park, a lake or an outdoor pavilion instead.
Be prepared.
Before setting out, take a few minutes to make sure your identification and paperwork is up to date (driver's license, registration, insurance). We know this may sound tedious, but there's nothing like getting a ticket to really put a damper on the day. Try to get a good night's sleep the night before leaving and have your kids do the same, so everyone is well rested and ready to enjoy the day. And don't forget to check the weather, too! If it's supposed to rain and you're planning on visiting an outdoor attraction, it might be best to save it for another (not rainy!) day.
Also consider packing a bag with toys that will encourage your kids to burn off excess energy such as a jump rope, a few pieces of sidewalk chalk or a couple of inflatable beach balls…
Pack wisely.
Pack your bag the night before, so you're not rushing around the morning trying to remember what all to bring. An old backpack with granola bars, water, diapers, wipes, sunscreen, bug spray, a first aid kit, crayons and a notebook has rescued many a strained moments with tired cranky travelers. Try packing individualized portions of snacks so each child can have his or her own bag. Also consider packing a bag with toys that will encourage your kids to burn off excess energy such as a jump rope, a few pieces of sidewalk chalk or a couple of inflatable beach balls that are perfect to use during a quick pit stop at a rest area.
Car rides can be fun too!
Even if you have more than an hours drive, the trip doesn't always have to be boring or unbearable. Games that keep your kids entertained such as word search puzzles, Sudoku and even just a handful of crayons and a coloring book can change the whole dynamic of the car ride. If you have a portable DVD player or one in your car, try renting DVD's at the library—they're cheaper and will most likely have some titles you don't have! You can also bring audio books or load an iPad with free audio stories for children (try Storynory). If your kids are old enough, give them each a job for the day. For example, one child could be the "Navigator" and be in charge of the directions while another could be the "Banker" and monitor the budget. This not only will give the kids a sense of responsibility but also will teach them valuable life skills.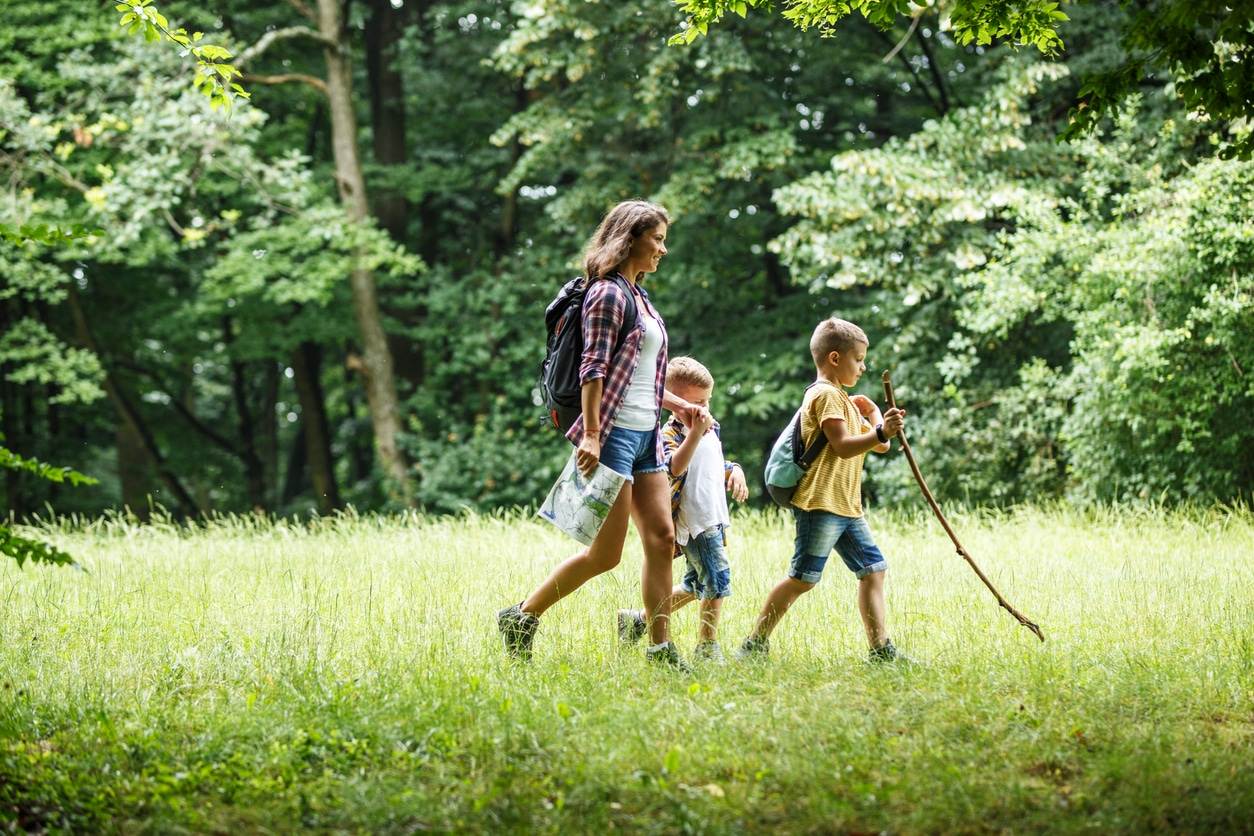 Spring Break Daytrip Ideas
Amazement Square
For a day's adventures and excursions, traveling to Lynchburg, VA, just one to two hours away, will lead you to Amazement Square. The kids can slide, dangle, crawl, leap, swing and zip through the tallest indoor climbing structure in the nation, while toddlers have the chance to roam safely in the "Big Red Barn" — complete with a cow to milk, crowing rooster, crops to harvest and an earthworm's eye view of growing plants. Kids of all ages love the James River Waterways, where they can take a miniature bateau through locks and canals. The Monacan village, hand-operated cranes, paint-on-the-walls room and music-recording studio are a few of the other popular exhibits you will want to enjoy with your little ones. Have a skateboarder in the family? Bring along their board and let them practice their ollies and nollies at the adjacent 14,000-square-foot Rotary Centennial Riverfront Skatepark. Helmets, pads and skateboards are available for rent if you don't want to bring along your own. For even more adventures to fill the day, stop by nearby attractions, including the LOVEwork sculpture, Riverfront Park and Blackwater Creek Bikeway. For a bite to eat on Lynchburg's historic waterfront, you can stop by the Depot Grille or Waterstone Pizza.
amazementsquare.org • (434) 845-1888
American Shakespeare Center's Blackfriars Playhouse
Travel back in time to the 16th century at The American Shakespeare Center, located in Staunton, less than one hour away. Here, you will find an internationally acclaimed theater company that performs Shakespeare's works—among others—under their original staging conditions. This stunning 300-seat theater is the world's only recreation of Shakespeare's original indoor theater. On a simple stage, without elaborate sets, you will feel like you are a part of the play—and if you are lucky, you might even be chosen to sit on stage with the actors and actresses. Regardless, you'll be close to the action wherever you are seated. Plays are typically performed Wednesday through Sunday. The main floor is reserved seating, while the second floor is general seating, so arrive early as seats are first-come, first-served.
americanshakespearecenter.com • (540) 851-1733
Busch Gardens and/or Water Country USA, Williamsburg
Approximately two hours away, the family can jump in at Busch Gardens in Williamsburg. Whether you are looking for rides and roller coasters, water fun or a combination of the two, you will find far more than you can experience in a day! Let your feet hang loose on the Alpengeist, as it reaches 67 miles per hour and climbs over 195 feet. Other favorites include Apollo's Chariot, Tempesto, Griffon and more. Does the family like heights? You can challenge the family with the 240-foot drop on the Mach Tower. Don't forget about the KIDsiderate attractions for the little ones such as the Land of Dragons, Sesame Street Forest of Fun, Prince Elmo's Spire and many more. For some water fun head over to Water Country USA to try the Cow-A-Bunga, H20 UFO, Kritter Korral, Rock 'n' Roll Island, Surfer's Bay Wave Pool and Colossal Curl, the park's newest thrill ride. The kids will be worn out after a few hours running through the spray jets, hanging out by the waterfall, doing countless runs on the scaled-down water slides and more. Don't miss the oasis of adventure at the Rock 'n' Roll Island, a huge pool surrounded by a lazy river. No matter what type of fun the family likes—water rides and slides, watching the dive show or thrill rides reaching high speed and various heights—the family will have an array of options to last a whole day!
buschgardens.com • watercountryusa.com • (800) 343-7946
Frontier Culture Museum
Visiting the Frontier Culture Museum is a bit like a whirlwind tour of Old Europe and America. Located in Staunton, just under an hour from Charlottesville, this Virginia history museum tells the story of the people who migrated from the Old World to America and of their life in the Shenandoah Valley. Come explore a 1600s English Farm, meander on over to a 1700s Irish Forge, and wander through an Early American Schoolhouse. The outdoor exhibits are located in two separate areas: The Old World and America. The Old World exhibits show rural life and culture in four homelands of early migrants to the American colonies—England, Germany, Ireland and West Africa—while the American exhibits show the life these colonists and their descendents created in the colonial backcountry. Self-guided tours utilize walking paths and trails—complete with water and shady rest areas—to allow visitors to visit all 11 permanent exhibits. If walking isn't your style, that's no problem because shuttle carts run continuously and mobility scooters and golf carts can be rented for a nominal fee. Guided tours are also available. Hands-on exhibits and experiences, costumed interpreters and real working farms make this a great time for the whole family. In addition, the museum offers special events such as demonstrations on historic clothing, domestic tools and traditional music, so be sure to check the website for the most up to date schedule.
www.frontiermuseum.org • (540) 332-7850
Henricus Historical Park
A one to two hour drive to Chester, VA, will lead the family to Henricus Historical Park—home to a re-creation of an actual English settlement circa 1611. With costumed interpreters, you will be able to experience what life was like for the first English settlers living along the James River. The land, which had been inhabited by the Native Americans known as the Arrohateck, was also the place where Pocahontas resided at Rocke Hall and was later courted by John Rolfe. The park preserves the colony's legacy, which included many New World firsts: the first hospital (Mt. Malady), the first college, the first tobacco fields and the first privately owned land. Visit the re-created Indian village located directly on the riverbank, and then enter the Citie of Henricus filled with several buildings, gardens and a visitor's center. The park is also home to hiking trails; for an additional fee, you can take a James River boat tour aboard the Discovery Barge II. To get the kids in the English mindset, watch the Disney favorite, Pocahontas, on the drive or the night before. It not only will enhance the experience but also will help the family be more in-tune while there, allowing for more learning opportunities.
henricus.org • (804) 748-1611
Luray Caverns
Are they calling for one of our beautiful Virginia spring days over break? Why not take advantage of the time outdoors and plan a day under the blue sky. Just one to two hours away in Luray, VA, the family can explore the Luray Caverns, the largest eastern U.S. cavern and a National Landmark. The Caverns have some of the most spectacular formations you can imagine. Remember to bring a light jacket for that cooler breeze and be sure to rub the "fried eggs" on your way out! Outside the Caverns, you can also explore the garden maze. Be sure to check the schedule of the Singing Tower's carillon of bells recitals and escort any car buffs to the Car and Carriage Caravan Museum. The museum covers the evolution of transportation from 1725 to 1941 with jewels such as an 1892 Benz, an 1840 Conestoga Wagon, a 1908 Baker Electric, a 1913 Stanley Steamer and the 1925 Rolls Royce that belonged to one-time Hollywood heartthrob Rudolph Valentino. For a tasty treat, a cafe and coffee shop are onsite. Fresh air will do the kids good before having to head back into the classroom for the final push of the school year.
luraycaverns.com • (540) 743-6551
Metro Richmond Zoo
There's nothing like a trip to see your kid's favorite friends at the zoo. In Moseley, VA, a one- to two-hour drive is the Metro Richmond Zoo, where you can visit furry friends and have the chance to feed them. Whether your little ones are admiring the colorful, lively birds in the Budgie Aviary or making their rounds visiting the Zoo's barnyard animals—goats, camels, llamas, chickens, sheep and more—they will be enthralled. Let them get up close and feed the Giraffes, barnyard animals, deer, birds and more. As you walk along the boardwalk trail, you will see a variety of hoofed animals, including the Pronghorn, the world's fastest antelope. For some additional fun, let the little ones take a ride on the Jungle Carousel, the Safari Train Ride, or let them loose on the playground where they can climb, jump and crawl like their favorite animal. All the while, the older kids can take a ride on the Junior Explorer Course or the Treetop Zoofari Course, including over 60 different challenges combined and countless zip lines with some set over a beautiful winding creek. During select times of the day, Kumbali and Kago can be found near the Kangaroos. Kumbali, the runt from a litter of Cheetahs, was hand-selected my the zoo and loves hanging around with his best friend Kago, a Yellow Lab mix, who was rescued from a shelter in Alabama.
metrorichmondzoo.com • (804) 739-5666
Local Frozen Treats
Looking for places to take the kids for a frozen treat? There is no shortage of ice cream and frozen yogurt shops around town, offering numerous flavors and treats for any taste bud or mood.
Ben & Jerry's
(434) 244-7438, benjerry.com/Charlottesville
Bluegrass Creamery
(202) 643-2286
Chandler's
(434) 923-8349
Chaps Ice Cream
(434) 977-4139, chapsicecream.com
Cold Stone Creamery
(434) 529-8526, coldstonecreamery.com
Kilwins Charlottesville
(434) 234-3634
Kohr Brothers Inc
Richmond Road (434) 975-1500, Seminole Trail (434) 975-4651, kohrbros.com
La Flor Michoacana
(434) 984-1603, laflormichoacana.com
Splendora's Gelato
(757) 408-0719, splendoras.square.site
Sweet Frog
(434) 975-3764, sweetfrogyogurt.com
Car Ride Game Ideas for Kids
• I spy -"I spy with my little eye…something blue!
• 20 Questions – The guesser asks 20 questions to figure out the person, place, or thing his or her opponent is thinking.
• Customized Word Search Puzzles – Make up your own word search puzzles using words about your trip or destination using DiscoverySchool.com's Puzzlemaker. All you have to do is type in the words you want to be included, and the program generates a word search puzzle that can be printed out!
• Make up your own Scavenger Hunt Game – Write a list of 20 things you'll likely see on your route, like vehicles (truck, minivan, police car), animals (cow, horse, bird) and roadside buildings and landmarks (barn, stop sign, church, fence, bridge) before you depart. For younger children, use pictures instead of words. Each time your child spots one of the things on the list, have him or her check it off!
• Line and Dot Game – Perfect two-person game with creating boxes. Find templates online that you can easily print off beforehand.
• Mad Libs – Fill in words to create your own fun story! Many different templates available online.
Even if you're not ready to tackle seven daytrips in seven days, we hope these trips and tips have given you some ideas of your own! You don't have to travel to some exotic island or far off destination to enjoy Spring Break. A great way to save money and catch up on some local attractions (that many forget about because they're so close!) is to stay in Charlottesville and explore the surrounding areas. We know these trips are bound to provide you and your family with countless memories, and they're all right in our backyard. Besides, the most important thing is spending time together! Looking for additional family outing ideas? The
Kids Rec/Family Fun
section of our site has so much more!
---
YOU MIGHT LIKE


CharlottesvilleFamily.com, a collection of local resources including a popular calendar of events, family services guides and features on education, health and family day trips for parents and teachers in Charlottesville, as well as the CharlottesvilleWelcomeBook.com a guide to resources for Charlottesville tourists and newcomers. Ivy Life & Style Media also creates other projects including Wine & Country which celebrates elevated living in Virginia Wine Country. Wine & Country Life, a semi-annual life & style magazine, and Wine & Country Weddings, an annual art book celebrating elegant Virginia weddings, are complemented by the Wine & Country Shop in Ivy, VA—a beautiful lifestyle boutique that brings the pages of the magazines to life. The Shop features over 40 Virginia artisans with everything from tailgating essentials and Dubarry attire to locally made foods and award-winning Virginia wines and craft beverages for your next event. Wine & Country covers the grape-growing foothills of the Blue Ridge Mountains from Lynchburg to Leesburg, including points in between like Charlottesville and Middleburg.