YOUR GUIDE TO ENJOYING THE FOXFIELD RACES FAMILY DAY IN CHARLOTTESVILLE
The Foxfield Races, which are 10 minutes west of Charlottesville, have been an important part of our community's history since 1977. Spectators travel to the heart of Virginia Horse Country twice a year. They want to enjoy the countryside's beauty and the steeplechase's excitement. The area was formerly home to a well-known riding school and a nearby airfield before becoming a horse racing track. Foxfield land had a strong equestrian spirit from the start. There are currently 17 furlongs—just over two miles—of hurdles, hills, and obstacles on the grass track. One of Virginia's most well-liked equestrian events, Foxfield continues to draw close to 20,000 spectators for the spring races alone and each Fall they celebrate in style for local families to enjoy.
Foxfield Races Family Day Activities
The UVA student population is much less active and sparsely represented at the fall races. Foxfield invites families to visit and take advantage of the kid-friendly events planned for the fall races. Every member of the family may enjoy pony rides, Jack Russell Terrier races and tailgating. The Family Day is a well-liked fall race in Virginia that takes place in early October and draws between 2,000 and 5,000 spectators annually. On the day of the races, look for the Children's Tent in the orange area where there will be a ton of family-friendly activities like a truck touch, face painting, fairy hair, stick pony races, crafts, a toddler play area, free pony rides, and a family obstacle course just to name a few.
First Time Taking Your Family to The Foxfield Races?
Foxfield hosts one of the greatest steeplechase celebrations of the year in Central Virginia in the world of horse racing. For more than 40 years, steeplechase competitions have been held at Foxfield in Charlottesville, where they are well-known nationwide. To compete, jockeys from all across the nation bring their thoroughbred racehorses every spring and fall.
A first-time attendee might not be familiar with the steeplechase's culture. Virginia has a long-standing custom that dates back to the 1600s of gambling at horse races.
The Foxfield Races
do not have as much history with wagering as other horse race meetings in Virginia. However, those in attendance who enjoy gambling might anticipate casual bets amongst friends.
Spread a picnic blanket and enjoy the beautiful day outdoors with family and friends.
When bringing the kids to the Foxfield Races you want to be sure they understand the safety rules. These are the basics of any festival type event. First and foremost, they need to stay near you. They should always ask first if they may pet a dog or horse. (The only dogs at the event are the terriers that are racing, pets are not allowed). And, have fun! This is a great place to bring cornhole or other lawn games, spread a picnic blanket and enjoy the beautiful day outdoors with family and friends.
Creating a Family Fun Tailgate
To properly enjoy Virginia horse racing, we recommend hosting a Virginia tailgate. Tailgating is a longstanding Festive Horse Race Tradition at the Foxfield races. Alongside the steeplechase rail you'll find many attendees pitching up a tent and serving spreads of food and drink for friends and family. From charcuterie boards to artisan pastry trays, the possibilities for creating a local farm-to-table spread are endless. Most tailgating is done on the infield where a small collection of vending stands are also available with food for sale. Plan for the kids and bring lots of easy finger foods they will enjoy. They will be so excited that it is unlikely they will sit still for a regular meal! Bowls of prepped fruit, sandwiches cut into quarters, small cheeses, etc will make sure they stay comfortable. If planning to tailgate, we recommend purchasing a parking space on the rail or the infield. Choosing a Foxfield parking space in these areas allows you to take all your food, beverages and chairs with you. This lets you have a good view of the action while still enjoying the benefits of a beautiful tailgate.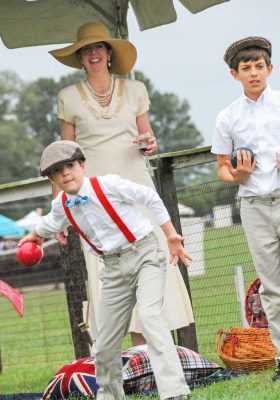 Parking for Family Day at the Races
​Even though everyone has a fantastic time at the Foxfield Races, they are more than just a steeplechase and tailgate event. Each year, Foxfield distributes a percentage of the money it makes from the sale of parking tickets to regional nonprofits. Foxfield is dedicated to having a significant impact on the neighborhood. They have developed long term philanthropic partnerships with Habitat for Humanity of Greater Charlottesville and Camp Holiday Trails. You may enjoy a tailgate parked right next to the track while knowing that you've donated to a worthwhile cause thanks to parking options ranging from general admission to premium parking.
Tickets for Foxfield races are offered on their website, where you can also view a map of parking choices at the track. Expect to see established groups and families with children in the Green section, sometimes known as general admission. The new Orange section will be an open field on fall race day. The Blue section is a more relaxing spot from which to watch the races. The blue section, which is located on the outer rail, also makes it simple for attendees who are unable or have mobility issues to get in. Pink and Purple lanes of the races consist mostly of sponsors, but others can purchase spaces there depending on availability.
Please wear closed toe shoes and bring a wagon for hauling your gear or worn out kiddos at the end of the day. A stroller is also handy. Big wheels handle the uneven terrain best.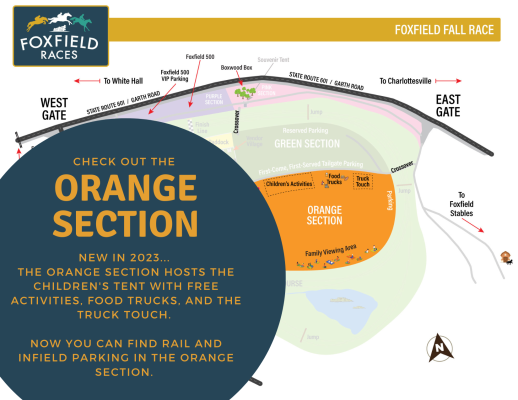 What to Wear for Family Day at The Steeplechase
We've assembled some tried-and-true advice on what to wear for steeplechase. Fall and spring steeplechase attendees often worry what to wear. Foxfield Races is a social and sporting event. In spring it is a dressier event. UVA students, alumni, horse aficionados, and residents throng the field in bow-ties, sundresses, and hats. At themed tailgate parties, guests mingle with cocktails. The ladies wear Dubarry of Ireland or Lilly Pultizer to channel their inner Kate Middleton. The lads wear seersucker, pastels, colorful patterns, and distinctive accessories. Fashionable, durable shoes that can tolerate grass and mud are necessary. This is the most significant part of Foxfield race attire. In spring, women wear colorful Hunter boots. Fall races favor Dubarry or other comfortable boots. Their shoes are often weatherproof and practical for steeplechase tailgating. This is great for parents who may also be wrangling kids or pushing a stroller (big wheels–the ground can be rough). Long skirts, dressy jeans, boots, casual sports jacket are all about feeling comfortable while looking sharp.
Foxfield's elaborate hats can bring forth your inner fashionista. A statement hat, monogrammed, feathered, or floppy, is a Foxfield essential. Foxfield races don't have official hat contests, but that doesn't stop females (and some men) from dressing up.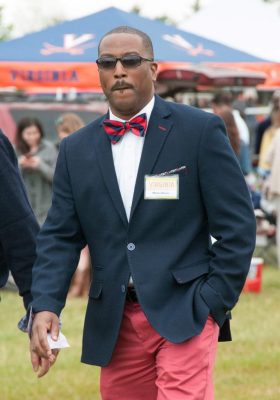 The Foxfield Races are an annual equestrian tradition in Charlottesville. Learn more about the larger Foxfield spring Races here. We hope our Foxfield Races Guide has encouraged you to start arranging your tailgate.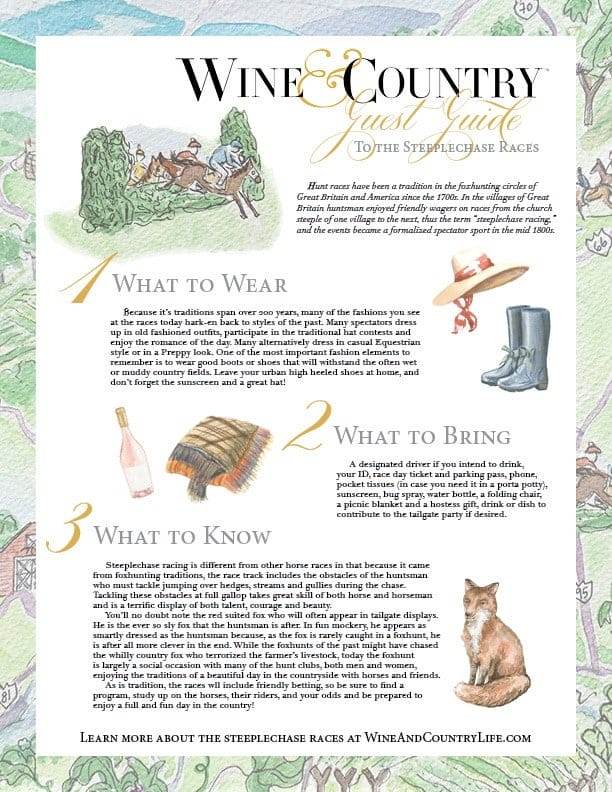 Check out the Family Fun in Charlottesville section of our site for more kid-friendly ideas and happenings in the area. Our events calendar has a full listing of area events and festivals.
---
JENNIFER BRYERTON is Co-Publisher and Editor-in-Chief of all Ivy Life & Style Media's publications. She is a mom of four, avid gardener and home cook. She enjoys experiencing the Virginia steeplechase scene.
---
YOU MIGHT LIKE


CharlottesvilleFamily.com, a collection of local resources including a popular calendar of events, family services guides and features on education, health and family day trips for parents and teachers in Charlottesville, as well as the CharlottesvilleWelcomeBook.com a guide to resources for Charlottesville tourists and newcomers. Ivy Life & Style Media also creates other projects including Wine & Country which celebrates elevated living in Virginia Wine Country. Wine & Country Life, a semi-annual life & style magazine, and Wine & Country Weddings, an annual art book celebrating elegant Virginia weddings, are complemented by the Wine & Country Shop in Ivy, VA—a beautiful lifestyle boutique that brings the pages of the magazines to life. The Shop features over 40 Virginia artisans with everything from tailgating essentials and Dubarry attire to locally made foods and award-winning Virginia wines and craft beverages for your next event. Wine & Country covers the grape-growing foothills of the Blue Ridge Mountains from Lynchburg to Leesburg, including points in between like Charlottesville and Middleburg.