DAYTRIPS TO GET THE WHOLE FAMILY UP & MOVING
Are you feeling cooped up in the house too much? Are you looking for fun ways to get your family up and going? These four daytrip destinations will get the family up and active, and show the kids how to move their bodies in different ways. Not only are these daytrip destinations fun, but they can also help kids realize just how good it feels to stay active and lead a healthy lifestyle. From days spent hiking and skiing outdoors to indoor water parks and bounce houses, there is something fun for any kind of day!
Active Family Outing Ideas
Bounce, Play-n-Create, Charlottesville
Bounceplayncreate.com

If you're looking to curb some pent up family boredom, try Bounce, Play-n-Create. This fun-filled facility combines learning with exercise and creativity through a variety of activities. Open seven days a week, children of all ages will love the BOUNCE Room. This room houses several inflatable slides of all shapes and sizes for kids ages 4 and above to enjoy. Some bounce structures even have tricky obstacles to keep you on your toes. And the fun doesn't stop there. Kids can climb and crawl through the 50-foot long play structure that hangs from above as they watch their friends play below.
For the wee ones, the Toddler Room is the place to be. An enclosed space designed for children ages 3 and younger, this stimulating environment allows them to crawl, climb and slide through equipment made just for their tiny stature
Fun is a mainstay at this daytrip destination with countless options for kids to play their hearts out. For a $2 fee on Mondays, Wednesdays and Fridays, customers can climb aboard the trackless train for an exciting ride! Be sure to plan accordingly as the train departs promptly at 11 a.m. and 2 p.m. on these days. Arrive before 11 a.m. during the weekday and enjoy discounted admission for children ages 1 to 3 years old during Toddler Time. This time is dedicated to parents and their toddlers, allowing them to enjoy Bounce, Play-n-Create together it in a more tranquil setting.
Children can also exercise their creativity with the painting booth, sensory stations and other interactive play stations. With preschool enrichment programs for all levels of learners, camps throughout the year, as well as art, cooking and cultural classes for all ages, kids can indulge in their unique individual talents at one location. Not only can your wee ones enjoy the fun, active experience on a normal day, but the facility offers a range of options to bring the party home with your family. Have a special event coming up? Rent a bounce structure from Bounce, Play-n-Create for all your guests to enjoy. They'll even deliver the fun and all the supplies needed within a 15-minute range to lessen the hassle.
Rocky Top Climbing, Charlottesville
Rockytopclimbing.com
When you've been trapped inside on a cold or rainy day, or just looking for a fun afternoon adventure for the whole family, some that gets your blood pumping and tests your body's endurance, strength and mind is just what the doctor ordered. At Rocky Top Climbing, all ages and skill levels can learn the art of rock climbing and navigate their way through complicated rock formations. For just $5 before your climbing session, sign the family up for its class on learning how to belay, a cornerstone of climbing safety, where one partner holds the rope of another to prevent them from falling. If you don't have a belay partner to accompany you, Rocky Top has you covered with a staff member.
Experienced or not, Rocky Top's climbing courses will test your skills to their fullest potential. Climbing takes great strength of both the body and mind. Concentration is key when navigating your way through the courses, as is proper hand and foot placement. This exercise will teach your body to move in many different ways than it might be used to. In order to get acclimated to climbing, the family can also take one of the introductory technique classes Rocky Top offers. You will not only learn how to improve your technique but also learn the basics of navigating a climbing course. Bring the family back for more, as Rocky Top adjusts their wall climbing courses weekly.
If climbing isn't for everyone in the family, enjoy the weight room and racquetball courts for other active and engaging ways to get up and moving. Whether interested in monthly or daily passes, or equipment rental rates, the weight room comes with all the bells and whistles you need, including free weights, kettle bells and pull up bars. For a fun endurance and coordination activity, play a round of racquetball with the whole family.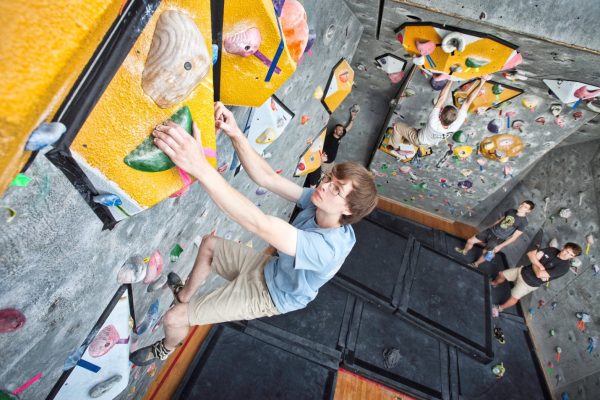 Charlottesville Skate Park, Charlottesville
charlottesville.org
Located at the southeast end of McIntire Road near the Rescue Squad in Charlottesville, the Charlottesville Skate Park has just about everything skaters wish: Skatelite and wood jumps, boxes, grind rails, quarterpipes, a vert quarterpipe, roll-ins, and a miniramp. The big bowl has real pool coping on the deep end and a spine to halfpipe. This park features Skatelite ramps, jumps and boxes. Skateboarders, bikers, rollerbladers and scooter riders are all welcome. Helmets, elbow pads & kneepads are required and available on-site, and liability waivers are necessary. Other features include ADA accessibility and trails. An city attendant is on duty during operating hours, and you can even arrange to join a class or have private lessons through the city. The park is open daily from 8:00 a.m. to sunset.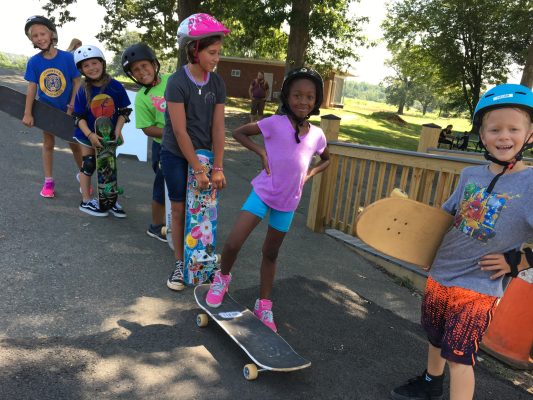 Massanutten Resort, Massanutten
massresort.com
One Virginia daytrip destination that offers year-round options for energetic fun is Massanutten Resort. Only a short drive to Massanutten Resort will lead you to many activities, no matter the weather. Beat the heat on a sweltering day or warm up during the colder winter months at the Indoor Waterpark. The complex is constantly regulated at a comfortable 84 degrees making it comfortable for families to enjoy all year long. Kids and adults can make their way through the waterpark, exploring Massanutten meltdown, a giant jungle gym of water slides, water cannons and waterfalls. The Blue Ridge Rapids, tube and body slides, and pipeline will have children running from one to the next and back again all day. For the little ones, explore the Frog Pond—an area complete with miniature slides and other water toys. The park's outdoor wave pool and waterslide are also open seasonally from Memorial Day through Labor Day.
For some spring and summer daytrip adventures, you won't want to pass up the Family Adventure Park at Massanutten. Zip across 80 feet of zipline at speeds as high as 30 miles per hour on the Mega-Zip. Enjoy a canopy tour with the family during your visit, too! This 90-minute journey will take you through the forest, where visitors can find themselves crossing the burma bridge, testing their balance as they cross logs and swing their way through vine bridge. This tour will also take you on a net traverse and across a 100-foot zip line. When it comes to catering to the little ones in the family, explore the Kids' Adventure Course for kids ages 12 and under. This course still packs the same amount of adventure, but at age-appropriate skill levels.
For the winter months, adventure to the ice rink. No matter whether you are an Olympic-level figure skater or a novice, gliding across 4,250 square feet of ice on a winter afternoon will have anyone engaged. If you're up for a more fast pace activity, try the resort's snow tubing. Feel the wind in your face as you slide down 16 lanes of snow at 900 feet in length in this winter adventure. Skiing and snowboarding are also prime aspects of any Massanutten winter. With courses made for any skill level, there is no shortage of fun. From beginner classes to black diamond slopes, you'll be sure to have an unforgettable time.
Wintergreen Resort, Wintergreen
wintergreen.com
Wintergreen Resort has no shortage of summertime activities for your family to enjoy. The Discovery Ridge Adventure Center has indoor and outdoor fun for the entire family. Choose from different activities including gem mining, Ninja Warrior Course, bouldering wall, mini golf, and The Plunge summer tubing. Yes, that's right–tubing in the summer! There is even a climbing tower–a 25-foot structure with a belay apparatus on top, featuring varying degrees of difficulty.
Wintergreen Resort also features golf, tennis and several different hiking trails to get everyone moving. Situated high atop the Blue Ridge Mountains, Wintergreen offers the most spectacular views of the Blue Ridge Mountains and The Rockfish and Shenandoah Valleys, making it an ideal place for hiking. They have miles of trails for all ability levels.
Need to cool off? The Aquatics & Fitness Center has an indoor pool open year round and an outdoor pool open Memorial Weekend through Labor Day. Down in the valley, your swimming options include the Stoney Creek Pool or Lake Monocan. The lake offers a sandy beach and a wide range of activities both in the water and on the shore.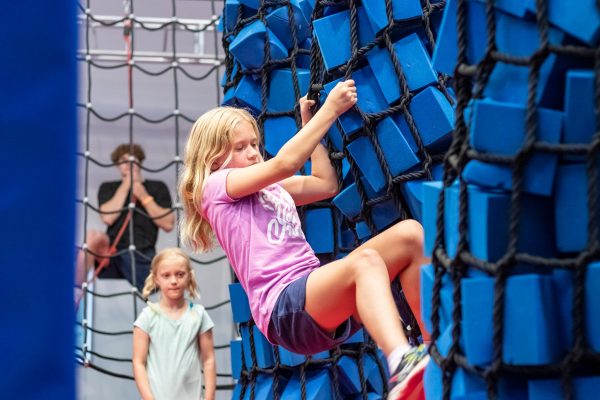 We hope you enjoy for spring daytrips in the Charlottesville area! Be sure to back the essentials–suncreen, bug spray, water bottles, snacks, etc. to make your kid-friendly outings even more enjoyable. Call or check websites to confirm hours, special event info, specific exhibit information and more before heading out. We have plenty of other daytrip ideas on our website, inlcuding Fossil & Dino Daytrips, Artsy Daytrips In & Around Charlottesville and Trains, Planes & Automobile Fun.
Check the CharlottesvilleFamily Events Calendar for even more specific family-friendly ideas.
---
LINDSEY CHILES loves writing and sharing all of the wonderful local offerings in Charlottesville.
---
YOU MIGHT LIKE


CharlottesvilleFamily.com, a collection of local resources including a popular calendar of events, family services guides and features on education, health and family day trips for parents and teachers in Charlottesville, as well as the CharlottesvilleWelcomeBook.com a guide to resources for Charlottesville tourists and newcomers. Ivy Life & Style Media also creates other projects including Wine & Country which celebrates elevated living in Virginia Wine Country. Wine & Country Life, a semi-annual life & style magazine, and Wine & Country Weddings, an annual art book celebrating elegant Virginia weddings, are complemented by the Wine & Country Shop in Ivy, VA—a beautiful lifestyle boutique that brings the pages of the magazines to life. The Shop features over 40 Virginia artisans with everything from tailgating essentials and Dubarry attire to locally made foods and award-winning Virginia wines and craft beverages for your next event. Wine & Country covers the grape-growing foothills of the Blue Ridge Mountains from Lynchburg to Leesburg, including points in between like Charlottesville and Middleburg.