8 CREATIVE DAYTRIP IDEAS FOR YOUR ASPIRING ARTIST
Some of my favorite Christmas gifts as a child were those arts and crafts kits where you created something out of pieces. I loved the feeling of holding a finished product that I created with my own two hands, and, even more, I loved being able to share that creation with others. Looking back, I am so grateful for those little innovative opportunities, because I can now see that the creativity those opportunities inspired has carried over into so many other areas of my life. I've come to learn that creativity and ingenuity are essential to my studies and future career, no matter whether I am dealing with science, math or even social situations. While I was growing up, I felt satisfied and fulfilled by being able to express my individuality through art, and as a result, I feel more in-tune with my emotions and creative side. As an adult, I can now understand that my acquisition of innovative thinking and problem solving skills began with opportunities to explore my imagination. For me, my ability to imagine is a product of both an organization of thoughts and a spontaneity that I believe comes naturally and easily for young kids. For parents, it is important to take the time out of busy schedules to give kids these opportunities to foster and express their own imagination through all types of creative means.
Arts & Crafts Daytrip Ideas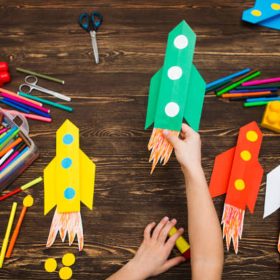 Whether it be painting, drawing, woodworking, crafting or playing a musical instrument, arts and crafts are an easy and engaging way to inspire the power of imagination in your child. So, if you don't feel like making and cleaning up a mess in your home or if you want to curb your little one's craving for coloring on the walls again, try one of the many options in the area that will let your child discover their inner Pablo Picasso or Andy Warhol. From creating your own glass artwork and rocking out on stage to painting your next masterpiece, there are so many family-friendly ways to get crafty. Let these local arts and craft hubs unleash your inner artists as the whole family stretches imaginations and takes creativity to new heights.
Amazement Square
Lynchburg, VA
Amazement Square allows visitors of all ages to engage their sense of wonder as they explore an imaginative museum. Take center stage at the Art of Acting exhibit, paint the walls of the Kaleidoscope Gallery's Paintbox and rock out in the On Stage: Rockstar Experience area. From creating beats and rhythms in the Beat Box exhibit or exploring indigenous art in the Native American gallery to putting on puppet shows at the Puppet Tree, Amazement Square has endless creative opportunities for the whole family. Let them learn as they sing, dance, paint and create throughout this interactive and engaging museum. For additional fun, join the museum on August 25 as they host their Annual Riverfront Chalk Festival, which invites artists of all ages to create chalk masterpieces and enjoy a block party featuring activities and live music.
amazementsquare.org
Sunspots Studio
Staunton, VA
Feel the heat of the furnaces as you watch live glassblowing demonstrations at this unique and totally cool art gallery. Guests sit close enough to ask questions and chat with the artists during the demonstrations. Sunspots has four glassblowers that rotate in their studios and demonstrate daily. Visitors can even buy the piece you watched them create. Feeling inspired after watching the artists at work? Guests can even blow their own ornaments! The glassblowers will assist you in making your piece of art. They offer a variety of options, including traditional, glow-in-the-dark, and pumpkin ornaments in the color of your choosing. Select your color and style then use your own breath to create a unique piece of art!
sunspots.com
The Glass Palette
Charlottesville, VA Explore the stunning world of glass art at The Glass Palette, an interactive glass art studio that welcomes artists ages 5 and older to create their own unique glass pieces. From plates and picture frames to earrings, there's a project here for everyone to enjoy, and you can even craft your own piece if you're inner artist is feeling truly inspired. With no studio fee, you can relax and enjoy as you form your own glass masterpiece for not set length of time; you need only pay for the project you work on. Come with an active imagination and The Glass Palette will provide all the materials necessary for your next work of art. Or if you can't spend time in the workshop, you can ask them to put together a glass art kit for groups that will include glass bases, a cutting tool and more. Just bring the final projects back to the studio to be fired and finished.
theglasspalette.net
The Hive
Charlottesville, VA The Hive is a new arts and crafts lounge and studio that offers a wide array of arts and crafts workshops as well as unique programs for kids and families to explore the wonderful world of creativity. From Friday storytime with an accompanying craft to workshops held by local artists, The Hive is a great artistic hub for all your creative needs. For a one-of-a-kind birthday experience, you can have The Hive help plan the perfect party with an exciting craft for everyone to take home with them.
thehivecville.com
Kluge-Ruhe Aboriginal Art Collection
Charlottesville, VA As the only museum in the United States dedicated to Aboriginal and Torres Strait Islander art, the Kluge-Ruhe Aboriginal Art Collection offers an incredible opportunity to learn about indigenous Australian art in an engaging and dynamic environment. Featuring an interactive family activity and a scavenger hunt for ages 3–12, curious minds of all ages can participate while viewing the breathtaking art. Additionally, the museum hosts a Night at the Museum event each month that features a Kids Zone with Australian-themed activities that can be enjoyed as the sun sets. For your littlest ones, the Tots and Dots workshops cater to early childhood development, when infants and toddlers are attracted to high contrast visuals, bold images and colorful objects.
kluge-ruhe.org
Lazy Daisy Ceramics
Charlottesville, VA Artists of all ages are invited to take part in the creativity at the ceramic art studio Lazy Daisy Ceramics. Choose from hundreds of pieces in the Pottery Paintin' Place, grab your paint and a brush, and get to work creating your new favorite ceramic piece. Can't stay in the studio for long? Not a problem! You can get a Pottery-To-Go-Kit with all the materials necessary to paint your piece at home, then you can bring it back into the studio to get fired in the kiln whenever you like. From infants to grandparents, Lazy Daisy Ceramics encourages everyone to unleash their inner artist to create beautiful ceramic pieces in a fun, welcoming environment that is sure to delight the whole family. It's another great place for your son or daughter to freely express his or her own imagination.
facebook.com/Lazy-Daisy-Ceramics-Inc-The-Pottery-Paintin-Place
IX Art Park
Charlottesville, VA
Located in downtown Charlottesville, IX Art Park is an indoor and outdoor art mecca. Artists of all ages can enjoy art exhibits and experiences. For kids, IX offers workshops, classes and summer camps to keep little creative minds creating! When they aren't making art, visitors can enjoy The Looking Glass, Virginia's first immersive art experience that features a larger-than-life interactive enchanted forest and kaleidoscopic cave. The name says it all–IX Art Park is the perfect place for creators of all kinds.
ixartpark.org
Virginia Museum of Fine Art
Richmond, VA Fine art isn't just for grown ups. Many may not know that the Virginia Museum of Fine Art (VMFA) offers countless programs for teens, kids, and even infants! The museum's early childhood programs include events like Bonding With Baby, Musical Me, Fuzzy Friends and Nature Babies. School-aged children can participate in countless art workshops like Wearable Art, Wild Weaving and Plaster Sculptures, just to name a few. VMFA's teen studio offers slightly more advanced classes like Painting: Avant-Garde, various drawing workshops and even photography options. Want the entire family to join in the artsy fun? VMFA holds Friday Family Art Nights during which everyone participates in things like clay creations and painting programs.
vmfa.museum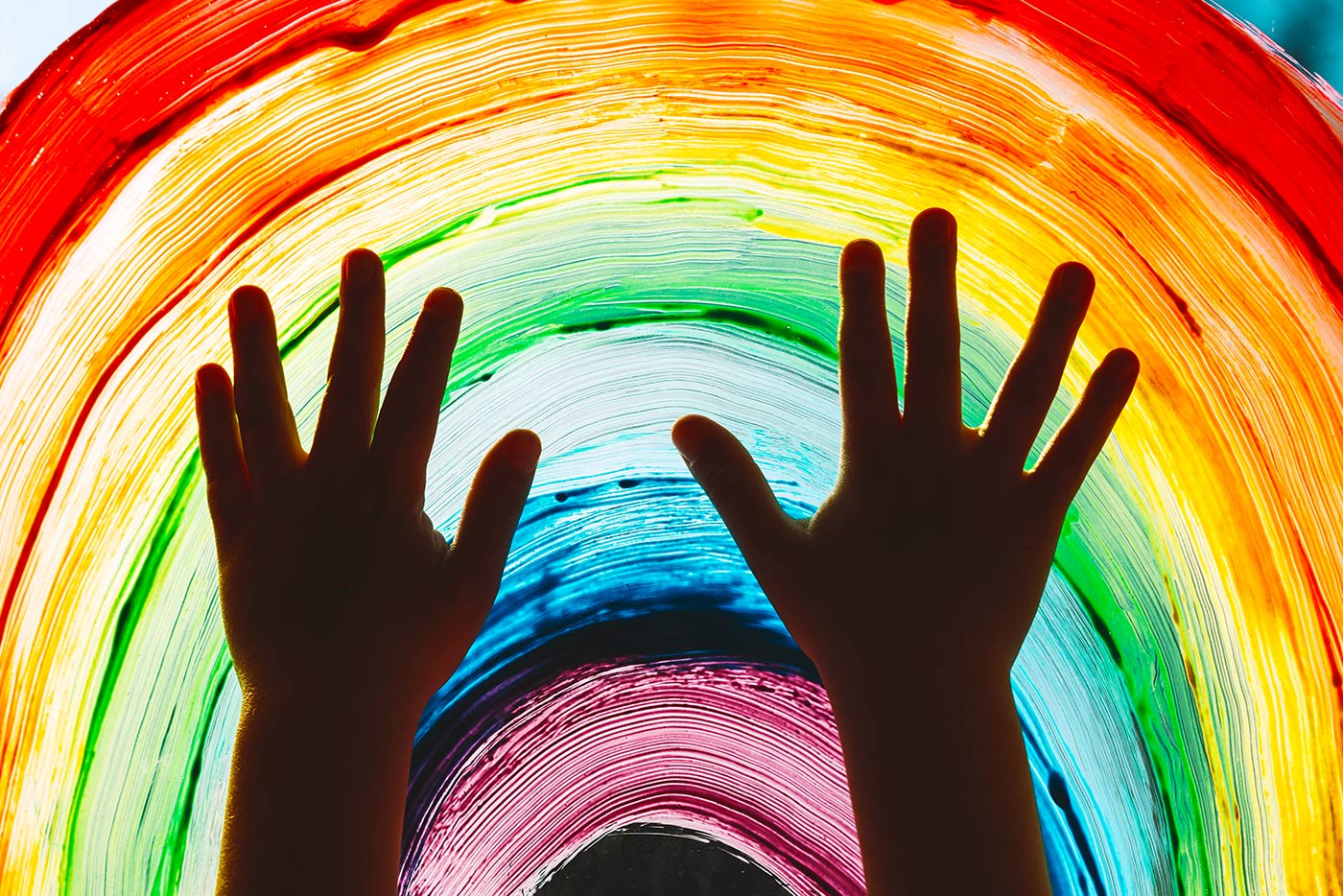 These artistic outing ideas are sure to get those creative juices flowing. Be sure to check websites for special programing and events before you make plans to visit. Looking for more daytrip and activity ideas? Check out the
Family Fun
section of our site for endless possibilities and the best local suggestions.
---
DANIEL ROCHA is a graduate of UVA who enjoying exploring and writing about the unique opportunities afforded by the Charlottesville area.
---
YOU MIGHT LIKE


CharlottesvilleFamily.com, a collection of local resources including a popular calendar of events, family services guides and features on education, health and family day trips for parents and teachers in Charlottesville, as well as the CharlottesvilleWelcomeBook.com a guide to resources for Charlottesville tourists and newcomers. Ivy Life & Style Media also creates other projects including Wine & Country which celebrates elevated living in Virginia Wine Country. Wine & Country Life, a semi-annual life & style magazine, and Wine & Country Weddings, an annual art book celebrating elegant Virginia weddings, are complemented by the Wine & Country Shop in Ivy, VA—a beautiful lifestyle boutique that brings the pages of the magazines to life. The Shop features over 40 Virginia artisans with everything from tailgating essentials and Dubarry attire to locally made foods and award-winning Virginia wines and craft beverages for your next event. Wine & Country covers the grape-growing foothills of the Blue Ridge Mountains from Lynchburg to Leesburg, including points in between like Charlottesville and Middleburg.