7 LOCAL WAYS TO ENJOY SPRING BREAK AT HOME
This Spring Break, like everything within the past year, looks different for most of us. To help you keep the kids entertained and learning all week long, we compiled a list of 7 Local Ways to Enjoy Spring Break at Home. This list is a mix of local outing ideas and at-home fun, so no matter what you are balancing during this year's Spring Break, you have ideas.
1. Nature Exploration: Nature Hunts, A Day at the Park or A Tree Photo Safari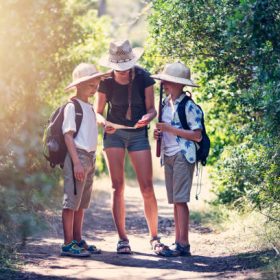 As we all know, Charlottesville is full of amazing opportunities to experience nature, and now that Spring is finally here, it is time to do so as a family. Nature Hunts are a great way to get the kids excited to spend time outdoors. To incorporate learning into your hunt, compile a list of items you would find locally, such as wildflowers, pinecones, seeds, green leaves, brown leaves, bugs, round rocks, birds, feathers, etc. Inviting the children to participate in creating the list will also add a level of excitement as they can personally specialize what they hope to find throughout the day. If they find or spot a majority of the items on the list, a family trip for ice cream or some sort of reward is a fun way to motivate your little adventurers. A Nature Hunt not only gets the kids moving but also give them the opportunity to really notice their surroundings. And when it comes to nature, who knows what they will find! 
Spanning 280 acres, Pen Park is the largest park in Charlottesville and provides plenty of space to explore while also remaining socially distanced. The beauty of the park and its views alone make adults swoon, but the kids can also adventure through all the park's amenities. With a playground, 8 tennis courts, a volleyball court, picnic shelters, a baseball field and batting cage, as well as the 1.5-mile Nature Trail (with ample side trails,) they won't know where to begin! If you have older children, they might even be interested in the Pen Park Fitness Trail, which runs alongside the Rivanna River and includes 20 exercise stations. Additionally, Pen Park prides itself on being adapted for the blind, handicapped and individuals of all ages. It can even be a whole family affair, as dogs are allowed on leashes. 
If you have little ones and the grandeur of Pen Park is a bit overwhelming for the Nature Hunt, Greenleaf Park is another gem in Charlottesville. This sweet park offers a playground area that includes equipment for ages 2–5 years, as well as relaxed trails and a picnic shelter. 
A final way to get the kids noticing and learning about nature, specifically Charlottesville's natural scene, is The Landmark Tree Photo Safari. This unique activity was recently launched and encourages families to get out of the house, appreciate nature and learn about some of the oldest trees in Albemarle County using The Charlottesville Area Tree Stewards' notable trees website. There are seven different kinds of trees featured, including Sycamore, White Ash, American Elm, Basswood, as well as different kinds of oaks.
2. The Ultimate Outdoor Game
If Nature Hunts sound great, but you know your family likes a little more challenge and competition, disc golf could be a great activity for you. If you have never played before, or have younger children, a good place to start is at Meadowcreek Gardens. The 9-hole course is woven throughout the wooded natural setting, with plenty of space for stopping to explore and to let more experienced players pass through. Before playing, we recommend looking over the rules of disc golf and gaining a semi-solid understanding to maximize enthusiasm. If you are familiar with disc golf, and have older kids, Walnut Creek Park is another fabulous option. This 18-hole course in the Blue Ridge Mountains makes for a great full-day excursion, where you can pack a picnic and escape from everyday responsibilities. 
The more you are excited for playing games, the more your kids will be excited.

3. A Day in Richmond
Get out of Charlottesville for a day, and make the quick trip to Richmond to visit some of its award-winning sites like the Virginia Museum of Fine Arts (VMFA), the Children's Museum of Richmond (CMoR), the Science Museum of Virginia (SMV) or Lewis Ginter Botanical Garden. For older children and teens especially, the VMFA is a wonderful option. It is considered one of the largest art museums in North America, offering an extensive permanent collection in which admission is free. It additionally offers special exhibitions, for which admission varies, so make sure to look into what is offered before heading out.
For kids, especially those who love to climb, move and play, CMoR is a more fitting destination. Open with reservable times (seven days in advance), CMoR provides kids with the opportunity to learn through interactive play. It is a wonderland and well worth the trip. The SMV, known for the Dome which is the Largest Screen in Virginia, is also offering exhibitions on Covid, such as "Bettering Mental Health through Virtual Reality," "NASA's X-59 QueSST" and "Girls in Medicine" this March. Finally, if it is too beautiful of a day to be indoors, Lewis Ginter Botanical Garden is also in Richmond and has been voted America's #4 public gardens by USA Today.
4. A Day of Amazing Adventures
Amazement Square, a multi-disciplinary and interactive museum located in Downtown Lynchburg welcomes guests of all ages and is acknowledged as one of Virginia's favorite family spots. Amazement Square motivates learning through creative play for children, allowing them to paint on walls, create a rainstorm, float a boat, perform on stage and much more. There are indoor play structures, mazes, ladders, tunnels and even a zip-line. 
Another fabulous spot for the little ones is Explore More Discovery Museum in Harrisonburg. Open by reservation only, Explore More also nurtures children's learning through active exploration. The exhibits and programs involve auditory, visual and tactile experiences for children to enjoy and grow. 
5. Revisiting History
Frontier Culture Museum is a must-see living history museum in Staunton, and their annual pass is a bargain. The museum captures the lives of people who migrated from the Old World to the Shenandoah Valley, telling the story of these immigrants and their descendents through live-action demonstrations and educational displays. The museum even reproduced traditional buildings from England, Germany, Ireland, West Africa and America to represent the Old World, while further capturing and teaching the archaeology, architecture, cooking, fashion, dress and more of the early Shenandoah Valley.
6. Creating a Family Garden
Spring Break sheds us of winter and allows us to step forward into spring and new beginnings. A tangible way to engage in this transition is by planting seeds as a family. Root crops like carrots, beets, radishes and peas are best planted in March, and after you plant, you can then go see what the seeds will turn into by venturing to the Farmers Market at Ix Art Park. Going to the farmers market will encourage the kids to keep paying attention to the family plantings, and it is also a wonderful opportunity to support local businesses. Ix Art Park offers their farmers market on Saturdays from 9:00 a.m.–1:00 p.m. with carefully regulated walk-up shopping and food trucks. The market accepts SNAP benefits and offers a wide variety of products from produce and meat to baked goods and artisan-made items. 
One way to get kids to do chores inside the home is to make it a family affair.
Additionally, keep an eye out for our fruit picking guides featured on our Website. There, we discuss where and when to pick seasonal fruits at local orchards.
7. Getting Creative & Crafty
​The break from school curriculum is also the perfect opportunity to nurture children's creativity and encourage them to lean into different modes of self-expression. Purchasing canvases and water colors, or even scheduling drawing sessions throughout the week are good steps in facilitating creative time during the break. Creativity can also come in the form of baking and cookie decorating, song-making, whole family performances, or even making and using a flower press. No matter what activity or local outing your family decides on this spring break, the Charlottesville area is the hub for all your family needs to start their adventures.
---
VIRGINIA SYER, a fourth year student at the University of Virginia, loves capturing the beauty of Charlottesville.
---
YOU MIGHT LIKE


CharlottesvilleFamily.com, a collection of local resources including a popular calendar of events, family services guides and features on education, health and family day trips for parents and teachers in Charlottesville, as well as the CharlottesvilleWelcomeBook.com a guide to resources for Charlottesville tourists and newcomers. Ivy Life & Style Media also creates other projects including Wine & Country which celebrates elevated living in Virginia Wine Country. Wine & Country Life, a semi-annual life & style magazine, and Wine & Country Weddings, an annual art book celebrating elegant Virginia weddings, are complemented by the Wine & Country Shop in Ivy, VA—a beautiful lifestyle boutique that brings the pages of the magazines to life. The Shop features over 40 Virginia artisans with everything from tailgating essentials and Dubarry attire to locally made foods and award-winning Virginia wines and craft beverages for your next event. Wine & Country covers the grape-growing foothills of the Blue Ridge Mountains from Lynchburg to Leesburg, including points in between like Charlottesville and Middleburg.