2022 BERRY & FRUIT PICKING GUIDE
Shopping and eating local seems to be a way of life in the Charlottesville area. Do both at the same time (and have lots of family fun along the way) by visiting one of the many orchards and berry farms in the area. There is a plethora of berries and other fruits available for picking from spring to fall, and there is no better way to teach your kids about where food comes from, how it's grown, and how absolutely delicious freshly plucked produce can be! Check out our 2022 Berry & Fruit Picking Guide below, and start planning your seasonal outings now. Be sure to check websites and/or call ahead to ask about restrictions and availability. Looking for more farm and orchard info? See our Apple Picking Guide, too!
Virginia Fresh Fruit Availability Chart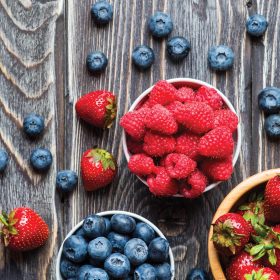 Apples: July–November
Blackberries: June–August
Blueberries: June–August
Cherries: June
Grapes: August–October
Peaches: July–September
Raspberries: June–October
Strawberries: April–June

Where & When to Pick Your Own
Chiles Peach Orchard (Crozet)
Pick your own strawberries late-April through early-June, peaches mid-June through mid-September and apples mid-August through mid-November. Plus indulge in baked goods and homemade ice cream. 434-823-1583, chilespeachorchard.com
Critzer Family Farm (Afton)
Pick your own strawberries in May and June, cherries in June and July, blackberries and raspberries in mid-July and a selection of vegetables throughout the summer and fall.
540-241-3305, critzerfamilyfarm.com
Dickie Brothers Orchard (Roseland)
Enjoy a wide variety of pick-your-own apples from late July to November, pre-picked peaches starting the second week of July, and plums and nectarines in August.
434-277-5516, dickiebrothers.com
Gold Hill Blueberry Farm (Unionville)
Come pick blueberries July through August, and check out the other items grown on the farm as well.
540-222-7954, https://www.facebook.com/Gold-Hill-Blueberry-Farm-113974898651476/
Henley's Orchard (Crozet)
Pick your own nectarines and peaches from June through August. Apple picking season starts in July and runs through October.
434-823-7848, henleysorchard.com
Hill Top Berry Farm & Winery (Nellysford)
Pick several varieties of thornless blackberries mid-July through August. Open daily 11am–5pm.
434-361-1266, hilltopberrywine.com
Kipps Grapes (Rochelle)
Pick your own grapes, apples and peaches from early August through early September. Also, check out the jams, jellies and sauces made from their fruit.
540-948-4171, kippsgrapes.com
Liberty Mills Farm (Somerset)
Pick-your-own strawberries and flowers in mid- to late-May, and keep an eye out for their Annual Strawberry Fest in May.
434-882-6293, libertymillsfarm.com
The Market at Grelen (Somerset)
Starting with blueberries, the berry picking begins in late-May or early-June and typically goes through September, Wednesdays–Sundays. Pick peaches and plums in early-June through August and apples August through early-October.
540-672-7268, themarketatgrelen.com
Miller Farms Market (Locust Grove)
Pick-your-own strawberries in May from the three-acre strawberry patch. You can also pick blackberries, blueberries and raspberries a little later on in the season.
540-850-5009, millerfarmsmarket.com
Morris Orchard (Monroe)
Pick blueberries in mid-June and blackberries early-July. For specific dates and times, be sure to check their Facebook page.
434-929-2401, morrisorchard.com
Saunders Brothers Farm Market (Piney River)
Cherries are available starting in late May, and peaches are available mid-June to the end of September. Enjoy nectarines in July, apples mid-June through October, and Asian pears August–October.
434-277-5455, saundersbrothersfarmmarket.com
Seamans' Orchard (Roseland)
Pick your own strawberries in May, and blueberries and cherries in June, followed by apples starting in late July.
434-277-8130, seamanorchard.com
Spring Valley Orchard (Afton)
Owned by the same family as Chiles Peach Orchard and Carter Mountain Orchard, Spring Valley will open June 3 and offer pick-your-own sweet cherries. Be sure to visit their social media pages for specific dates.
434-960-9443, springvalleyorchard.com
Sunrise Gardens (Brightwood)
Pick your own blueberries late-may through mid-June. Blackberry picking starts in mid-June through mid-July, and there is one small row of black raspberries available for picking. Closed Sundays, and best selections are early in the mornings.
540-407-1424
Wenger Grapes (Waynesboro)
Pick your own Concord and Niagara grapes from late August through September for fresh eating, jams and juice.
540-943-4956, wengergrapes.com
Happy picking! Visit our local farms and orchards in the late summer/fall, too. Check out our Apple Picking Guide for all you need to know.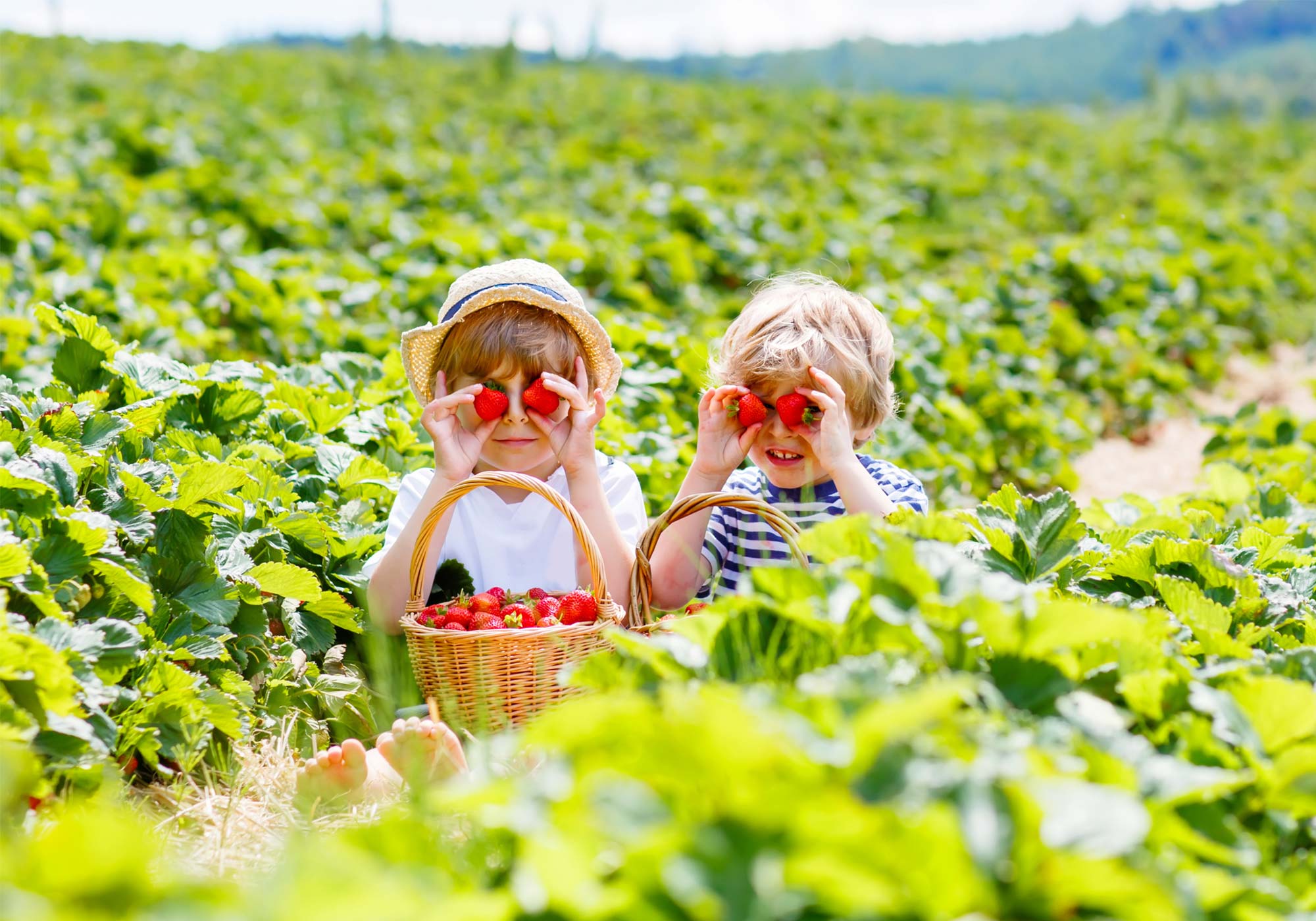 YOU MIGHT LIKE


CharlottesvilleFamily.com, a collection of local resources including a popular calendar of events, family services guides and features on education, health and family day trips for parents and teachers in Charlottesville, as well as the CharlottesvilleWelcomeBook.com a guide to resources for Charlottesville tourists and newcomers. Ivy Life & Style Media also creates other projects including Wine & Country which celebrates elevated living in Virginia Wine Country. Wine & Country Life, a semi-annual life & style magazine, and Wine & Country Weddings, an annual art book celebrating elegant Virginia weddings, are complemented by the Wine & Country Shop in Ivy, VA—a beautiful lifestyle boutique that brings the pages of the magazines to life. The Shop features over 40 Virginia artisans with everything from tailgating essentials and Dubarry attire to locally made foods and award-winning Virginia wines and craft beverages for your next event. Wine & Country covers the grape-growing foothills of the Blue Ridge Mountains from Lynchburg to Leesburg, including points in between like Charlottesville and Middleburg.