SOME OF OUR FAVORITE DAYTRIPS FOR PRESCHOOL-AGE KIDS IN VIRGINIA
Living in Charlottesville, we are perfectly placed to explore fun, interactive and educational museums without having to drive too far. Here are some local and regional daytrip locations you don't want to miss with your adventurous little ones. At these museums, your child will develop in many ways. Physical play will help your child hone his or her coordination, balance, gross-motor skills and fine-motor skills, while emotional growth through play can help kids learn to cope with their emotions as they act out fear, frustration, anger and affection in a situation they are controlling. By visiting these public spaces, you can also help your child develop social skills through play by exposing them to environments where they must collaborate and compromise with others, recognize and respond to others' feelings, resolve conflicts and follow rules. So, load up the car to touch, taste, hear, smell and see as you explore area museums perfect for preschoolers and beyond!
1. Children's Museum of Richmond
(1–2 hour drive)
The beloved Children's Museum of Richmond (CMoR) has 18 interactive exhibits. From the multi-level living tree house to the well-known limestone cave, CMoR offers plenty of opportunities for your preschooler to explore! Special exhibits geared towards toddlers, such as the farm area with an enclosed crawler patch, ensures that children can connect with and learn from their environment. Tots can pick apples at the Apple Tree or "milk" a life-sized cow at the Dairy Barn to practice hand-eye coordination, and stop by the Wegmans exhibit to learn more about healthy eating and nutrition. Children can travel back in time with the Silver Diner, or practice car repair at the CarMax service station. Aspiring mechanics can even change tires and fasten on license plates at the Service Station. Have a future doctor on your hands? He or she can experience the museum's ambulance with all its buttons, levers and steering wheel, and they can care for patients in their doctor's office, exploring toys that mimic some of the tools they may experience at their own pediatrician's office. Explore, create, draw and paint in the art studio; its many diverse materials make it a fun stop for all ages! For the older kids, be sure to visit the News Studio, where they can report the day's news in front of the camera and learn about the media. Admission for the museum is good for the entire day, so your family can explore Richmond over lunch, or perhaps visit the neighboring Science Museum of Richmond. The CMoR shop offers an array of educational toys, projects, books, musical instruments and more to take home for continuing learning. CMoR is only open four days a week, from Thursday to Sunday, so plan accordingly. Mask use is mandatory, and guests are encouraged to register for tickets in advance of their visit. 804-474-7062, c-mor.org.
2. Amazement Square in Lynchburg
(1–2 hour drive)
Just over one hour southwest of Charlottesville, Lynchburg is an easy drive for families wanting to adventure at Amazement Square.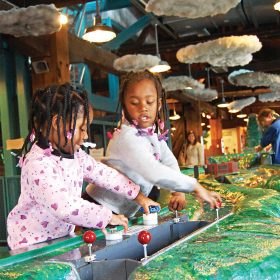 This four-story, hands-on museum is sure to spark imagination, creativity and curiosity with so many places for your preschooler to learn firsthand. Allow them to scramble up and down Amazement Tower, one of the tallest climbing structures in the nation, filled with slides, ladders, tunnels and even a zip-line. Or, they can step into a unique glass-wall paint box and fulfill their wish of painting on the walls. Learn about livestock at the Big Red Barn by helping milk a life-sized cow, collecting different crops and greeting an array of animals. These fun exhibits allow children to learn more about their region. Kids 36 months and under will enjoy the Shipwreck Cove exhibit where they can explore a pirate ship play structure and meet new friends. The "Bee in the Know" exhibit is great for older kids to learn about the importance of bees in our daily lives, the role beekeepers play in preserving the bee population and the impressive way that bees work together as a team to keep their hive running. The museum also offers multiple weekly programs, including Art Expeditions and Pop-up Programs. During Pop-up Programs, instructors lead demonstrations and hands-on exploration with fun science experiments that focus on electricity, air cannons, rocketry and more! These programs are all free with admission. 434-845-1888, amazementsquare.org.
3. Virginia Discovery Museum in Charlottesville
(0–1 hour drive)
The Virginia Discovery Museum (VADM), located on Charlottesville's Downtown Mall, is a local favorite, providing community-based exhibits and activities to help your preschooler learn and grow. General admission is closed until September 7, but small groups under 25 people can schedule a two-hour private visit in advance. After checking in, you are free to wander from exhibit to exhibit, letting your little one's curiosity lead the way. Use creativity and build something in the Construction Zone. Filled with soft foam shapes, perfect for building and knocking down an epic fort, you both could be entertained for hours. Celebrate Virginia heritage at the Showalter Cabin, an authentic child-size log cabin, where your preschooler can pretend to pick vegetables, visit the chicken coop or climb into the cabin loft. In the Sound & Music Studio, children are exposed to more hands-on learning, where they can touch the tuning fork and watch it vibrate, or visit the Instrument Gallery and make music. They can learn about other careers by sorting mail at the Post Office or by visiting the Discovery Station Firehouse. In the Little C'Ville exhibit, the VADM features Panera Bread, the UVA Children's Hospital, The Paramount Theater and more, allowing your preschooler to re-imagine and explore the spaces they may have already encountered. While there, explore the STEM lab's magnetic wall and automoblox ramp with your older kids. 434-977-1025, vadm.org.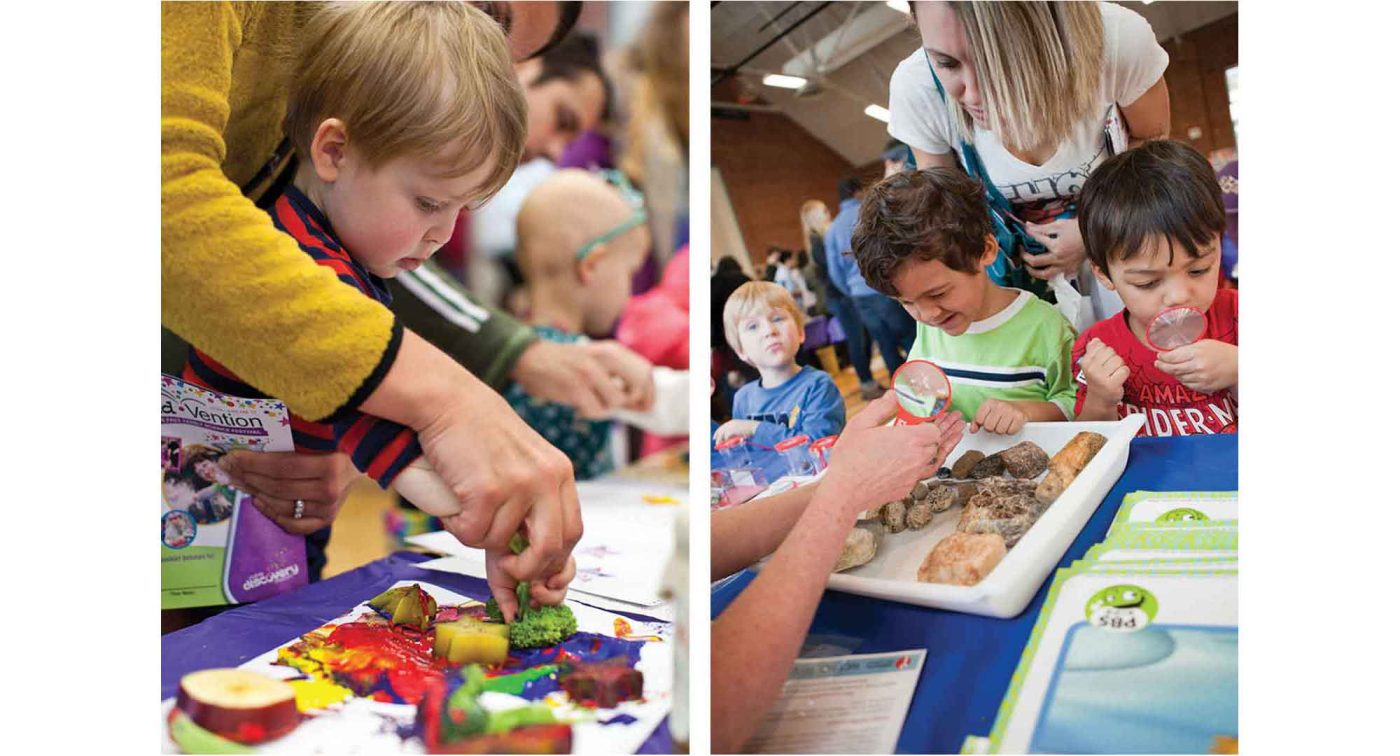 4. Shenandoah Valley Discovery Museum in Winchester
(2–3 hour drive)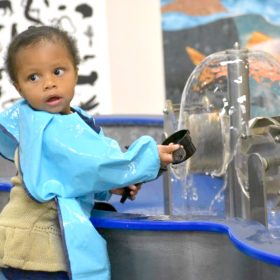 The Shenandoah Valley Discovery Museum in Winchester features a unique variety of interactive exhibits that encourages learning through hands-on play. With 14 exhibitions, a rotating menu of weekly programs, four levels of exhibits and 19,000 square feet, your little explorer won't run out of entertainment. The museum's programs, both virtual and on-site, encompass a wide range of topics, from activities teaching the five senses and investigating insects to dinosaurs and music, movement and me activities that allow your child to choose from frogs, caterpillars and butterflies, turtles and fish. The museum has also loaded up some activities for at home on their website that touch on the arts, community, healthy living, nature and the world around us, STEM/STEAM activities, and sensory-friendly activities and STEAM storytimes. Admission is free on the first Friday of each month between 5–7 p.m. 540-722-2020, discoverymuseum.net.
5. The Explore More Discovery Museum in Harrisonburg
(1–2 hour drive)
This intimate Shenandoah Valley museum understands that children learn by exploring their surroundings. The museum's
appreciation for a child's broad spectrum of learning inspires each little one's visual, auditory and tactile exhibits with which he or she can engage his/her minds and bodies. The adventure begins with construction and building toys in the hands-on museum. Next, guests are invited to check out the TV studio, garage service center, farm and farmers markets exhibits, as well as the art center, the science area where kids can use the microscope and the theater—complete with curtains, costumes and lighting that pint-sized stagehands can manage. Currently opened with reduced capacity, Explore More packs a lot of learning and fun into its cozy confines. 540-442-8900, iexploremore.com.
All of these attractions offer activities that will stimulate preschool-aged children to think, learn and play in diverse environments. From problem solving to creative thinking, kids are sure to walk away with more than just fun memories. Find more family-friendly daytrip ideas on our Family Fun page, and keep up-to-date on upcoming events on our Local Events Calendar.
YOU MIGHT LIKE


CharlottesvilleFamily.com, a collection of local resources including a popular calendar of events, family services guides and features on education, health and family day trips for parents and teachers in Charlottesville, as well as the CharlottesvilleWelcomeBook.com a guide to resources for Charlottesville tourists and newcomers. Ivy Life & Style Media also creates other projects including Wine & Country which celebrates elevated living in Virginia Wine Country. Wine & Country Life, a semi-annual life & style magazine, and Wine & Country Weddings, an annual art book celebrating elegant Virginia weddings, are complemented by the Wine & Country Shop in Ivy, VA—a beautiful lifestyle boutique that brings the pages of the magazines to life. The Shop features over 40 Virginia artisans with everything from tailgating essentials and Dubarry attire to locally made foods and award-winning Virginia wines and craft beverages for your next event. Wine & Country covers the grape-growing foothills of the Blue Ridge Mountains from Lynchburg to Leesburg, including points in between like Charlottesville and Middleburg.