WHERE TO PICK APPLES NEAR CHARLOTTESVILLE THIS FALL
We're lucky to have fresh fruit available at local farms from spring through fall. Keep in mind it is always a good idea to call ahead for times and harvest availability. Many orchards have pumpkin patches later in the fall, so you may want to return in a few weeks with the family! Now through October, you can pick your own apples at an array of orchards near Charlottesville. For a list of where to consider, see our Apple Picking Guide below.
When is the Best Time to Pick Apples in Virginia?
Apple season in Virginia is from August to early November with mid-September to mid-October as the premium time to pick the best fruit. While we're blessed with multiple orchards in our area, it's always a good idea to check an orchard's Facebook page or website before heading out, or call ahead to confirm that they are still offering apples and haven't been picked out already.
What Types of Apples Grow in Virginia?
Red Delicious, Golden Delicious, Rome, Stayman, Gala, Winesap, York, Granny Smith, Jonathan, Fuji and Ginger Gold are common types of apples grown in our region. But more and more orchards are also dipping into history and cultivating heirloom varieties, such as Ashmead's Kernel, Albemarle Pippin, Ralls, Baldwin, Winesap, Esopus Spitzenburg and more!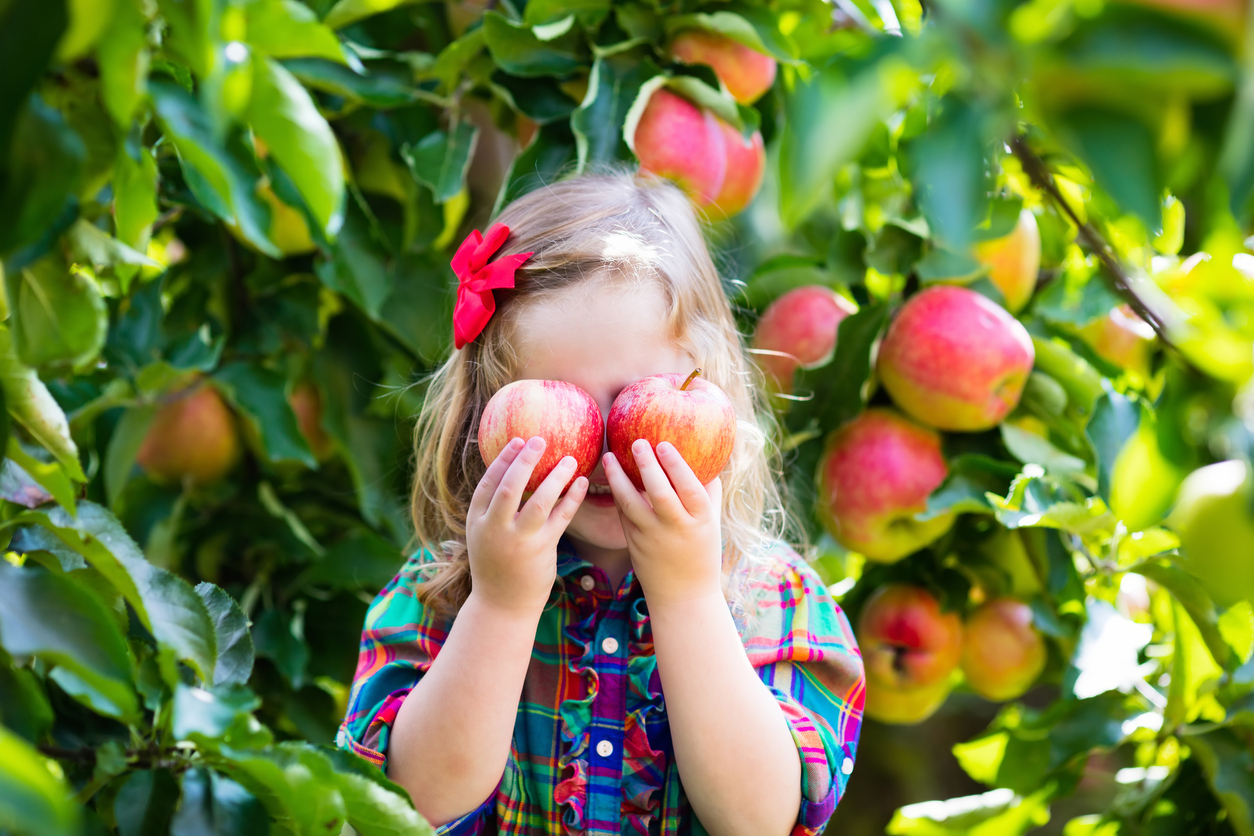 Tips for Visiting Orchards in Virginia
Ready to head out to a local orchard? Here are tips to help you have a great visit!
• Call ahead for conditions, supplies and prices.
• Get directions from the orchard's website, or when you call, since mapping programs like Google are not always accurate in rural areas.
• Pack a picnic and a picnic blanket.
• Don't forget to use bug spray and sunscreen.
• Dress in layers and wear comfortable shoes.
• Carry canvas shopping bags, which won't rip when full of heavy fruit.
• Bring a little wagon along to carry apples—or tired pickers. Some orchards have them available for visitors.
• Ask about discounted pre-picked seconds or blemished apples, which are fine for baking and cooking.
• Check apples for worms.
• Have cash on hand, since not all orchards will take credit or debit cards.
• Visit the website to check which varieties are pick-your-own and which are pre-picked.
• Time your visit carefully if you're looking to pick a lot, because you may be joined by school groups on weekdays and festival-goers on weekends.
Where to Pick-Your-Own Apples Near Charlottesville
Carter Mountain Orchard
Charlottesville
Look for hayrides and pumpkins in the fall, and enjoy baked goods, jams and hot apple cider donuts—a mouth-watering local tradition—year-round. This is also a great place to bring visitors, since the panoramic view of Charlottesville and the Blue Ridge Mountains is nothing short of fantastic. 434-977-1833, cartermountainorchard.com
Chiles Peach Orchard
Crozet
Though they're known for their peaches, Chiles Peach Orchard offers a variety of produce, including berries, veggies, pumpkins and apples. Apple season typically lasts from mid-August to November, and their website gives helpful updates about what's available to be picked every day. Once you've picked all the apples you can carry, stop by their farm market and bakery for some sweet treats or savory sauces, made with fresh ingredients grown in the orchard. 434-823-1583, chilesfamilyorchards.com/chiles-peach-orchard
Critzer Family Farm
Afton
Stemming from five generations of farmers, Critzer Family Farm offers a variety of fruits and vegetables throughout the year, with apples in the fall and blackberries throughout September. Open Monday–Saturday, and closed on Sundays. 540-241-3305, critzerfamilyfarm.com
Dickie Bros. Orchard
Roseland
This Nelson County orchard has been owned and operated by the same family for more than 268 years, ever since King George issued their land grant! The orchard—home to many apple varieties—is located near the scenic George Washington National Forest and Wintergreen Resort, and many families include a hike to Crabtree Falls while in the area. 434-277-5516, dickiebrothers.com
Henley's Orchard
Crozet
Just north of downtown Crozet, Henley's grows more than 25 varieties of apples with a low-spray method—including the regional darling: Albemarle Pippin. 434-823-7848, henleysorchard.com
The Market at Grelen
Somerset
Located on the Grelen nursery property, this market offers pick-your-own apples in the fall, along with a café, garden shop and plenty of workshops that teach varied planting techniques. There are also scenic trails where a pre-ordered lunch from the café or a Grelen picnic basket can be enjoyed at a table at the Outlook Trail. 540-672-7268, themarketatgrelen.com
Seamans' Orchard
Roseland
Pick-your-own apples are only available one weekend a year, rain or shine: September 18 and 19—and are sold by the half-bushel and bushel. Like Dickie Bros., Seamans' is near Crabtree Falls (an easy-to-moderate hike for families) and the Blue Ridge Parkway. Families are encouraged to picnic on the property while visiting. 434-277-8130, seamansorchard.com
Silver Creek Orchard
Tyro
Although the packing shed (farm stand) is open daily in September, this orchard's pick-your-own dates are limited to two Saturdays, rain or shine: September 11 & October 9. Plan to peruse the local goodies at the packing shed after you pick your basketful. Retail shop is closed on weekends with limited hours throughout the week. Together with Seamans' Orchard, Silver Creek hosts Apple Butter Makin' Festivals throughout the season. 434-277-5824, silvercreekseamansorchards.com
Valley View Farm
Delaplane
Valley View's pick-your-own orchards include peaches, blueberries, blackberries, cherries, and apples. The farm welcomes families and even offers educational tours during the season that include education about local farming, animal husbandry, orchard management, beverage production and the Honey BeeInitiative.540-592-1021, valleyviewva.com/
Apple Recipe Ideas
Looking for a recipe to make with your freshly picked local apples? Try this Apple Fritter Donut Recipe or these Apple Cider Donuts on our Wine & Country Life website. For a date idea, try out one of these Cideries in Central Virginia.
YOU MIGHT LIKE


CharlottesvilleFamily.com, a collection of local resources including a popular calendar of events, family services guides and features on education, health and family day trips for parents and teachers in Charlottesville, as well as the CharlottesvilleWelcomeBook.com a guide to resources for Charlottesville tourists and newcomers. Ivy Life & Style Media also creates other projects including Wine & Country which celebrates elevated living in Virginia Wine Country. Wine & Country Life, a semi-annual life & style magazine, and Wine & Country Weddings, an annual art book celebrating elegant Virginia weddings, are complemented by the Wine & Country Shop in Ivy, VA—a beautiful lifestyle boutique that brings the pages of the magazines to life. The Shop features over 40 Virginia artisans with everything from tailgating essentials and Dubarry attire to locally made foods and award-winning Virginia wines and craft beverages for your next event. Wine & Country covers the grape-growing foothills of the Blue Ridge Mountains from Lynchburg to Leesburg, including points in between like Charlottesville and Middleburg.