HOW TO CREATE A PLAN TO KEEP YOU FAMILY ACTIVE THIS YEAR
Parents undoubtedly live very busy lives, and many families struggle to incorporate fitness and nutrition into their already hectic routines. Childhood obesity rates continue to rise, resulting in an increase of unhealthy adults. It can be a cycle of sorts, so starting healthy habits at a young age is important for generations to come. Experts agree togetherness is a major part of maintaining a family fitness plan, and this is a great way to set an example for your kids in a different way. So, gather the fam, and use these tips for creating a household fitness plan that everyone can be excited about.
Tips for Creating a Family Fitness Plan
According to Shannon Slovensky, exercise physiologist at the University of Virginia's Heart and Vascular Center, the weekly guidelines for fitness include moderate-to-vigorous aerobic activity three to five days, as well as strength training two to three times each week. Yes, it may sound like a daunting task to incorporate this into an already busy schedule, but these tips can help get the ideas flowing and get your family started.
Set goals.
Sit down as a family and set some goals for the foreseeable future. Maybe it is walking everyday,
practicing family yoga
or swimming a few times a week at an indoor facility. Maybe it's signing up for a new sport your child wants to try this year. Or perhaps it is creating a list of
local hikes
or bike trails your family wants to explore on the weekends. Whatever the goals are, make them attainable. Display the list of goals in a place where everyone can see them and be reminded, and then get moving! If you need an extra motivating factor for the young ones, perhaps a family reward at the end of a goal is in order, such as a day at an amusement park or redecorating their rooms.
Write it down.
Chances are you already have a family calendar posted somewhere in the house and/or on your phone. Take the time to add physical activities to the schedule. The more specific the better, such as bike rides, walks, family yoga sessions, a hike the first and third Saturday of each month, etc. If you are a schedule/list-oriented person, this will help it become a part of your routine more quickly and allow you to check it off the list once done!
Walk together.
Walking is not only great exercise but also an excellent way to encourage conversation. People often underestimate how much aerobic activity they are actually getting. Taking a 30-minute walk daily is one of the best ways to maintain a healthy weight. Consider working a walk into your nightly schedule. After the kitchen is cleaned up post-dinner, everyone goes outside for an evening stroll. Everyone will most likely sleep better, and the family dog will also appreciate the new routine.
The possibilities are endless when you get more people involved, and being held accountable has never been a bad thing.
Team up with neighbors.
People are often more motivated to move if they can do so with a buddy. Set up a regular time to walk with a neighbor, particularly if you both have young children in strollers! Schedule playdates with your kids' friends that include bike rides, trampoline jumping, games of tag in the backyard, swimming at the community pool, nature scavenger hunts, etc. Maybe a neighbor has weightlifting equipment in their garage you can use in exchange for walking their dog or letting them borrow your bike. The possibilities are endless when you get more people involved, and being held accountable has never been a bad thing.
Join a gym with childcare.
Many people consider their exercise time as their alone time, and that is perfectly OK! To better your chances of sticking with a more traditional gym routine, join a gym with childcare.
ACAC
is just one example of a local gym with childcare options. While you work out, the kiddos can enjoy the Kid Zones at their various locations, where lots of movement and fun is also encouraged.
Other Ways to Start the Year off More Healthy
Eat meals together.
Sitting down at the end of each day to enjoy a meal together is about more than just connecting with family. Eating together is a good way to monitor what (and how much!) your family is eating, and it will help them develop lifelong healthy eating habits. Making sure your kids eat something green is easier when you are all seated together. Consider making a game out of it. "Daddy can eat five green beans! Can you eat six?" Bonus! Connecting at the dinner table is also an ideal way to begin the evening wind down process that is essential for a good bedtime routine.
Cook together.
Studies show that when kids are involved in making and growing food, and perhaps even shopping for food, they are much more likely to want to eat it. And no, we aren't just talking about cupcakes. Check out
The Importance of Cooking With Kids
for tips on getting the entire family to help in the kitchen.
Create active chores for kids.
When thinking about jobs for your children around the house, consider assigning chores that get them moving more. Examples include picking up sticks in the yard, raking leaves and sweeping the patio/porch. Older kids can mow the lawn or vacuum around the house. These types of chores not only get kids moving but also help teach them what it takes to maintain a home.
Pair learning with activeness.
Create a hopscotch to practice numbers, the alphabet or even simple addition problems. Do a backyard or neighborhood nature scavenger hunt. Have a basketball goal in your driveway? Play a game of "HORSE," but with your kids' spelling test words of the week. The benefits of making learning fun
and
active are too many to count!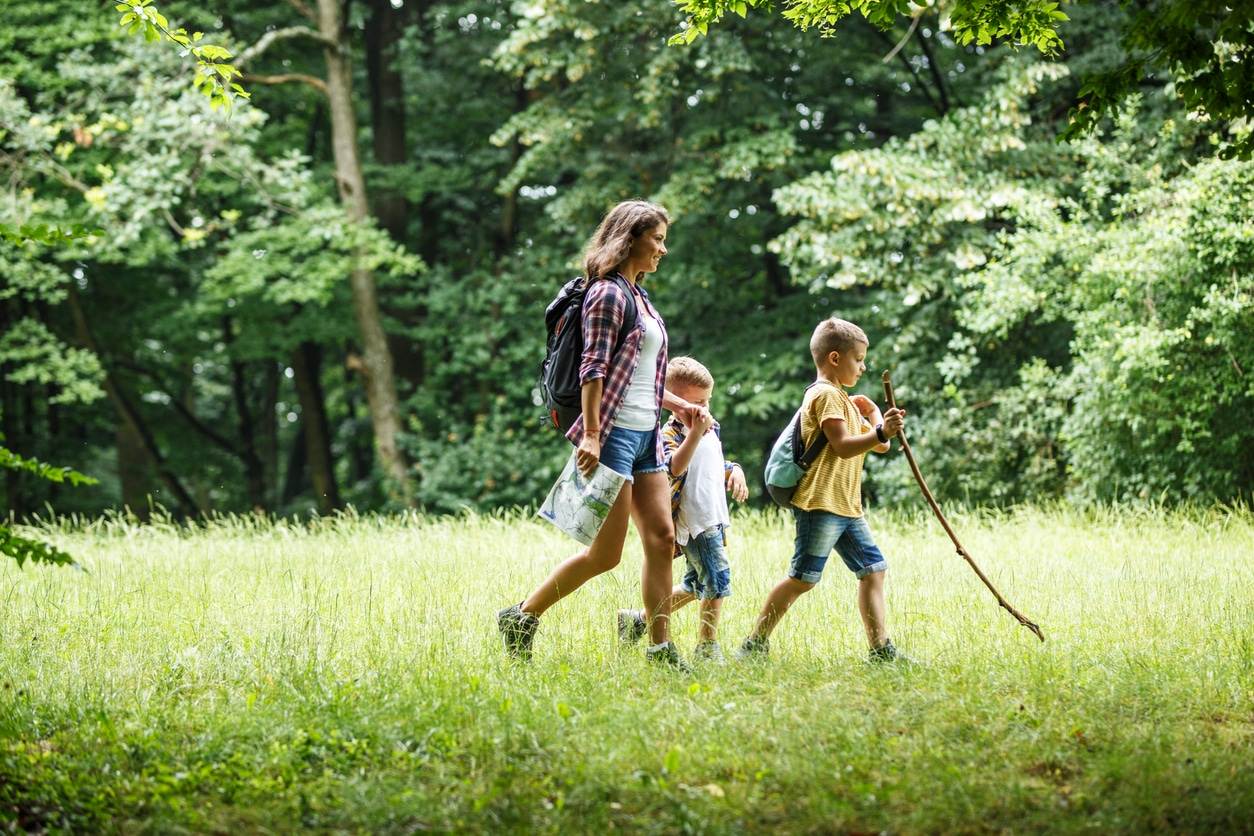 The key to any routine is sticking with it and staying motivated, particularly when it comes to a health and fitness plan. Remembering it is the best thing for you and your family can help keep you in a good mindset. "We get busy driving, picking up kids, worrying about keeping track of everything but ourselves," says Lynn Fischer, author of more than 20 healthy cookbooks. "But your number-one priority has to be your own health. It's true what the airline flight attendants say: 'You must first put the mask over your own mouth and nose, and then you can help your child.'" Decide right now to make your health a top priority. It's not selfish. In fact, it's the best thing you can do for your family, says Fischer. You have to mean it, though. It's amazing how spouses and kids pick up on wishy-washy intentions. (After all, they've heard this all before, right?) So get serious. "You'll be amazed at how supportive your family can be," she adds.
Looking for more healthy family content? Check out the
Health section
of our website for more local resources like
Active Family Fun Ideas
and
Gardening with Kids
, as well as the
Food & Home section
for healthy recipe ideas, including
An Easy and Nutritious Quesadilla
and
Pasta Primavera
.
---
ELLEN SEWELL, our Associate Editor, has a degree in communications with an emphasis in journalism and PR. She is a mom of two young kids, and enjoys promoting all the Charlottesville area has to offer.
---
YOU MIGHT LIKE


CharlottesvilleFamily.com, a collection of local resources including a popular calendar of events, family services guides and features on education, health and family day trips for parents and teachers in Charlottesville, as well as the CharlottesvilleWelcomeBook.com a guide to resources for Charlottesville tourists and newcomers. Ivy Life & Style Media also creates other projects including Wine & Country which celebrates elevated living in Virginia Wine Country. Wine & Country Life, a semi-annual life & style magazine, and Wine & Country Weddings, an annual art book celebrating elegant Virginia weddings, are complemented by the Wine & Country Shop in Ivy, VA—a beautiful lifestyle boutique that brings the pages of the magazines to life. The Shop features over 40 Virginia artisans with everything from tailgating essentials and Dubarry attire to locally made foods and award-winning Virginia wines and craft beverages for your next event. Wine & Country covers the grape-growing foothills of the Blue Ridge Mountains from Lynchburg to Leesburg, including points in between like Charlottesville and Middleburg.