THE BEST PLACES FOR LEAF PEEPING & HIKING WITH KIDS
Getting outdoors with your family and dogs is a great way to spend quality time together and experience the gentle breeze and beautiful Virginia scenery, especially during the peek fall foliage weeks. Before venturing out, it is important to know where to go to find hiking trails that allow dogs and are safe for kids. Always remember to bring plenty of water, bug spray, sunscreen, hats, and anything else you think your family may need while enjoying the outdoors. It is also a good idea to remind your kids about dog safety–including asking if petting is okay first, how to approach a dog, petting gently, etc.
We have compiled a list of a variety of hiking trails for the entire family (especially the dog!) so you can feel comfortable and happy exploring the colorful outdoor world of central Virginia this fall!
Hiking the Rivanna Trail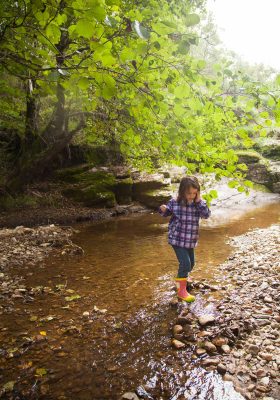 Beginning at Riverview park, the Rivanna trail is a fantastic easy trail that is extremely dog-friendly (though they must be on a leash) and perfect for kids. Along the trail you can find different times of wildlife and also walk along the Rivanna River. This trail is a Charlottesville staple and offers many different types of trails, all of which are lined with a variety of trees and other vegetation. Learn more here. Download the Rivanna Trail app for interactive maps and more information on what you will find on the variety of paths. There is even a version of the trail guide adapted to the interests of children. Check it out here.

Hiking Crabtree Falls
Best suited for kids school age and up, Crabtree Falls is located in the George Washington National Forest in Nelson County, off of State rt. 56. There is a very scenic 2.5-mile loop to Crabtree Falls which is moderate to strenuous with rocky terrain. It is dog-friendly and kid-friendly, but be aware of the rocks and sometimes steep terrain. Once you reach the top, the fall colors will leave you breathless (if you aren't already). You can get to the trailhead from the parking lot behind the campground entrance. For more information click here.

Hiking at Pleasant Grove Park
The perfect place for pooches and kids of all ages, Pleasant Grove is located off rt. 53 and Thomas Jefferson Parkway in Palmyra. It includes 900 acres of off-leash trails through fields, as well as a fenced dog park. There are beautiful trails and creeks as well as the bordering Rivanna River. Families will encounter a diverse population of wildflowers and animals, including river otters, eagles and ducks. There is even a butterfly garden for little ones to enjoy! Learn more about Pleasant Grove here.

Hiking at Preddy Creek Trail Park
Located in Albemarle County, a quick drive up rt. 29, this dog-friendly park has 10 miles of trails for hiking, mountain biking and even horseback riding. The trails range from easy to moderate, making it accessible to kids of all ages, with the exception of the newly added Advanced Mountain Bike Trail, which contains technical features that require more advanced skills. The park is easy to get to and is handicapped accessible. The outer loop is 3.2 miles in length and is the most suitable for family hiking. To find out more about this area follow this link.

Hiking the Lewis Spring Falls Trail
This 2.8 mile loop located near Stanley, Virginia in the Shenandoah National Park features a waterfall and is rated as a moderate hike. It is very convenient and easy to get to, and located next to a campsite where you can park your car. The trail only allows for hiking and walking, so you do not have to worry about mountain bikers. Dogs are allowed on a leash. Keep in mind there is a small fee to enter Shenandoah National Park. Find out more here.

Hiking Mary's Rock Summit
Mary's Rock is just south of the Thornton Gap entrance in Shenandoah National Park. There are multiple ways of entry including the Meadow Springs Parking area (2.8 miles round trip), and the Panorama parking area (3.7 miles round trip). It's open year-round, and there is a park entrance fee. This hike is up and back and the top features a rocky summit with out-of-this-world views, especially in the fall. It is wonderful for bringing your tweens/teens and dogs up to eat a picnic lunch, and then hike back down. Pets must be on a leash. For more information, click here.

Hiking the Hightop Peak Trail
Hightop Peak Trail is in Shenandoah National Park, located near Elkton. It has a rich forest and is rated as moderate. The out and back trail is 3 miles and is best used from April to October. It is a nice relaxing hike that is great for dogs and kids because there is plenty of shade and a great lunch spot at the top of the hike. There is a park entrance fee. Learn more about this trail here.

Hiking the Kemper Park Trails
Part of Monticello, Kemper Park occupies 89 acres of land along the Thomas Jefferson Parkway and is home to a number of trails and native plants and trees. These trails range from easy to advanced, so you can pick the skill level that works best for your family. All of the trails are dog-friendly besides the boardwalk portions of the Saunders-Monticello Trail. All dogs must be leashed. The easier trails are perfect for small children and very stroller-friendly. Hikes here vary in length, though most are under a mile, and some of them intersect. You can plan out which trail works best for you using the trail map. The parking lot is small, but if it's full, there's a larger lot on Dairy Farm Road, which has a path that goes under the main road to take you to the trails. Learn more about the trails here.

Hiking Luke's Loop and Wilken's Way
A part of Walnut Creek Park, Luke's Loop and Wilken's Way are two trails that can be taken separately for a length of 0.8 miles and 4 miles respectively, or combined together in a trail of around 4.3 miles as you can see on this map. Luke's Loop is easy and perfect for all ages, while Wilken's Way is more in the intermediate range for older kids, but both provide lovely views of the lake. The trails are best used from March until November. Dogs are also able to use this trail, but must be kept on leash. For more information, click here.

Hiking Running Cedar Loop
This is one of the hiking trails available at Chris Greene Lake Park in Albemarle County, which also offers a dog park and swimming for dogs in the lake. There are 3 miles of hiking trails total, though Running Cedar Loop is only 1.3 miles. This easy trail is fairly flat and good for kids of all ages, and it offers views of the lake and wildlife as you hike through lush, wooded areas. It is best to use between March and November. Dogs on leashes are welcome on the trail. A small fee must be paid for entry. Learn more about the park itself here, and click here for more information about the trail.
Need more fall fun ideas? Check out these 6 Fall Outing Ideas in Virginia from the Wine & Country Life blog. For even more local hiking ideas, check out 8 Kid-Friendly Hikes Near Charlottesville.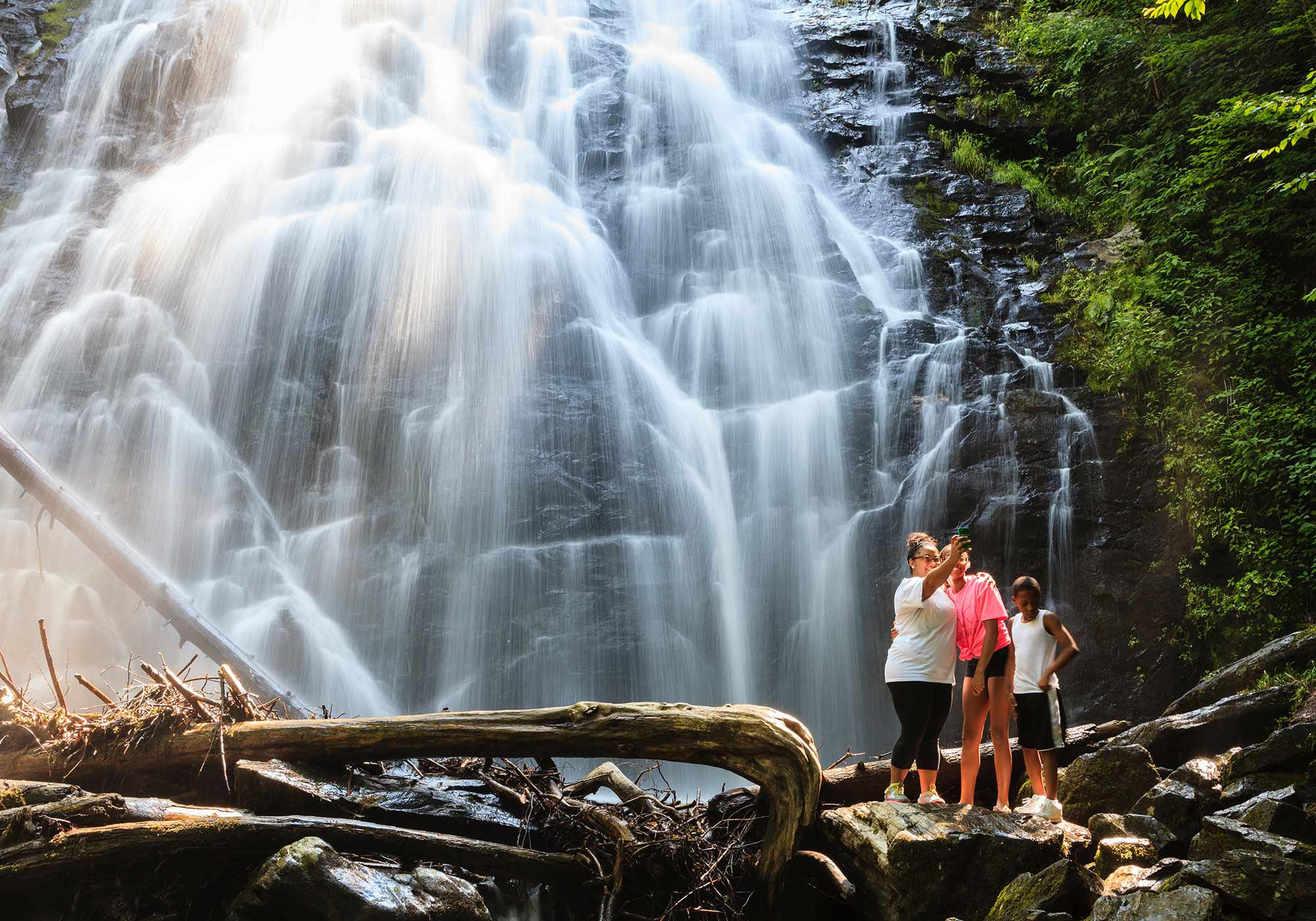 YOU MIGHT LIKE


CharlottesvilleFamily.com, a collection of local resources including a popular calendar of events, family services guides and features on education, health and family day trips for parents and teachers in Charlottesville, as well as the CharlottesvilleWelcomeBook.com a guide to resources for Charlottesville tourists and newcomers. Ivy Life & Style Media also creates other projects including Wine & Country which celebrates elevated living in Virginia Wine Country. Wine & Country Life, a semi-annual life & style magazine, and Wine & Country Weddings, an annual art book celebrating elegant Virginia weddings, are complemented by the Wine & Country Shop in Ivy, VA—a beautiful lifestyle boutique that brings the pages of the magazines to life. The Shop features over 40 Virginia artisans with everything from tailgating essentials and Dubarry attire to locally made foods and award-winning Virginia wines and craft beverages for your next event. Wine & Country covers the grape-growing foothills of the Blue Ridge Mountains from Lynchburg to Leesburg, including points in between like Charlottesville and Middleburg.