4 FUNCTIONAL & FREE OF CLUTTER HOME PROJECTS
Our home is our oasis and personal space, where we love to show off our style, tastes and even family history. It's our opportunity to create a place that exudes comfort and love, and one that displays our unique personalities and irreplaceable memorabilia. You want there to be a place for everything and to have everything in its place. So try these easy and functional organizing ideas and makeover tips to free up those spaces that always seem to house the clutter and to spruce up the look of an organized space.
Pretty & Functional Organizing Supplies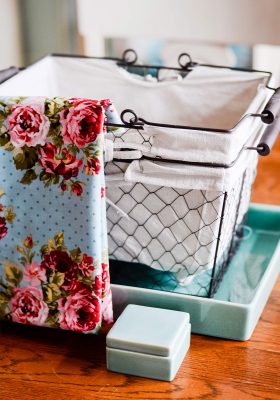 It was time to tackle my dreaded craft room (insert scary music here!). This room just keeps getting the upper hand. It's my own fault, I know. I've never taken the time to properly organize it, and then I just continue to go in and "dump" items on any and every available surface, so it's a never-ending cycle of crazy in there. Well, I was hoping to finally get this room organized once and for all. I dream of a room that is pretty as well as functional, you know?
After seeing a room from The Fancy Farmgirl, I immediately hopped on to Google to look for locker-style baskets for organizing and saw these great wire baskets. I immediately packed my little one into the car and headed over to the store and scooped these up. Best of all, I got them for less than $7 each!
Once again, they really reminded me of the tubs in a studio photo from The Farmgirl. I thought that with the addition of little tags they had huge potential.
I was also really excited to have found a collection of turquoise-colored porcelain boxes and trays on sale. So, how could I resist them? Not sure what, but I'll corral something in these.
Bookshelf Makeover with Tartanware Accents
Do you find yourself making a mad dash near the holidays to finish up projects that you've been procrastinating? Ugh, I'm so guilty of that! This bookshelf was a prime example. It's right near the front door of my home, so when guests come in, it's really the first thing they see. Since I moved in, it's been styled pretty much the same, but I've been meaning to paint the wood for ages and just hadn't gotten around to it. I'm so glad I finally pulled out my paintbrushes though and got to work. This painting makeover actually only took a couple of hours, which totally had me shaking my head wondering why I had waited so long.
In my desperation and unwillingness to put off this project any longer, my little Emma and I headed off to the shop to pick up a can of paint.
I have a wonderful collection of Tartanware, which I really wanted to display, so I was thinking of painting the bookshelf either red or black. I love a pop of red but already have a small table nearby in red, so black won out. Plus, while I was at the shop picking up the paint, I noticed a worn, but still beautiful, tole lamp. The black shelf with the black lamp shade will be classic and timeless, and also hopefully mean that I can leave this shelf alone for a long time while I move on to the rest of my to-do list.
I discovered the beautiful round mirror and then added in just a few extra styling details—including the complete print collection of my magazine—and voila! A welcoming entry for all my visiting friends and family this holiday season!
Shutter Jewelry Organizer
In the midst of redecorating my master bathroom, I realized that I desperately needed to tackle my jewelry, so I was inspired to create a shutter jewelry organizer.
I have had the hardest time getting (and more importantly keeping) my jewelry organized. I've tried a tabletop jewelry case, divided storage trays, shoe boxes and even a hanger. You name it, I've probably tried it and none of it has had staying power. While this probably says more about my personality than the actual storage solutions, I still was in need of a jewelry organization system that would work and blend well with my décor.
I was feeling tempted to dish out "the big bucks" to get one of those tall standing jewelry cabinets that I've often admired but was reluctant to spend the money on that right now. And then, it hit me! What about that big shutter screen that I have? It's just leaning against the wall, so why not try that? Well, a few Christmas ornament hooks later, all of my necklaces and bracelets were neat and tidy. Best of all, I can see what I have! Some of these treasures were buried in the jewelry pile for so long I had forgotten about them.
This is truly the simplest DIY organizational project I will likely ever stumble upon: Hook one end of the necklace onto an ornament hook, and place the other end of the hook on an edge of the shutter; and your done. So easy, right? Shutters of any size will work for this project, and you can normally buy old shutters for a song making this a very budget-friendly DIY project. I think I have finally hit upon a storage system that will stick with me for quite a while to come.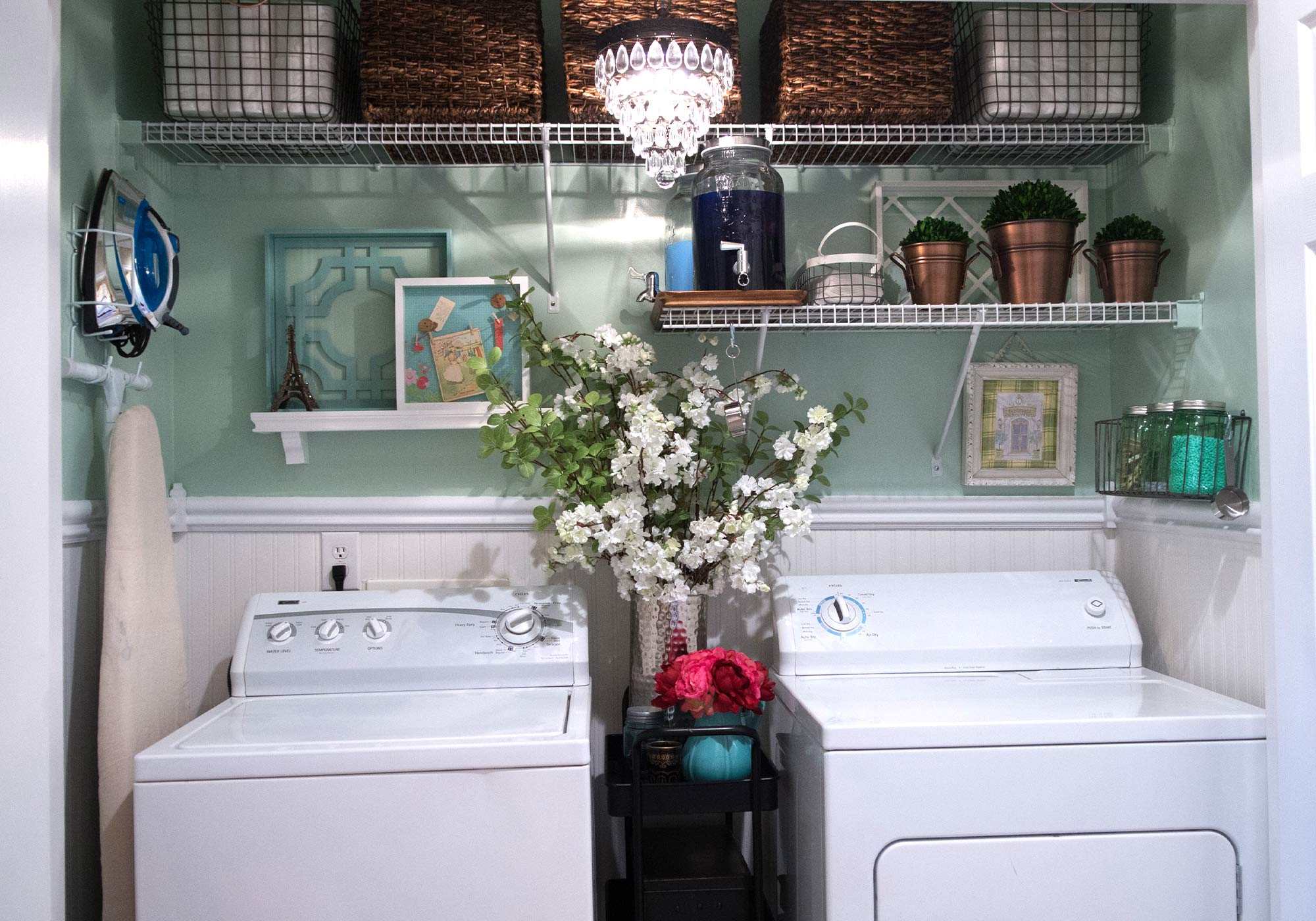 Before & After, My Laundry Room Makeover
​I've wanted to work on this space for ages but hadn't gotten around to it yet. Finally, I had enough and decided to just dive in and make it both functional AND pretty. The poor space had just become a catch-all for lots of random items, and since it's behind closed doors, it was easy to just toss stuff in and forget about it. But it was also making laundry an even more dreaded chore, but not anymore!
Here's how it happened. An old friend of mine from high school got in touch with me and we made plans to meet up on a Friday. I was very excited because it had been more than 20 years since we had seen each other. She has children, too, so we planned to let our kiddos play while we caught up. All was a "go" until my phone rang in the late morning and my little one had to be picked up from school early because she was having a tantrum. She was three years old at the time and was in that difficult stage of learning how to control her temper. Well, Friday wasn't her best day and, sadly, I had to go pick her up. Even more frustrating for me was realizing that I couldn't keep the meeting with my friend because I didn't want to confuse my daughter with a fun play-date when she was having bad behavior at school. My friend kindly understood and we rescheduled, but I was still feeling pretty frustrated, so I decided to channel my frustration into finally tackling my much neglected laundry room. It turns out it was a very productive stress reliever.
My original idea was to use a color scheme inspired by Laduree—a French pastry shop that I fell in love with in Paris. I even wanted to spell out laundry as "LAUNDREE," as a fun little play on words. But as the design continued to evolve, I decided to go with a somewhat French, but more garden-inspired space.
Originally, I wanted to replace the wire shelves, but in the end, I actually like how the white wire shelves look! Here are the steps I took: 1) Empty the room including taking down the shelves. 2) Hang the chair rail molding. Yep, I hung it myself! It's not a perfect job, but it was not as scary as I thought, and I have to say, it's tempting me to want to begin hanging more molding around my house—especially crown molding. I primed it and then put the finished coat of paint on after it was hung. 3) Paint the wall above the chair rail. 4) Hang bead-board wallpaper below the chair rail. 5) Hang new light fixture while the space is still empty. 6) Put it all back together, decorate and ENJOY!
Since it's a dark closet with zero natural light, nothing will grow here. So preserved boxwoods and silk branches were the only option I had to bring in a garden feeling.
A decorative shelf holds a pretty tray, a glittery Eiffel tower and my inspiration piece for the room. This pint-sized trashcan is just right for catching lint.
This cart was the best find of all because it JUST fits in the tiny gap. Last spring, I made this shadow box craft, and I loved the vintage illustration of the girl doing laundry and knew I wanted to incorporate it into my own laundry space at some point. I'm so happy it has a spot of its own now.
A simple ironing board/iron hanger is such an easy solution that I wonder why I didn't at least hang this ages ago.
A measuring cup hung with an "S" hook keeps this handy for measuring out detergent and fabric softener. A bouquet of silk peonies brings a bright pop of color!
A combination of baskets, corrals, extra laundry supplies and other items are also stored here. I really like the copper handles on these wire baskets, and they are perfect for storing toilet paper and helping me see, at a glance, when we need to purchase more. I had seen the jar idea for storing detergent in a jar on Pinterest and loved it. I hate the look of the detergent bottles, so this was a great way to avoid that all together.
The cart rolls easily in and out and is a great storage solution for some of my tools and a few other odds and ends. The tools are in the black metal box on the middle shelf. I like the vintage vibe of the box, but it's actually new!
A sparkly chandelier adds a bit of glamour, and I think that the boring task of laundry can use all the help it can get to be more fun and special! A small wire breadbasket makes a great caddy for both dryer and color catcher sheets. The little painted glass adds a bit of French flair and is simply pretty to me. I don't have a particular use in mind for it; I just liked it. I was so excited to find this watercolor of Laduree online and print it to hang in the space.
A metal wall caddy provides a bit more storage space for jars of laundry add-ins as well as clothespins. I'm planning to hang a retractable clothesline in here, too, but it's the one thing left on my to-do list. And there you have it! Now that the room is done, I'm really excited to do laundry. Can you imagine?
---
JENNIFER CARROLL is a Southern gal with an unquenchable thirst for all things creative. She wears many hats—photographer, blogger or designer—but always, an extremely enthusiastic home entertainer. No matter what she is doing, she is committed to celebrating everyday life. Visit celebratingeverydaylife.com.
---
YOU MIGHT LIKE


CharlottesvilleFamily.com, a collection of local resources including a popular calendar of events, family services guides and features on education, health and family day trips for parents and teachers in Charlottesville, as well as the CharlottesvilleWelcomeBook.com a guide to resources for Charlottesville tourists and newcomers. Ivy Life & Style Media also creates other projects including Wine & Country which celebrates elevated living in Virginia Wine Country. Wine & Country Life, a semi-annual life & style magazine, and Wine & Country Weddings, an annual art book celebrating elegant Virginia weddings, are complemented by the Wine & Country Shop in Ivy, VA—a beautiful lifestyle boutique that brings the pages of the magazines to life. The Shop features over 40 Virginia artisans with everything from tailgating essentials and Dubarry attire to locally made foods and award-winning Virginia wines and craft beverages for your next event. Wine & Country covers the grape-growing foothills of the Blue Ridge Mountains from Lynchburg to Leesburg, including points in between like Charlottesville and Middleburg.