AN EASY ROAST TURKEY RECIPE & OTHER WINTER SIDE DISH IDEAS
Each year, our lovely staff shares personal, family recipes during the holiday season. It is a joy to share with CharlottesvilleFamily readers some of our favorite dishes like this Easy Roast Turkey Recipe with the hope that you and your family will enjoy them just as much as we do.
Sometimes the most basic part of a holiday meal, like the turkey, can be the most daunting recipe to tackle. There are so many preparation options, that the risk of ruining the star dish on the table can be intimidating. This foolproof and tested recipe from our Online Editor, Jennifer, is easy and impressive. See her story and recipe below, and then be sure to check out our current issue for yummy side dishes to accompany your beautiful bird.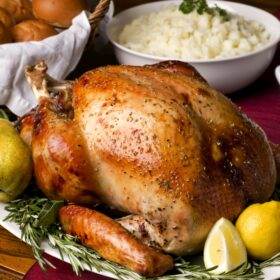 "There are a ton of recipes out there on how to roast a turkey. I've tried a lot of them. A few years ago, I devised this no-fail recipe and have never looked back! The secret to the juiciest, most delicious bird ever is an oven bag. This little bag takes all the guesswork out of making a tender turkey. It's easy and doesn't require my constant attention, leaving me free to work on some side dishes. I normally bake a turkey breast, but this recipe works for a whole turkey, too."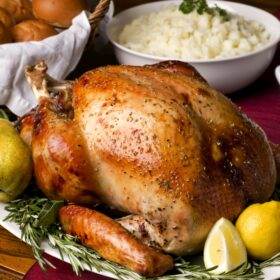 Easy Roast Turkey
Ingredients
1

fresh turkey breast, rinsed and patted dry

1

oven bag for turkey, 8 to 24-pound size

Vegetable oil spray

1

tbsp

flour

1

large Vidalia onion, coarsely chopped

2

celery stalks, coarsely chopped

2

carrots, peeled and coarsely chopped

1

stick

butter, softened

2

tbsp

salt

2

tbsp

garlic powder

1

teas

thyme

1

teas

sage
Instructions
Preheat oven to 350 degrees.

Shake flour in oven bag, then place bag in a large roasting pan at least two inches deep. To reduce having the turkey stick to the bag, spray inside of the bag with nonstick spray.

Chop onions, celery and carrots, and place in oven bag. Rub softened butter liberally all over turkey. Sprinkle salt, garlic pepper, thyme and sage all over turkey (inside too)!

Place turkey in oven bag on top of vegetables. Close oven bag with nylon tie, then cut six ½-inch slits in top. I recommend inserting a meat thermometer through slit in bag into the turkey to monitor cooking temperature. Tuck ends of bag in the pan, ensuring the bag is not overhanging the pan.

Bake approximately 2½ to 3 hours or until meat thermometer reads 165 degrees Fahrenheit. (Note: If needed, atonce it is at this temperature but not browned on top, I carefully split the bag and turn the oven to broil to brown the top of the turkey to a beautiful, golden color. If you do this step, be sure to not walk away from the oven, it can brown very quickly.)

Allow turkey to stand for 15 minutes before carving. Reserve bag liquid for gravy.
Other Holiday Side Dish Recipes
Need some delicious side dishes to accompany your turkey? Our latest issue features other winter gathering recipes like Mac & Cheese, Cranberry-Orange Sauce, a Sweet Potato Soufflé and Broccoli Slaw. See them all in our NEW winter issue.
Looking for other cozy home ideas and recipes this winter like this Easy Roast Turkey Recipe? The Food & Home section of our website has endless possibilities for all your home needs and wants.
---
JENNIFER CARROLL is our Online Editor, and a Southern gal with an unquenchable thirst for all things creative. Sometimes she's a photographer, blogger or designer, but always, an extremely enthusiastic home entertainer. From cooking to decorating, she is committed to celebrating everyday life. Visit celebratingeverydaylife.com.
---
YOU MIGHT LIKE


CharlottesvilleFamily.com, a collection of local resources including a popular calendar of events, family services guides and features on education, health and family day trips for parents and teachers in Charlottesville, as well as the CharlottesvilleWelcomeBook.com a guide to resources for Charlottesville tourists and newcomers. Ivy Life & Style Media also creates other projects including Wine & Country which celebrates elevated living in Virginia Wine Country. Wine & Country Life, a semi-annual life & style magazine, and Wine & Country Weddings, an annual art book celebrating elegant Virginia weddings, are complemented by the Wine & Country Shop in Ivy, VA—a beautiful lifestyle boutique that brings the pages of the magazines to life. The Shop features over 40 Virginia artisans with everything from tailgating essentials and Dubarry attire to locally made foods and award-winning Virginia wines and craft beverages for your next event. Wine & Country covers the grape-growing foothills of the Blue Ridge Mountains from Lynchburg to Leesburg, including points in between like Charlottesville and Middleburg.