THE BEST APPS & WEBSITES TO KEEP KIDS LEARNING
With technology being such a big part of our lives, it's natural that our kids are drawn to it, too. There's plenty of good to be found online, but when children are left to their own devices, they can end up in not-so-friendly corners of the internet. Rather than banning them from electronics completely, introduce your kids to some fun educational games that let them pass the time in a productive, educational way.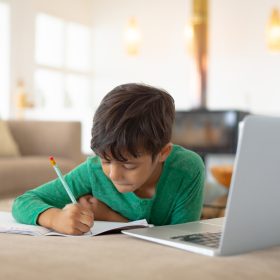 Educational Websites for Kids
Websites tend to be better for kids ages 6 and up, as most of the activities require reading skills to understand the directions. For younger kids that struggle with navigating the site, sit down with them and help them use the website the first few times. Kids learn fast, so they should quickly get the hang of it!
Math & Logic Websites 
Subtraction and multiplication are the building blocks of all math concepts, so it's important to have a good understanding of these concepts. These websites provide the tools to teach these concepts to kids of all ages.
This website has a wide variety of logic and math-based games and tutorials. They are broken down by grade level, focusing on K–8th grade, to make it easy for your kids to find the games that are right for them.
Full of math-based games, the site covers subjects like addition, subtraction, multiplication, division, fractions, shapes and more. It is also broken up by grade level and is aimed at K–6th grade. It is COPPA kidsafe seal certified.
Typing & Spelling Website
With all the time they spend on a computer, it's important for kids to learn how to type quickly and efficiently. This website combines typing skills with spelling practice to teach kids increasingly longer and more difficult words.

This website focuses on games that teach proper typing skills by copying the words or patterns on-screen quickly and correctly. Different games focus on teaching correct hand positioning on the keyboard, speed and spelling. It is COPPA kidsafe seal certified.
Nature & Outdoors Websites
Encourage your child's passion for nature by giving them the tools to learn more about it! They can play games to learn about gardening, or read kid-friendly articles to stay up-to-date with the latest wildlife news.
With a free account, kids can play games that encourage connection with nature, gardening, and clean living. It is COPPA kidsafe seal certified.
A website for kids 8 and up that brings them the latest wildlife news and discusses the importance of taking care of the environment. Learn about climate change, animals on land, animals in the water, protecting wildlife and space. It is COPPA kidsafe seal certified.
School Curriculum Websites
The internet can be great for homework help if you know where to look! Let your kids explore these sites freely and focus on the curriculum that's most interesting to them, and they'll be learning before you know it!
This site includes games aimed at different grades from pre-k to 6th grade. Games fall in the different categories of art and music, language arts, math, science, social studies, typing, and writing. It is COPPA kidsafe seal certified.
This website is a great resource for homework help. It is a kid-friendly alternative to google, with results streamlined to the learning level that kids are at. It also has some educational games. It is COPPA kidsafe seal certified.
Creative Websites
Websites that aren't strictly about school topics can still be educational! These sites aren't packaged as school sites, and some include familiar characters from tv shows, so your kids may be more excited to use them.

This website has fun educational games that go along with tv shows. They teach colors, shapes, language skills, physics and more.
This site has a wide variety of games based off of familiar PBS kids characters. The games range from educational to silly, but they all are age-appropriate and safe for your kids. Virginia's local PBS station, VPM has an entire Educational Initiatives section on their website with lots of resources and home learning tools to choose from.
This is a site with helpful information about creative careers, like fashion design, interior design, product design, architecture, animation, and more. It encourages older kids to practice skills helpful for each of these areas of expertise through fun activities. It is COPPA kidsafe seal certified.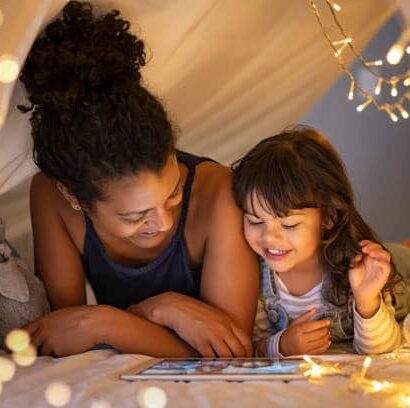 Free Educational Apps for Kids
Besides websites, kids love using apps. Apps are more accessible when you're on the go, and some of them don't even require a wifi connection! Download these free apps to keep kids entertained and learning no matter where they are.
Math & Logic App
Brain teasers feel like games, but they keep your mind active! They're a great way to keep kids occupied during car rides.
Logic Like: Kids Learning App
Great for kids ages 4–8, this app allows you to create a personalized curriculum so they can play a series of fun brain teasers and logic puzzles. The app is free but has the option of in-app purchases. (4.7 stars)
Spelling & Reading App
Reading, writing and spelling are fundamental skills for any child, and turning it into a game can make it more fun!
Duolingo ABC – Learn to Read
Many people recognize Duolingo as a language learning app, but it also has an app for kids! Teach kids to read and write by identifying words and tracing letters on the screen. (4.3 stars)
Nature & Outdoors Apps
While it may seem counterintuitive, these app games can encourage kids to go outside and get involved with nature. 
Earth Rangers
This app gives kids missions to do in the real world that can help the environment, like building backyard habitats, making forest-friendly crafts and protecting marine animals from pollution. It is COPPA kidsafe seal certified. (4.3 stars)
MarcoPolo Arctic
With this app, your kids can explore the arctic ocean and learn about the animals that live there, as well as their behaviors and eating habits through mini games. It's geat for younger kids and is COPPA kidsafe seal certified. (4.4. stars)
Skyview Lite
Point your phone at the sky to identify stars and constellations, as well as learn about stargazing events. The app is free with in-app purchases. Currently it is #16 on the education chart in the app store. (4.6 stars)
Game Apps Based on Educational TV Shows
No matter what age your child is at, it never hurts to reinforce the lessons they learn at school, or get a head start on class topics in which they're interested.
Firstcry Playbees
This app has educational games for preschoolers. Help your child learn about the alphabet, nursery rhymes, animals, shapes and puzzles. It is COPPA kidsafe seal certified. (4.5 stars)
Khan Academy Kids
This app is an educational program for kids ages 2–8 that focuses on reading literacy, language and math. It is the winner of a parents' choice foundation gold award. (4.8 stars)
Creative Game Apps
Supporting creative instincts is just as important as supporting your child's intellectual interests! These games all allow for imaginative play.
Drawing For Kids: Doodle Games
This app is a mess-free digital coloring book. With plenty of different pictures to choose from, kids can fill in colors using different drawing tools. (4.3. stars)
Miffy's World!
Lead Miffy the rabbit through her daily routine: brush her teeth, choose what clothes she wears, grow vegetables in the garden, and tuck her into bed. This app is free but offers in-app purchases. (4.5 stars)
Applaydu
This app has virtual arts and crafts and creative games for kids 4–9 years old. It helps kids discover basic numbers, explore geography and expand their vocabulary of countries and animals. It is COPPA kidsafe seal certified. (4.7 stars)
Coding Game Apps
Get your kids interested in the fundamentals of coding! With so many apps out there, it can be interesting to learn what goes on behind the scenes.
Lightbot: Code Hour
This app introduces kids kindergarten age and older to the basics of coding with a fun puzzle game. (4.2 stars)
Swift Playgrounds
This app is an iPad-only game that teaches coding to older kids ages 9 and up. Solve puzzles to learn swift coding language, which is often used for apps. (3.8 stars)
Traveling during the holidays? Taking a daytrip to Amazement Square in Lynchburg or the Science Museum of Virginia in Richmond? These apps can keep kids learning and occupied during those longer drives.
Giving your kids safe places to play online encourages them to follow their creative instincts and explore on their own. Your kids will love playing these games, and you'll be surprised how quickly they can learn when they're motivated.
---
LAUREL FREDERICKS is a third-year Media Studies major at UVA with a love for all things creative. The eldest of 13 cousins, she is always on the lookout for fun ways to keep the little ones (and not-so-little ones!) entertained. 
---
YOU MIGHT LIKE


CharlottesvilleFamily.com, a collection of local resources including a popular calendar of events, family services guides and features on education, health and family day trips for parents and teachers in Charlottesville, as well as the CharlottesvilleWelcomeBook.com a guide to resources for Charlottesville tourists and newcomers. Ivy Life & Style Media also creates other projects including Wine & Country which celebrates elevated living in Virginia Wine Country. Wine & Country Life, a semi-annual life & style magazine, and Wine & Country Weddings, an annual art book celebrating elegant Virginia weddings, are complemented by the Wine & Country Shop in Ivy, VA—a beautiful lifestyle boutique that brings the pages of the magazines to life. The Shop features over 40 Virginia artisans with everything from tailgating essentials and Dubarry attire to locally made foods and award-winning Virginia wines and craft beverages for your next event. Wine & Country covers the grape-growing foothills of the Blue Ridge Mountains from Lynchburg to Leesburg, including points in between like Charlottesville and Middleburg.