LOCAL EXPERT ADVICE AND EASY IDEAS TO HELP REPEL TICKS & MOSQUITOES
Warmer weather is here, meaning more time outside with the pesky insects that live there. As we all begin to spend more time in nature, sunscreen and bug spray are musts. Did you know essential oils can also help repel things like ticks and mosquitoes? Help keep the bugs at bay with these more natural suggestions that can also work double time in the home and garden.
Looking to bring in the professionals?
Mosquito Authority – Charlottesville
can protect your yard from ticks, mosquitos, flies and other insects using natural solutions.
Essential Oils for Repelling Ticks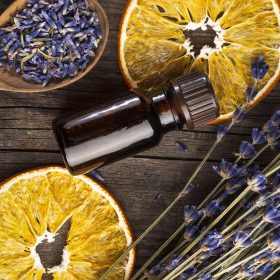 Cedarwood –

Musky cedarwood is actually toxic to ticks and their larvae, making it an excellent choice for repelling them. It is also safe to apply to people and pets, so it's easy to see why it is one of the best essential oil options.

Garlic –

When minced garlic is combined with mineral oil in a spray bottle, it becomes a powerful tick deterrent. You may not want to apply it to skin because of the smell, but consider spraying the mixture on plants to keep ticks away.

Lavender –

This versatile oil is safe for topical use on all ages, including infants. It's not only perfect for your little family but also deadly to ticks and their eggs. Bonus! It smells amazing. Try planting some lavender in your yard or garden, too.

Pennyroyal –

A potent member of the mint family, pennyroyal is best used in places like under cushions and rugs to help keep pets from bringing ticks into the home. It should not be used on skin or on pets.

Peppermint – Ticks hate the smell of peppermint, so this common oil either diluted and used on its own or combined with other oils like tea tree or citronella will deter them from latching onto your clothes.
Thyme & Citronella Combination – Citronella oil has been registered with the Environmental Protection Agency as an insect repellent, so combined with thyme, which has also been found effective at repelling ticks, you'll have a helpful combination.
Essential Oils for Repelling Mosquitoes
In addition to the oils mentioned above, these natural repellents will work best for keeping mosquitoes away.
Basil – Although this herb is a kitchen staple, basil gives off a repellent smell to flies and mosquitoes. So, in addition to using it as a bug repellent via oils, try adding it into your garden to help work double time and enjoy the benefits in the kitchen.
Cinnamon Oil –

The smell may remind you of the holiday season, but cinnamon oil can keep mosquitoes at bay during the summer months. This powerful oil can actually kill mosquito eggs and act as a repellent.

Citronella –

Most people know burning citronella candles can keep the bugs away, but did you know that when citronella is formulated correctly (it is a mix of different herbs), it can be as effective as DEET.

Lemon Grass – Because this plant contains citronella, it, too, is a natural mosquito repellent. Feel free to add some pots of growing lemon grass to your outdoor family spaces for extra help at keeping these biters away from your family.
Peppermint – This child- and pet-friendly oil is more than an insect repellent. It also has anti-viral, anti-bacterial and anti-fungal properties, making it a great multi-purpose oil for in the home.
Tea Tree Oil –

Also known for its antiseptic and anti-inflammatory uses, tea tree oil can also help ward off mosquitoes and other biting insects.

Thyme Oil –

In addition to keeping mosquitoes off your skin, thyme leaves can be used in campfires to help keep them away. In fact, research shows that burning thyme offers 85 percent protection for 60 to 90 minutes!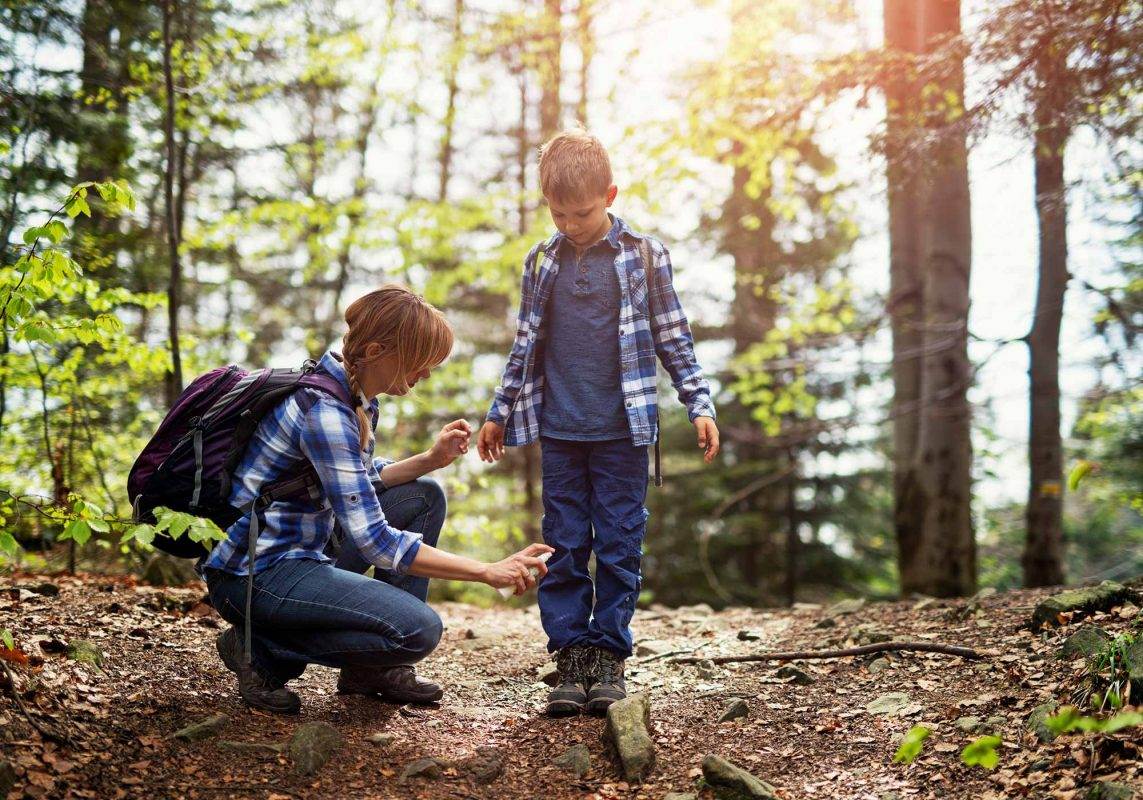 Essential Oil Reminders
Remember, essential oils should never be applied directly to skin without first diluting them with something else, such as almond oil or water. Be sure to research which oils you want to use, and it's also always a good idea to spot-test new products on a small section of skin before applying more generously. Essential oils are not regulated by the Food and Drug Administration (FDA), so consider talking to your doctor before use, and be sure to always purchase oils from a reputable source.
Other Expert Advice Regarding Ticks
According to the American Academy of Pediatrics, here are a few other helpful ways parents can help prevent tick-borne infections, and what to do if one is found.
Avoid tick-infested areas like tall grass and forests.
Locate play equipment in sunny, dry areas away from forests.
Wear appropriate protective clothing, including long-sleeves and pants. (Bonus tip: consider tucking pants into tall socks for extra protection!)
Use repellents on skin.
After outside play, check for and safely remove ticks, paying special attention to any exposed body parts (head, neck, ears, etc.). Removing clothes immediately and bathing within two hours of coming inside can also help locate any hiding ticks.
If you find a tick, remove it immediately using fine-tipped forceps or tweezers. Grasp tick close to the skin and pull straight off without twisting. Wash the area with soap and water.
According to Doctor Alaina M. Brown from
Pediatric Associates of Charlottesville
, after a tick has been removed it is very common for there to be an itchy red bump at the site of removal that can last for 2–4 weeks. This is nothing to worry about, and the itching can be treated with antihistamines like Benadryl and Zyrtec. Doctor Brown usually recommends that parents mark the date of a tick removal on the calendar since any signs of symptoms will show up within four weeks.
Local Nature Walk Suggestions
There is no shortage of outdoor trails to explore in the Charlottesville area. Now that you are armed with how to best repel ticks and mosquitoes, consider taking the family for a stroll at one of these kid-friendly hiking locations. Remember, according to the American Academy of Pediatrics, it is best to hike along the center of trails to avoid potential tick areas.
Looking for more outdoor fun as the weather warms up? Visit our
Events Calendar
and check out the
Family Fun
section of our website. We hope these tips and pieces of advice will help you enjoy time outside with your family this summer while keeping the pests away!
---
ELLEN SEWELL, our Associate Editor, has a degree in communications with an emphasis in journalism and PR. She is a mom of two young kids, and enjoys promoting all the Charlottesville area has to offer.
---
YOU MIGHT LIKE


CharlottesvilleFamily.com, a collection of local resources including a popular calendar of events, family services guides and features on education, health and family day trips for parents and teachers in Charlottesville, as well as the CharlottesvilleWelcomeBook.com a guide to resources for Charlottesville tourists and newcomers. Ivy Life & Style Media also creates other projects including Wine & Country which celebrates elevated living in Virginia Wine Country. Wine & Country Life, a semi-annual life & style magazine, and Wine & Country Weddings, an annual art book celebrating elegant Virginia weddings, are complemented by the Wine & Country Shop in Ivy, VA—a beautiful lifestyle boutique that brings the pages of the magazines to life. The Shop features over 40 Virginia artisans with everything from tailgating essentials and Dubarry attire to locally made foods and award-winning Virginia wines and craft beverages for your next event. Wine & Country covers the grape-growing foothills of the Blue Ridge Mountains from Lynchburg to Leesburg, including points in between like Charlottesville and Middleburg.