A ROUND-UP OF FAMILY-FRIENDLY HOLIDAY EVENTS IN CHARLOTTESVILLE
December is here and holiday events are happening! Check out this round-up of Family-Friendly Holiday Events in the Charlottesville area for a sampling of the many things to do and explore this holiday season. Learn more about these events and discover many other family outing ideas on our Events Calendar.
Family Holiday Events in Charlottesville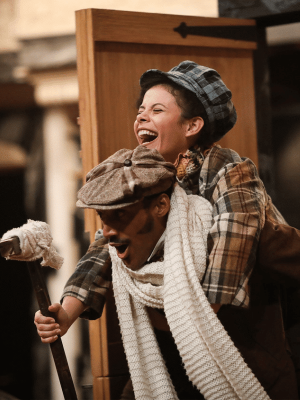 Winter Wander Trail of Lights
November 26–January 30 at Boar's Head Resort
Stroll on the trail that circles nearly a half mile around Heritage Lake behind the main hotel at Boar's Head Resort. The walking experience will include thousands of festive lights that will illuminate the rolling landscape with more than 10 unique experiences along the trail.
A Christmas Carol
December 1–31 at American Shakespeare Center
Celebrate the holiday season with the American Shakespeare Center! Marley, the three ghosts and Tiny Tim are all back. The ASC will fill the holidays with warmth and light this December with Dickens' classic, family-friendly tale. Various dates and times.
Holiday Evening Tours
December 10–30 at Thomas Jefferson's Monticello
Enjoy the rare opportunity to experience Monticello after dark, historically decorated for the season. This tour offers an intimate look at how all people who lived on the Monticello mountaintop–enslaved and free–celebrated the holidays in Jefferson's time. Journey through public and private rooms, including Monticello's iconic Dome Room. Various dates and times.
Breakfast With Santa
December 11 at Brooks Family YMCA
Registration is now open for Breakfast with Santa at the Brooks Family YMCA, where families can have a child's picture taken with Santa, enjoy a delicious breakfast, make arts & crafts, and shop at the Holiday Market! Registration is $25 per family.
Class With Clara
December 11 & 12 at Charlottesville Ballet
Experience the magic of The Nutcracker with a special event for children ages 3–8! Participants will see a mini performance, learn introductory ballet steps, take photos with Clara, and dance to the music of Tchaikovsky's famous Nutcracker ballet.
After Hours at Highland
December 11, 18 & 28 at James Monroe's Highland
Experience Highland after hours! Participants will be greeted by James Monroe first-person interpreter Beau Robbins, with a private viewing of the newly opened exhibits in the 1818 guesthouse. President Monroe and a Highland guide will be present for questions and discussion.
Gingerbread House Workshop
December 12 at The Dairy Market
Spend the afternoon decorating your very own Gingerbread House complete with sidewalk and trees! These large, pre-built houses are ready to decorate and come with an assortment of candy and royal icing for all your decorating needs. Work together to complete your candy creation while enjoying cookies and hot cider during this family-friendly event.
Mannheim Steamroller Christmas
December 12 at John Paul Jones Arena
While 2020 was the first year the group was unable to tour in 35 years, 2021 will reunite the #1 Christmas music artist in history with its legion of long-time fans. Experience the music that has become the hallmark of the holidays and a tradition for multi-generational families.

Paramount Presents: Brew & Buddy Run and Elf [PG]
December 19 at The Paramount Theater
Whether you're an Elf enthusiast, a thrill-seeker or even a Cotton-headed Ninnymuggins, The Paramount's 5th Annual Brew & Buddy Run presented in partnership with Champion Brewing Company and Three Notch'd Brewing Company is sure to get you in the holiday spirit. Starting at the Theater and making a three-mile loop around the Downtown area, the Brew Run includes stops at Champion and Three Notch'd for a beer at each brewery before returning to The Paramount for Elf on the Big Screen at 6:00 p.m.
Pints & Ponies With Santa in the Stables
December 19 at Stable Craft Brewing
Celebrate the holidays with seasonal pints & ponies in the stables area of Stable Craft Brewing. Santa Claus will be on-hand to visit with the children. Guests can enjoy decadent hot chocolate, mulled cider and a festive lunch.
Paramount Presents: The Royal Ballet in HD – The Nutcracker
December 30 at The Paramount Theater
The Nutcracker is a family favorite at Christmas time and is one of the most delightful ways to discover the enchantment of ballet. The story of Clara, a girl on a magical Christmas Eve adventure, is accompanied by sparkling music and even dancing sweets! Watch the full company of The Royal Ballet in this much-loved ballet classic.
Drop-Off Events in Charlottesville
Date Night Drop-Off: Nearly New Year's
December 10 at Virginia Discovery Museum
Parents, need a Friday night out? Let VADM's fully-vaccinated staff watch the kids while you enjoy some much-deserved time to yourselves! Help start the countdown to 2022 with kids' craft noise-makers, party hats and New Year's eyeglasses, and then enjoy plenty of playtime in the Museum galleries under the light of a sparkly disco ball.
Drop & Shop
December 18 at Brooks Family YMCA
Drop your children aged 6 months–12 years at the YMCA for a few hours while you holiday shop, wrap gifts or anything else you'd like to do during this busy season! $15 for members, and $25 for non-members.

Charlottesville-Area Family Volunteer Ideas
Give back this holiday season, and get the entire family involved. There's no shortage of volunteer opportunities in Charlottesville, especially this time of year. Here is just a sampling of organizations at which people can offer their services.
Blue Ridge Area Food Bank
Help feed the hungry this holiday season. Collect and donate food, or consider working in one of the food bank locations. Children ages 12 –17 may volunteer as long as they are accompanied by a parent or guardian. Some shifts have specific age requirements, so be sure to read each job description carefully when registering. Learn more about volunteering with the Blue Ridge Area Food Bank on their website.
Loaves & Fishes Food Pantry
Loaves & Fishes Food Pantry's mission is to give food with kindness and compassion to anyone who seeks assistance while providing an opportunity for volunteers to help their neighbors. The organization currently needs volunteers to help pre-bag dried/canned goods and miscellaneous frozen meat items in advance of distributions, and to pack grocery carts and deliver to clients' cars in the parking lot. Learn more about volunteering with the Loaves & Fishes Food Pantry on their website.
Mason's Toy Box
Mason's Toy Box Foundation is globally recognized for its outstanding contribution to the welfare of families facing overwhelming emotional and financial burdens due to a child's life-altering medical struggles. Families can donate toys, or hold a virtual toy drive to get even more people involved. Learn more about volunteering with Mason's Toy Box on their website.
"Service to others is the rent you pay for your room here on Earth." — Muhammad Ali
ReadyKids
ReadyKids provides the Charlottesville area with counseling, family support and early learning opportunities. Most kids arrive at counseling appointments directly after school and are hungry. Consider asking your kids to help you gather and drop off healthy snacks to help fill kids bellies before their counseling sessions. Learn more about volunteering with ReadyKids on their website.
Ronald McDonald House
Ronald McDonald House offers families with children at the UVA Medical Center a place where they can find comfort while their kids receive treatment. Although some opportunities are currently on hold because of COVID, volunteers can still order meals to be delivered to families, donate items from their wish list, Adopt the House for a week, etc. Learn more about volunteering with the Ronald McDonald House on their website.
The Salvation Army
There is a plethora of volunteer opportunities with The Salvation Army, especially during the holidays. Sign up to be a bellringer, donate to or work in the family store, or serve meals at the Soup Kitchen–open every single day, including Thanksgiving and Christmas. Learn more about volunteering with The Salvation Army on their website.
Toy Lift
Give the gift of presents this holiday season to kids in need. Take your kiddos shopping, and drop off their selections at a Toy Lift donation location. Bonus! This year the Toy Lift is partnerning with local toy stores. Shenanigans and Alakazam Toys are offering special discounts when you shop for Toy Lift toys from either their website or in store! Learn more about volunteering with the Toy Lift on their website.
Make the most of the end of 2021 by having fun with your family in our community! Be sure to peruse our Events Calendar for a full list of Charlottesville-area Family-Friendly Holiday Events and more.
YOU MIGHT LIKE


CharlottesvilleFamily.com, a collection of local resources including a popular calendar of events, family services guides and features on education, health and family day trips for parents and teachers in Charlottesville, as well as the CharlottesvilleWelcomeBook.com a guide to resources for Charlottesville tourists and newcomers. Ivy Life & Style Media also creates other projects including Wine & Country which celebrates elevated living in Virginia Wine Country. Wine & Country Life, a semi-annual life & style magazine, and Wine & Country Weddings, an annual art book celebrating elegant Virginia weddings, are complemented by the Wine & Country Shop in Ivy, VA—a beautiful lifestyle boutique that brings the pages of the magazines to life. The Shop features over 40 Virginia artisans with everything from tailgating essentials and Dubarry attire to locally made foods and award-winning Virginia wines and craft beverages for your next event. Wine & Country covers the grape-growing foothills of the Blue Ridge Mountains from Lynchburg to Leesburg, including points in between like Charlottesville and Middleburg.