4 FOSSIL DAYTRIPS FOR LITTLE DINO LOVERS
If you are a parent of young children, chances are you have a dinosaur fan or two in your house. Luckily, you do not have to go far to experience some dino fun and exploration! These two fossil-themed daytrips are easy to get to and sure to leave a lasting impression on your little paleontologists!
Dinosaur Daytrip Ideas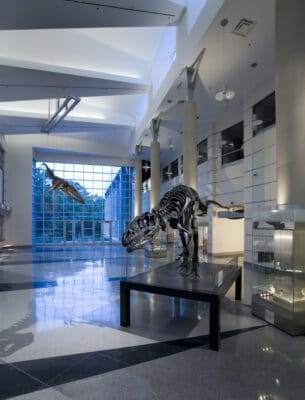 Dinosaur Land
White Post, VA
Dive into the age of the Dinosaur with your whole family at Dinosaur Land in White Post. Since the 1960s, Dinosaur Land takes visitors back to the Mesozoic era with larger than life replicas of everyone's favorite prehistoric creatures. If you and your family cannot get enough of Jurassic Park, this daytrip is a must see destination to add to summer schedules. It's as if the dinosaurs have jumped right out of the screen and onto the ground at this family favorite attraction.
The roadside park features over 30 different dinosaur replicas. Each exhibit presents information including the habitat the dinosaur lived in, what it ate and even which dinosaurs battled each other. This park is the only one of its kind in the east as it continues to bend kids' imaginations while they marvel at the gigantic beasts set before them, and see the world as the dinosaurs did when they were the only inhabitants on Earth.
Mix education and adventure by bringing a notebook to record the facts your child learns to share with friends, or make it a game by creating a Dinosaur Bingo sheet and see who discovers the most creatures first! Before you leave, don't forget to visit the gift shop for a souvenir that commemorates your day with the dinosaurs! The park is open to visitors between 9:30 pm and 5:30 pm, making it the perfect daytime getaway. Admission is $6 for guests ages 2 to 10 and $8 for guests ages 11 and up.
540-869-2222, dinosaurland.com

Virginia Museum of Natural History (VMNH)
Martinsville, VA
As the state museum of natural history, VMNH has award-winning exhibits, ground-breaking scientific research and collections, and transformational educational programs for all ages. Upon entering the museum, visitors are immersed in the Hall of Ancient Life where they can view a Pteranadon's impressive 20-foot-wing-span soaring 40 feet above the hall, the cast skeleton of the theropod dinosaur, Allosaurus, and other amazing displays. Other dinosaur-focused offerings include the Ice Age exhibit for which VMNH has re-created full-sized, skeleton casts of some of the most iconic creatures of the Pleistocene epoch, which ended approximately 11,700 years ago. Stay tuned for more dino discovey options even closer to home! The VMNH has plans to build a satellite campus in Waynesboro. Learn more about the future Virginia Museum of Natural History Waynesboro location.
276-634-4141, vmnh.net
Virginia Living Museum
Newport News, VA
This permanent outdoor adventure exhibit is open daily at this popular museum. The exhibit showcases 16 of the amazing animals that ruled our earth for more than 150 million years. Visitors can walk through the woods to see realistic one-third to full-size dinosaurs from the Jurassic and Cretaceous periods. The dinosaurs range in size from a mini ankylosaur to a 16-foot-tall Brachiosaurus. There is a baby T. rex photo op, a half-size T. rex, plus several nests and baby dinosaurs. Kids can also get their hands dirty searching for fossils in the dig pits.
757-595-1900, thevlm.org
Smithsonian National Museum of Natural History
Washington, D.C.
The David H. Koch Hall of Fossils at the National Museum of Natural History is 31,000-square-foot space in which visitors can travel through ancient ecosystems, learn about the evolution of life, and get up close to some 700 fossil specimens, including Tyrannosaurus rex, Diplodocus and the woolly mammoth. This impressive display aims to inspire a new generation of dinosaur lovers and scientists, and prompt young explorers to think about their own impact on the planet.
202-633-1000, naturalhistory.si.edu
Easy At-Home Dinosaur Crafts
Once you've visited these daytrip locations and learned more about ancient fossils and dinosaurs than ever before, try these at-home prehistoric activities.
Fossil Imprints
Items needed:
nature items (shells, leaves, animal bones, etc.);
petroleum jelly;
plaster of Paris;
water;
mixing bowl;
mixing spoon;
and Hefty-brand plates.
Directions:
Coat the nature items with petroleum jelly, and then set aside. Follow the box directions for making plaster of Paris. Pour plaster into the plate and let it sit until it begins to set. Press the objects into the plaster, but do not completely cover them. Set aside overnight to dry. When dry, remove objects to reveal the fossil impressions.
The Big Dig
Items needed:
kiddie pool or large plastic bin
play sand
miscellaneous items
small shovel and/or sifter
Directions:
If the kids want to go digging like paleontologists do, fill a kiddie swimming pool with sand and then bury miscellaneous items. When they are finished, grab a shovel and dig in to see what treasures you can uncover.
---
DENISE YEARIAN, is the former editor of two parenting magazines and the mother of three children.
---
YOU MIGHT LIKE


CharlottesvilleFamily.com, a collection of local resources including a popular calendar of events, family services guides and features on education, health and family day trips for parents and teachers in Charlottesville, as well as the CharlottesvilleWelcomeBook.com a guide to resources for Charlottesville tourists and newcomers. Ivy Life & Style Media also creates other projects including Wine & Country which celebrates elevated living in Virginia Wine Country. Wine & Country Life, a semi-annual life & style magazine, and Wine & Country Weddings, an annual art book celebrating elegant Virginia weddings, are complemented by the Wine & Country Shop in Ivy, VA—a beautiful lifestyle boutique that brings the pages of the magazines to life. The Shop features over 40 Virginia artisans with everything from tailgating essentials and Dubarry attire to locally made foods and award-winning Virginia wines and craft beverages for your next event. Wine & Country covers the grape-growing foothills of the Blue Ridge Mountains from Lynchburg to Leesburg, including points in between like Charlottesville and Middleburg.