CREATING AN EGG-CELLENT TREAT FOR THE FAMILY
It's always a dilemma in my house as to what to do with the dyed Easter eggs after the holiday is over. We hate to break the coverings that we so lovingly designed, and while they decorate the inside of our refrigerator nicely, I wondered for years whether there was another use for them that didn't require discarding the beautiful shells right away.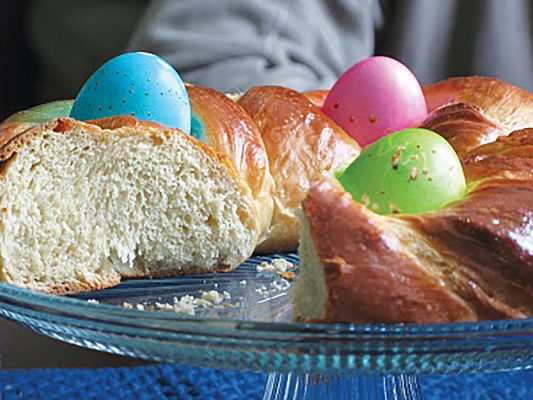 This year, we're going to use our gorgeous decorated eggs to create Greek Easter Bread. I hadn't heard of this delight until recently, but it sounds delicious, fun to make, and we won't have to destroy our Easter egg handiwork! The egg gets cooked right into the loaf as a lovely seasonal decoration.
I looked at a bunch of recipes for this Grecian delight, and every one that I found makes several loaves of the bread. I like this idea because it gives you plenty for your own family to consume and lots more for you to share. Since Easter generally marks the beginning of warm weather in our area, making this bread is a great excuse for getting out, visiting with neighbors and making a unique and generous holiday gesture.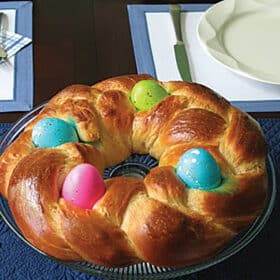 Greek Easter Bread Recipe
Ingredients
12

cups

flour

3

tbsps

active dry yeast

1

cup

melted butter

1

cup

+ 1 tbsp sugar

1/2

tsp

vanilla extract + 2 cups water

Grated peel of 1 orange

1

cup

lukewarm milk

3/4

tsp

sea salt

Egg wash - 1 egg lightly beaten + 1 tbsp water

Blanched sliced almonds,

optional

6

eggs

dyed
Instructions
Dissolve the yeast in lukewarm milk. Add a few spoonfuls of flour to make a paste. Cover and set aside in a warm place to rise. 

In a bowl, combine 10 cups of the flour, salt and melted butter. Add the vanilla/water mixture to the flour. Add the eggs, orange peel, sugar and the risen yeast mixture. 

On a floured surface, knead the mixture well, adding in remaining flour until it becomes a malleable dough, about 15–20 minutes (or for 10 minutes using a stand mixer). Cover and allow to rise in a warm place until doubled in bulk, about 1½ to 2 hours.

Punch down the dough. Form 12 or 15 ropes, each about 15 inches long. Braid sets of three ropes to form a loaf, tucking ends in underneath the loaves. Tuck an Easter egg into the braids. Place the loaves on greased cookie sheets or baking pans, cover and allow to rise in a warm place until doubled in bulk. Brush with egg wash. 

Preheat oven to 350°F. Bake at 350°F for 30 minutes or until golden brown. Cool for 5 minutes, then move to racks to cool completely. Makes 4–6 loaves.
Tip
For a richer bread, use a cup of milk in place of one of the cups of water. For a citrusy tang one, replace one cup of water with orange juice.
​
For more family-friendly recipes, see our Food & Home page. In each issue of CharlottesvilleFamily Life & Home, you'll find even more recipes. Check out the Ham, Vegetable & 3-Cheese Quiche in the Spring Issue on page 30.
---
JENNIFER HEYNS is a freelance writer, mother of two and constant creator in the kitchen.
---
YOU MIGHT LIKE


CharlottesvilleFamily.com, a collection of local resources including a popular calendar of events, family services guides and features on education, health and family day trips for parents and teachers in Charlottesville, as well as the CharlottesvilleWelcomeBook.com a guide to resources for Charlottesville tourists and newcomers. Ivy Life & Style Media also creates other projects including Wine & Country which celebrates elevated living in Virginia Wine Country. Wine & Country Life, a semi-annual life & style magazine, and Wine & Country Weddings, an annual art book celebrating elegant Virginia weddings, are complemented by the Wine & Country Shop in Ivy, VA—a beautiful lifestyle boutique that brings the pages of the magazines to life. The Shop features over 40 Virginia artisans with everything from tailgating essentials and Dubarry attire to locally made foods and award-winning Virginia wines and craft beverages for your next event. Wine & Country covers the grape-growing foothills of the Blue Ridge Mountains from Lynchburg to Leesburg, including points in between like Charlottesville and Middleburg.