WHAT TO GROW & TIPS FOR WINTER GARDENING
Winter is a time for hunkering down, eating well, and embracing the Danish tradition of hygge, the cozy, contented, and comfortable joy of being home. One of our favorite ways to spend the short days and long nights in the winter months is gardening. And this year, we are growing greens all winter long.

Winter can present unique challenges with overnight frosts, tough soil, and limited sunlight. But modernity has brought about new innovations that make gardening in the cold months much more approachable. The joy of tending to green vegetables in an indoor garden or a row hoop tunnel garden makes cooking comfort food like soups, stews, or hearty salads all the more delicious.
What to Grow in Winter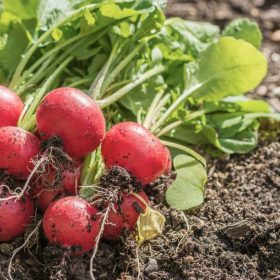 Decide what to grow. Leafy greens, small root crops, and several varietals of herbs are perfect for winter gardening. Salad greens like kale, arugula, mesclun, and spinach are hearty greens that can withstand some of the lower temperatures outdoors when the garden setup is properly constructed and tended to. Root crops like beets, radishes, and carrots are a wonderful addition to any winter garden.
Indoor Winter Gardening Tips
Find the right light. The elementary school basics are still at play when beginning an indoor garden: light (photosynthesis!) is the key to success. In the colder months, it is especially important to find the perfect location for gardening containers (pots, beds, and the like) to live. A south-facing, well-lit area will ensure that the plants receive at least 10 hours of sunlight. If natural light is not ample in the home, consider investing in artificial light fixtures to hang above the indoor garden. Artificial light is our preference, because the crops will get the consistent warm light that they require even on cloudy, grey days.
Overwatering is a common mistake when starting a winter garden.
Don't overwater. Because wind, the summer sun, and dry heat are not factors, indoor gardens need less water than their summer outdoor counterparts. Overwatering is a common mistake when starting a winter garden. Depending on what you are gardening, water crops around three times per week with a very small amount of water. Potted, indoor plants need roughly one inch of water per week. Feel the soil to determine if it's time for another sprinkle of water from the watering cannister.
Outdoor Winter Gardening Tips
Invest in a row cover hoop. For an outdoor winter garden, a south facing garden or raised bed is again best for success. On chilly nights, the plants will need the heat from the sunlight to survive overnight frost. In Virginia, outdoor winter gardens require wire hoops so that the plants can not only survive but thrive through the cold nights. Row cover hoops protect from frost (and pests during the warmer months) and are relatively simple to construct. Try these row covers from Fifth Season Gardening Co. Source metal hoops from a local gardening store along with a medium weight row cover, which will protect plants at temperatures that sink well below freezing. On sunny days, even in the wintertime, gardeners need to roll back the cover so that the plants do not overheat. Even though it might not feel especially warm outside, the plants need the air to circulate.
Add mulch to the soil. Covering roots with a thick layer of mulch is one of our other tips for success. Mulch provides nutrients and insulation for the delicate roots that might otherwise frost when exposed to winter nights.
How to Harvest Greens in Winter
​Harvest regularly. About every 3 weeks, when the greens have grown to be about 4 inches tall, it is time to harvest. Begin by cutting off the outer leaves and let the inner leaves continue to grow.

Keep planting new crops. We also recommend planting new crops every few weeks to enjoy fresh produce throughout the season. Gardening in the winter is an opportunity to bring life into the sometimes grey, cold days. Fresh produce handpicked from the backyard nourishes hearts and souls, and that is why we are dedicating the next few months to our raised beds bursting with kale, radishes, arugula, and beets.

Serve. Buy some local cheese and charcuterie to pair with this winter harvest and your dinner will have never tasted quite so scrumptious. We love this hand-painted fleur-de-lis salad bowl from Happy Cook.
Interested in more home and garden tips? Check the Food & Home section our our site for plenty of resources, recipes and helpful information.
---
ABBY MEREDITH is an attorney who splits her time between Charlottesville and Washington, D.C. As a Double Hoo, she loves writing about Charlottesville and all things UVA and equestrian.
---


CharlottesvilleFamily.com, a collection of local resources including a popular calendar of events, family services guides and features on education, health and family day trips for parents and teachers in Charlottesville, as well as the CharlottesvilleWelcomeBook.com a guide to resources for Charlottesville tourists and newcomers. Ivy Life & Style Media also creates other projects including Wine & Country which celebrates elevated living in Virginia Wine Country. Wine & Country Life, a semi-annual life & style magazine, and Wine & Country Weddings, an annual art book celebrating elegant Virginia weddings, are complemented by the Wine & Country Shop in Ivy, VA—a beautiful lifestyle boutique that brings the pages of the magazines to life. The Shop features over 40 Virginia artisans with everything from tailgating essentials and Dubarry attire to locally made foods and award-winning Virginia wines and craft beverages for your next event. Wine & Country covers the grape-growing foothills of the Blue Ridge Mountains from Lynchburg to Leesburg, including points in between like Charlottesville and Middleburg.