GROWING HERBS AT HOME
Nothing compliments all of the wonderful produce coming from the farms during the spring, summer, and fall than homegrown herbs. Having a small garden of herbs, within easily accessible snipping distance, is a boon to the home chef. Try these lower maintenance, high-return herbs if you are new to gardening. Especially since growing these herbs is difficult to mess up, consider getting your kids involved in the planting/harvesting process. It's no secret that when children are part of the planting/growing they are more likely and willing to taste the finished product.
Best Herbs To Grow Yourself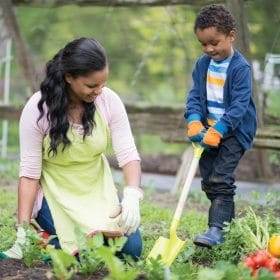 Basil
I usually tuck one or two basil plants among the tomatoes in mid-May, and they thrive. The variety 'Genovese' does well in our full-sun garden patch, even if it is a wet summer. Basil is the only annual in this group—meaning you need to plant it each year.
Oregano
It's a perennial that also doubles as a sweet groundcover (even in part shade!). Give it full sun, however, and it will triple in size. Try tossing some with tomatoes before roasting them in the oven or throw some in with simmering, homemade marinara.
Lavender
The lavender varieties 'Hidcote' and 'Munstead' thrive in our full-sun, zone 7-a gardens. While lavender does lean more towards aromatherapy and cosmetics, you can create your own herbs-de-Provence with a lavender crop and also add a lavender note to lemonades, honeys and jams. Check out this how to grow lavender in Virginia story from Wine & Country Life for even more helpful and interesting info.
Mint
Try to grow mints in containers, only, as they can become invasive. The available list of mints is exhaustive, but hardy varieties worth trying include chocolate and apple (great for old-fashioned iced teas). Remember that mints like sun or part-sun.
Rosemary
I have seen local rosemary plants gradually, over the years, become rosemary shrubs. It's not a bad thing and a testament to the plant's adaptability to Virginia summers. If you find yourself with an abundance of rosemary, freeze it (chopped up and with a bit of olive oil) in ice cube trays, for access to rosemary year-round.
Get kids even more involved by letting them paint and decorate the pots you use for the herbs. Having a garden is a wonderful way of ensuring kids get outside every day, even if it's just to water and snip herbs they helped to grow! Find more garden tips and inspiration, check out Gardening With Kids. Our current spring issue of CharlottesvilleFamily Life & Home features info on Designing a Kid-Friendly Sensory Garden. Bonus! Our sister brand, Wine & Country Life, has a plethora of excellent gardening content.
---
TRACEY CREHAN GARLACHIS lives on five acres in Sugar Hollow with her husband and two children. Find her online at lifeinsugarhollow.blogspot.com.
---
YOU MIGHT LIKE


CharlottesvilleFamily.com, a collection of local resources including a popular calendar of events, family services guides and features on education, health and family day trips for parents and teachers in Charlottesville, as well as the CharlottesvilleWelcomeBook.com a guide to resources for Charlottesville tourists and newcomers. Ivy Life & Style Media also creates other projects including Wine & Country which celebrates elevated living in Virginia Wine Country. Wine & Country Life, a semi-annual life & style magazine, and Wine & Country Weddings, an annual art book celebrating elegant Virginia weddings, are complemented by the Wine & Country Shop in Ivy, VA—a beautiful lifestyle boutique that brings the pages of the magazines to life. The Shop features over 40 Virginia artisans with everything from tailgating essentials and Dubarry attire to locally made foods and award-winning Virginia wines and craft beverages for your next event. Wine & Country covers the grape-growing foothills of the Blue Ridge Mountains from Lynchburg to Leesburg, including points in between like Charlottesville and Middleburg.