8 FAMILY-FRIENDLY HIKES AND HIKING TIPS
Spring has finally sprung and it's time for the whole family to get out of the house. We've been cooped up inside and the time is now to escape to nature. Thankfully, there's so much nature to behold in and near Charlottesville and Albemarle County. Leave the screens behind because we've rounded up eight of the most fantastic kid-friendly hikes that will leave your kids begging to go outside. From stroller-friendly in-town hikes near Monticello to scenic family hikes along the Blue Ridge Parkway, we've got them all. But first, let's prepare for the adventure to ensure it's a smashing success. Yes, we've got tips to make these family hikes fun and memorable (in a good way). Your kids may even ask to go on a hike again next week, so we've prepared you with the next family hike, too. Let's go!
6 Tips to Make Hiking With Kids More Fun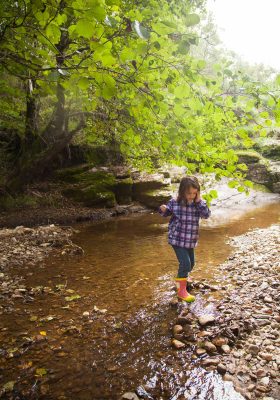 1. Don't leave the house without snacks.
Bring all the snacks, all the good snacks. The quality and quantity of trail snacks are more important than the hike length, elevation or even time spent in the car. You may not realize how true this is until you are actually out on the hiking trail.
2. It's not a race.
Take it slow. Your kids probably don't hike at the same pace as you do, so take it easy. Your kids will not like anything about the hike if they're constantly having to catch up to you with their little legs. Relax, let your kids take the lead.
3. Let them stop.
Stop for sticks, stones, flowers, frogs. There's no need to limit stops to snacks and hydration breaks. Allow your kids to pause to hunt for hiking sticks or to skip stones across a gently rolling stream. If they want to toss 100 rocks into a creek, let it be. Enjoy the time in nature.
4. Choose a fun trail.
A hike may be five minutes from your house, but if it's boring your kids won't engage and they won't want to hike with you again. Kids go ga-ga for rock scrambles, creek crossings, swinging bridges, wooden boardwalks, waterfalls and swimming holes.
5. Plan for rewards.
A successful hike deserves ice cream. Even a mostly successful hike with minimal grousing deserves a scoop. Plan for an ice cream stop and know exactly how far it is from the trailhead. Go right away after the hike.
6. Bring comfort items.
No, not teddy bears. Make sure you have plenty of water, snacks, bug spray, sunblock and a travel first aid kit. Kids who are bleeding, thirsty and getting eaten alive by bugs are not fun. Be prepared to help ensure your kids and family want to get back outdoors. Now that you're geared up with tips for an awesome family hike, here are the green spaces, parks, recreation areas and hiking trails that will make the day fun.
8 Kid-Friendly Hikes Around Charlottesville
1. Ragged Mountain Natural Area
Why Go: Playful wooden carvings along the trails (bears, owls, etc.)
Some may consider the 980-acre Ragged Mountain Natural Area to be a hidden gem. It's a short 10-minute drive from UVA's Rotunda, yet this nature preserve feels worlds away. The centerpiece is the pristine 170-acre reservoir that is open to kayaks, canoes and stand-up paddleboards. The wooded 7.0-mile Lake Front Trail casually runs along the perimeter of the reservoir, but there's no need to walk the entire loop, especially with little ones (with little legs) in tow. However, you will want to print out a trail map, if only to ensure you don't miss any of the wooden statues Kids will love stumbling upon these whimsical wood carvings, like owls and bears, which turn up every so often at trail junctions. Walk out to the end of the peninsulas, like Rocky Peninsula, for fantastic views across the reservoir. Note that dogs are not allowed at this nature preserve.
2. Blue Ridge Tunnel
Why Go: You get to wear a headlamp (into the very dark tunnel)
In November 2020, the Blue Ridge Tunnel under Rockfish Gap re-opened, enabling visitors to hike through this historic railroad tunnel from the 1850s. There are two trailheads, but your best bet is to begin at the East Trailhead in Afton, which has a large parking area and porta-potties. Not only is it fun to walk 0.9 miles through a dark railroad tunnel, but your kids can learn how the tunnel was built and all about chief engineer, Claudius Crozet by way of 8 to 10 educational placards. In fact, the tunnel is sometimes called the Claudius Crozet Blue Ridge Tunnel. Plan to bring headlamps or a flashlight for this hike through Afton Mountain, which runs 4.6 miles end to end (and back again). It gets very dark inside the tunnel and the light from your cell phone is no match for this National Historic Civil Engineering Landmark.
3. Jack Albright Loop
Why Go: See the remains of a small plane that crashed in the 1960s.
Honestly, how often can you say you spent the afternoon (even just a few minutes) ogling remains of a 1960s plane crash? Your kids may thank you for taking them on such a cool expedition through the forest, which begins at the Humpback Gap Overlook parking area on the Blue Ridge Parkway. The 3.8-mile loop hike begins on the white-blazed Appalachian Trail and rewards hikers within the first mile with big views across the Rockfish Valley from the Glass Hollow Overlook. A rocky outcrop makes this a perfect stop to break for a snack or a few sips of water. Shortly, you'll veer left for the Jack Albright Loop, but keep your eyes peeled. At the 2.5-mile mark, an unmarked (and hard-to-see) spur trail on the left leads to the years-old wreckage of the Beechcraft Bonanza. Continue looping on this trail until you return to the parking area.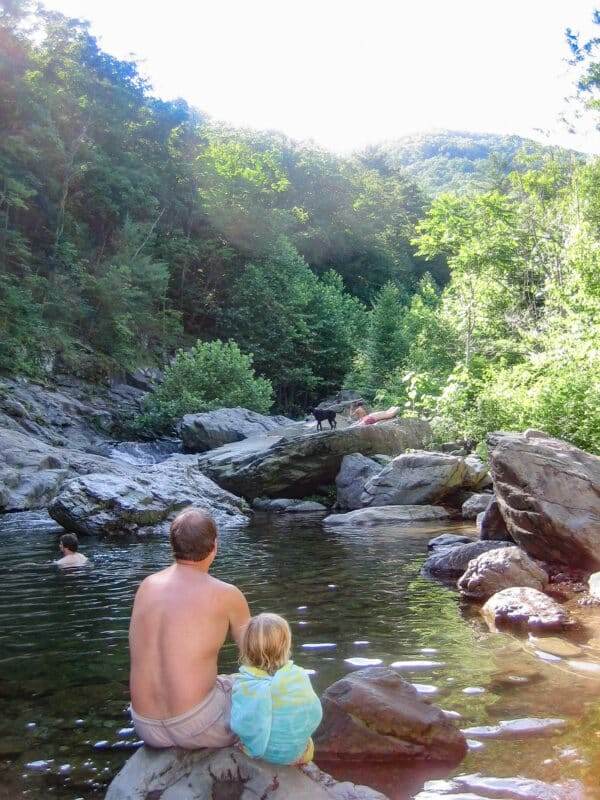 4. Sugar Hollow Reservoir (Blue Hole)
Why Go: A really cool swimming hole
You may not be able to swim or paddle at the 47-acre reservoir at Sugar Hollow (fishing only), but there is a swimming hole that you've got to see to believe. The kid-friendly adventure begins at the parking area at the end of Sugar Hollow Road in Crozet. There are two hikes that lead into Shenandoah National Park from this parking area. To reach the swimming hole (known as the Blue Hole), begin at the silver gate on the east side of the lot. Skip stones across the North Fork Moormans River, then gently ascend along a horse trail. Withing 1.5 miles you'll arrive at a small cascading waterfall and a cooling water basin that's just right for a splash. Save some energy for the return walk to your car. The second hike begins at the red gate on the west end of the parking lot and leads to tumbling Big Branch Falls.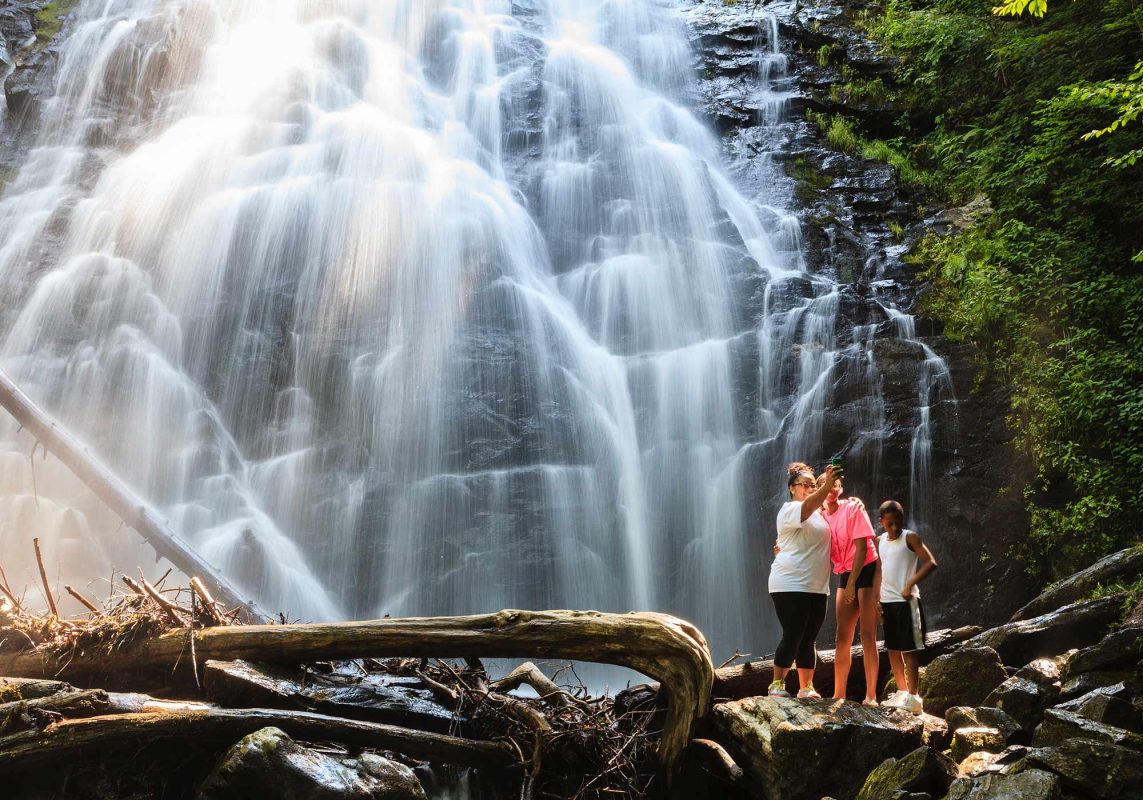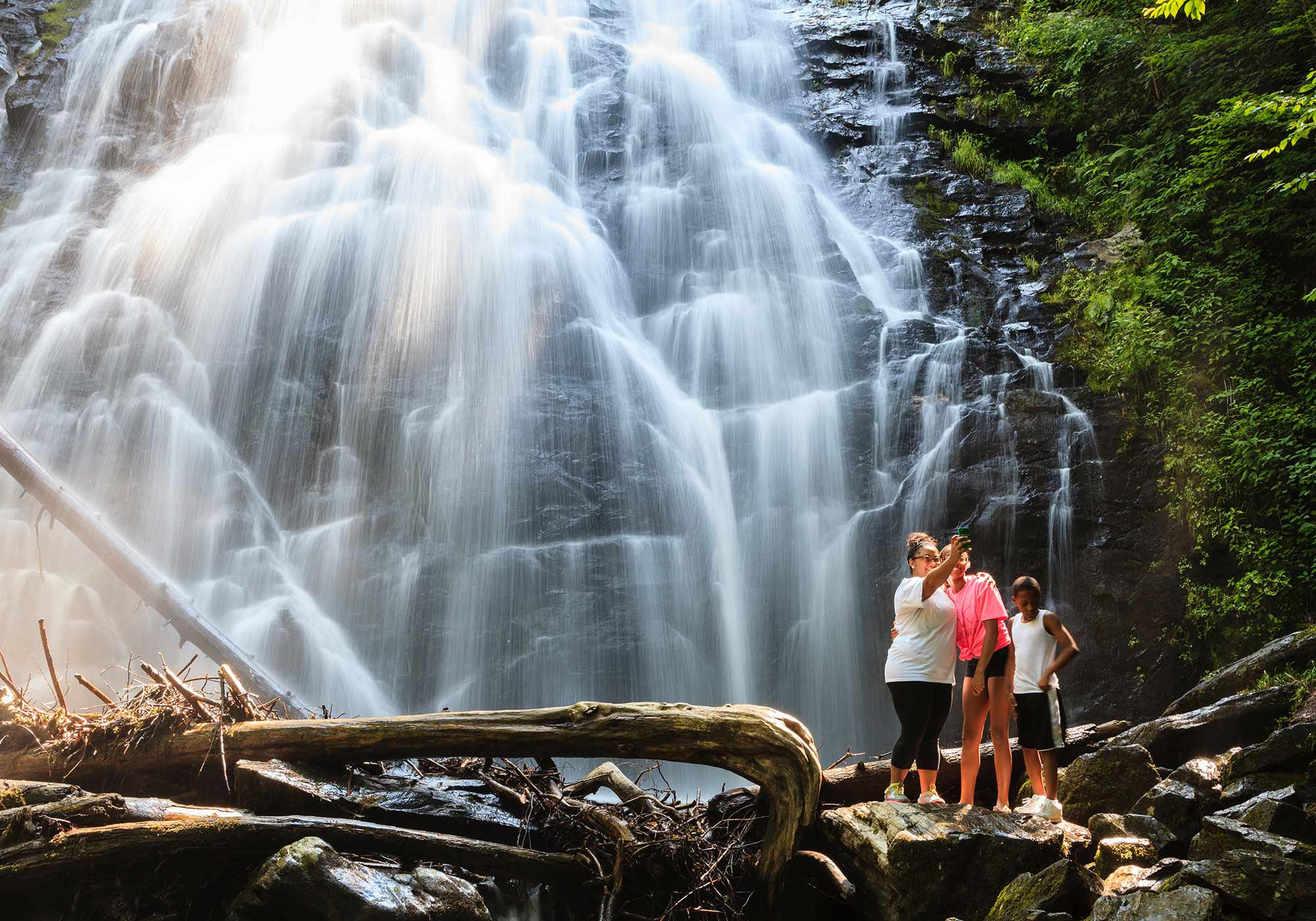 5. Calvary & Chimney Rocks
Why Go: Super cool flat top rocks, big, big views and a Junior Ranger program
If you've got a rock hound or two in your family, then the Calvary and Chimney Rocks hike at Shenandoah National Park is for you. This 3.2-mile out-and-back hike is a two-for-one deal, exposing inquisitive hikers to both Calvary and Chimney Rocks. This hike is actually more like a three-for-one deal given all the large and mid-size rocks you'll see as you walk through a talus slope (essentially, a rock slide) at the mid-way point of this hike. Then, you'll reach Calvary Rocks, a wonderland of gigantic rocks to scramble for wide-open vistas. Chimney Rock is a scenic overlook with lots of flat top rocks. There are really big views there, too. So settle in with for a snack and re-hydration break. Before you start your hike, stop in Loft Mountain Wayside to pick up a Junior Ranger activity book so your little ones can earn a badge.
​6. Walnut Creek Park Why Go: Post-hike fun on the lake beach and disc golf course The 525-acre Walnut Creek Park in North Garden is a favorite among families thanks to more than 12 miles of hiking trails, including The Blue Wheel (2.0 miles) and Wilkins Way (4.0 miles), both of which boast refreshing views across scenic 45-acre Walnut Creek Lake.
Nearly all of the short trails have fun names, including Wahoo Way and Bike Factory Trail. There's even a swimming beach on the south side of the park, near the Jungle Trail. In-season, you can rent canoes or kayaks from the Beach House. Post-hike, make time for disc golf at the 18-hole course, which requires players to toss frisbees through the woods, across fields and over water. Round out the day with fishing or a picnic at the park.
7. Humpback Rocks
Why Go: Rock scrambling and 360-degree views
The Humpback Rocks hike, which starts near milepost 5.8 on the Blue Ridge Parkway, is a must-do area hike for outdoor-lovers of all ages. It's got challenges, like some heart pounding elevation, but it also has serious rewards, like wildly scenic 360-degree vistas. Several benches and a wooden staircase make the climb more manageable for children. There are also some rock scrambles, even a massive downed tree to navigate on the way to the top, which kids will love. Then, get ready for spectacular views across the Shenandoah Valley. This hike can be tackled as a short and sweet (but steep) 2.0-mile out-and-back hike. Or, families can opt for a 4.3-mile loop that includes a mild descent along a forested stretch of the Appalachian Trail on the way back to the Humpback Gap Overlook parking area
8. The Saunders-Monticello Trail
Why Go: Stroller-friendly boardwalk trail that's minutes from the Downtown Mall
The Saunders-Monticello Trail allows for a forested 4.3-mile out-and-back hike that winds its way to the Thomas Jefferson Visitor Education Center at Monticello. Along this stroller-friendly trail, kids can see native plants, as well as small pond. Gently curving boardwalks guide hikers into the forest canopy, which is filled with flowering trees in the spring. There are lots of side trails too, including the Spring Room Trail and Mountain Trail, if you want to create-your-own hike. The free trails are open to hikers, bikers and wheelchairs. As a bonus, the hiking trails at Monticello are a short seven-minute drive from the Downtown Mall. This is especially good if your kids still have energy to burn. Pop in and out of shops or simply stroll the eight-block brick-paved pedestrian walk from the Omni to Ting Pavilion. Does your family include a pup or two? Check out these
Dog and Family-Friendly Hiking Trails in Charlottesville
for even more fun outdoor adventure ideas. Happy hiking!
---
ERIN GIFFORD is the author of Hiking with Kids Virginia: 52 Hikes for Families (FalconGuides). She also shares top hikes across the state for all levels at gohikevirginia.com.
---
YOU MIGHT LIKE


CharlottesvilleFamily.com, a collection of local resources including a popular calendar of events, family services guides and features on education, health and family day trips for parents and teachers in Charlottesville, as well as the CharlottesvilleWelcomeBook.com a guide to resources for Charlottesville tourists and newcomers. Ivy Life & Style Media also creates other projects including Wine & Country which celebrates elevated living in Virginia Wine Country. Wine & Country Life, a semi-annual life & style magazine, and Wine & Country Weddings, an annual art book celebrating elegant Virginia weddings, are complemented by the Wine & Country Shop in Ivy, VA—a beautiful lifestyle boutique that brings the pages of the magazines to life. The Shop features over 40 Virginia artisans with everything from tailgating essentials and Dubarry attire to locally made foods and award-winning Virginia wines and craft beverages for your next event. Wine & Country covers the grape-growing foothills of the Blue Ridge Mountains from Lynchburg to Leesburg, including points in between like Charlottesville and Middleburg.