CHARLOTTESVILLE MEDICAL PROFESSIONALS SHARE TIPS AND ADVICE ON HOW TO WORK WITH A PEDIATRICIAN TO PROTECT YOUR CHILD'S HEALTH
The back-to-school season is a time for getting back in the swing of weekly activities and school-related paperwork. And for many students, that paperwork includes forms for an annual physical. Scheduling a physical in the late summer or fall is standard practice for many families with children. But, it can still feel like one more confusing, complicated thing to manage, especially as your children get older and more factors begin affecting their health. So, once you've got that appointment on the calendar, take a little time to prepare so you can not only make the most of your time with a pediatrician but also establish good health habits to carry your child through the school year and beyond. Read on to learn more about Kids' Physicals: What You Need to Know.
Why Every Kid Needs an Annual Physical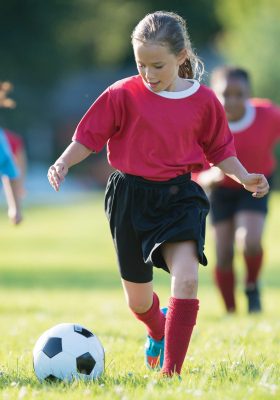 Some years, you will find that a back-to-school physical is mandatory. "The state of Virginia requires a physical exam report and proof of immunization prior to kindergarten or first-time enrollment in elementary school," says Dr. Alaina Brown, a pediatrician at Pediatric Associates. She also advises that students must provide proof that they have received adolescent immunizations, such as TdaP, meningitis and HPV, prior to starting sixth grade.
If you have a young child starting daycare or preschool, you will likely also need to have his pediatrician fill out a health form when he enrolls. Children and teenagers who play sports will also need to get a yearly physical.
If a physical isn't required, you may be tempted to skip it. But well-kid visits to the pediatrician should be on your yearly to-do list. This appointment is a chance for your child's pediatrician to check on their growth and development, double check immunizations, address any concerns you have and keep an eye out for health problems that may emerge over time, such as poor vision or asthma. As children get older, these appointments also give them an opportunity to develop a rapport with their doctor, ask their own questions and learn to take responsibility for managing their own health.
They modify physicals every year based on new scenarios and new risks, and as kids get older, the concerns addressed in physicals are about more than just your child's height and weight. Even if your child is healthy and not playing sports, a yearly physical is important for everyone.
When to Schedule a Child's Physical

A school physical can happen any time in the 12 months prior to the start of school, but most insurance policies will only cover one appointment per year. Brown recommends scheduling appointments as close to the start of the academic year as possible, especially if your child plays sports or has particular health requirements that need to be shared with their school. Be sure to also check with the school about "expiration dates" when it comes to accepting a physical exam for an upcoming school year. It ensures that coaches and teachers have up-to-date information about students.
Things can change though throughout the course of a year, so if you suspect your child has experienced health changes that may affect their daily safety or well being, don't hesitate to make a second or even third visit to the doctor for a full physical exam.
What to Expect at Your Child's Physical

No matter whether your child's physical is required or not, the exam itself will be similar from year to year. Some elements will change as your child gets older, especially if they participate in sports or have specific health concerns. However, much of what you can expect at a well-child visit is fairly routine. Most exams will start with a provider (often a nurse or physician's assistant) measuring your child's height, weight, blood pressure and pulse. This gives a general picture of your child's health and allows the pediatrician to track their growth over time.
Next comes a review of your family's medical history, as well as your child's personal medical history. This helps pinpoint any areas of concern that you and the pediatrician need to keep an eye on. For example, if you have a history of depression, your child may be more at risk for developing mental health problems as well. If your child had eczema as a baby, there's a higher risk of asthma later in childhood.
Your child's pediatrician will also want to do a physical exam. For all children, this involves checking the: heart, lungs and lymph nodes; abdomen, belly sounds and skin; ears, nose, eyes and throat; joints, muscles and spine; and vision and hearing.
Exams for teenagers may also include genital exams. "Adolescent males need a genital exam to assess for testicular irregularities and hernias," says Brown. "Females may have an external genital exam but do not require an internal exam or Pap smear unless they are having problems."
A thorough exam helps ensure that your child is growing and developing properly, along with giving the doctor a chance to catch any problems before they begin interfering with your child's everyday life. If the exam does uncover problems, the pediatrician will be able to talk to you about next steps. What those next steps are, says Brown, depends on what is uncovered.
Finally, even if the exam findings are completely regular, your pediatrician should give you a chance to ask questions or share concerns. This will also be when they talk with you about promoting healthy behaviors, such as safety, nutrition, sleep habits and social media use.
Should You Expect Shots at Your Child's Physical?

"Sometimes but not always," says Brown. "There are vaccines at the… pre-sixth grade physical, including HPV, which requires a second, and sometimes third, booster. There are some vaccines that are currently recommended that weren't when some adolescents were younger, such as Hepatitis A and a varicella booster, that they may need to receive."
Most colleges and universities require a set of vaccines before students are allowed to live in dormitory housing; these are usually given sometime in eleventh or twelfth grade. And if there has been an outbreak of a particularly dangerous disease, such as whooping cough, the pediatrician will probably recommend that your child receive a vaccine or booster.
How to Make the Most of Your Time With the Doctor

All of that is, of course, a lot to cover in a single appointment. To make the best use of your appointment, and to avoid making an extra trip for school forms or medication refills, Brown recommends planning ahead for your appointment. Check that you have all the paperwork you need a doctor to sign, which may include your child's immunization record, sports sign-off or specific back-to-school forms. It's a good idea, says Brown, to fill out as much of the forms as you can in advance. This allows the pediatrician to ask for clarification on any answers that confuse or concern them or make recommendations based on your child's medical history. Bringing a list of any medication that your child takes regularly, including over-the-counter and supplements, will ensure you leave with refills for any prescriptions that are close to expiring.
Brown also suggests coming prepared with specific questions that you want to discuss. In the weeks leading up to your appointment, pay close attention to your child's health, behavior and habits to look for changes or points of concern. If you have specific concerns, bring a written list with you to your appointment so you don't forget something important. The doctor may be the medical expert, but you are the expert when it comes to your own kids.
Physicals for Student Athletes

"Athletes need to have physicals for all the same reasons as other children but also to assess for risk of sudden cardiac death, potential overuse injuries and to review healthy eating and hydration habits," says Brown. School sports, no matter your child's event of choice, are physically and mentally demanding. A yearly physical gives the coaches, teachers and trainers who are responsible a full picture of their health, from medications to whether or not they might need an EpiPen.

Physicals can also pinpoint other chronic conditions, such as asthma or a heart murmur, that affect your child's safety.

Physicals can also pinpoint other chronic conditions, such as asthma or a heart murmur, that affect your child's safety. Mark Caplinger, a physical therapist and personal trainer at ACAC Fitness and Wellness Centers, says that children can be more at risk for injuries than older athletes, or for aggravating injuries that aren't fully healed. "The trend with young athletes is specialization in one sport year-round. This can be a great thing when it comes to mastering skills… The catch is that oftentimes this will lead to break down of the body due to overuse of the same movements," explains Caplinger. "Because kids haven't stopped growing, specializing in one sport can lead to muscular imbalance and lack of flexibility [along with] tendonitis, stress fractures or muscular strains."
Caplinger also stresses the importance of regular physicals if a child has been injured in the past. "It's important that a young athlete gets clearance from a doctor to return to sport… Oftentimes, there is still a lack of strength and stability," he explains, even if the initial pain of the injury has subsided.
The Importance of Physicals During The Teenage Years

As children grow into teenagers, their annual physical will begin to change. Though the doctor will still asses your teen's physical health and development, there will be more of a focus on behaviors and coping strategies, including managing stress, sexual health, sleep habits and risk-taking behaviors. Many pediatricians will also set aside time to talk without a parent present. This eases teens into taking responsibility for their own health, as well as allows them to ask questions or share information that they might hesitate to bring up in front of their parents.
In spite of these changes, however, you should still play an active role at physicals and continue to ask your own questions, particularly if your child is dealing with new challenges like social media use or a heavy course load at school. It's important for parents to be thoughtful and active in promoting the health of their teens. "What does real rest look like? What does it really mean to create opportunities to recover? What, from a nutritional standpoint, can you be feeding your sons and daughters to promote their health and wellness?" Talking to your child's doctor about these questions can help you set healthy boundaries for your teen.
The big thing from a preventative side is to really think carefully about the workload that [teens] have: the hours that they put in at the gym, the amount of homework they have, their extracurriculars. Their health is very much tied to their ability to sleep, manage stress and manage the workload, so we want to be as intentional as possible about promoting the general health that is required to find that overall balance in life.
Questions to Consider Prior to Your Child's Physical
Are there any developmental milestones that your child hasn't met on time?
Has your child experienced fatigue, pain, dizziness or had trouble breathing?
Have you noticed any changes in appetite or weight?
Does your child seem anxious or depressed?
Is your child struggling at school or socially?
Have you noticed warning signs about your child's vision, such as holding books too close when reading or being distracted in class?
Has your child been frequently sick or had illnesses that don't seem to go away?
Is your child sleeping well?
This Guide to Kids' Physicals: What You Need to Know can help prepare you for your developing child, both physically and mentally, and for more local professionals who can help answer your questions and monitor your child, see our Family Health section.
---
KATHARINE PALJUG is a freelance writer, CharlottesvilleFamily's Family Health Editor and mother to one busy toddler.

---


CharlottesvilleFamily.com, a collection of local resources including a popular calendar of events, family services guides and features on education, health and family day trips for parents and teachers in Charlottesville, as well as the CharlottesvilleWelcomeBook.com a guide to resources for Charlottesville tourists and newcomers. Ivy Life & Style Media also creates other projects including Wine & Country which celebrates elevated living in Virginia Wine Country. Wine & Country Life, a semi-annual life & style magazine, and Wine & Country Weddings, an annual art book celebrating elegant Virginia weddings, are complemented by the Wine & Country Shop in Ivy, VA—a beautiful lifestyle boutique that brings the pages of the magazines to life. The Shop features over 40 Virginia artisans with everything from tailgating essentials and Dubarry attire to locally made foods and award-winning Virginia wines and craft beverages for your next event. Wine & Country covers the grape-growing foothills of the Blue Ridge Mountains from Lynchburg to Leesburg, including points in between like Charlottesville and Middleburg.