FORMER CHARLOTTESVILLE FAMILY TO BE ON LEGO MASTERS
Former long-time residents are set to be the first ever mother-son team on the LEGO Masters TV show on FOX. 18-year-old Liam Norris and his mom Emily Mohajeri Norris will be featured on season 3 of the popular show which premieres on Wednesday, September 21 at 9/8c p.m.
A LEGO Family Affair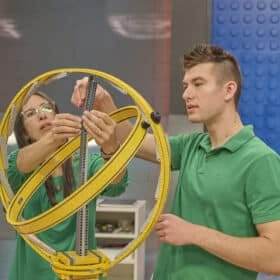 The family's history with the Charlottesville area runs deep. Emily is a 1994 graduate of UVA, and her husband worked for UVA for 15+ years. They raised their three sons in Charlottesville, and it is here where their love for LEGO began. "I first really got into LEGO when I was 6 years old. I received my first Power Miners set and it captured my imagination. Years later, I learned about the LEGO IDEAS site and the online community, and it's just been growing from there," Liam said
Liam, an avid LEGO artist and his mom Emily, a long time "LEGO mom" began their LEGO passion years ago when Emily coached Liam's first LEGO League team in Charlottesville. The mother-son duo also co-taught LEGO classes at a local homeschool co-op for many years. Liam even went on to run LEGO workshops at the Cherry Avenue Boys and Girls Club. "LEGO bricks became the perfect vehicle for his storytelling and imagination, a way that he could channel his creativity and find flow," Emily shared.
Mother-Son Appearance on LEGO Masters
Liam's upcoming television debut has been a long time coming. "I was first approached three years ago, in 2019, for Season 1 of the show. I was working on a large Spirit Lion sculpture, and LEGO Masters casting saw photos on Instagram. I actually got to meet the agent at BrickFair VA 2019. My mom and I applied and went through some interviews but I was 16 at the time and in the end, they decided to not take any minors on the show," he said. Fast forward a couple years to when 18-year-old Liam was finally able to participate, after asking someone special to be his partner. "Liam invited me to be his teammate, as I've been by his side throughout his LEGO career, share his love of everything creative, and have some background in design–my husband and I created original designs for a family lifestyle brand and small Charlottesville-based business, Tender Sapling, that we ran when Liam and his two brothers were little," Emily said.
Fans can tune in to watch Emily and Liam on season 3 of LEGO Masters, a competition style reality show, hosted by actor and executive producer Will Arnett, in which teams of two build unique creations out of LEGO in ambitious challenges. This season, challenges include a NASA-themed episode, a LEGO dog show, and more. View Emily and Liam's heartwarming show introduction here.
What can viewers expect? "Season 3 is incredible! We have spaceships. We have dogs. I can't say much more, but tune in on September 21 to see for yourself!" Liam shared. Plus, viewers will get to witness the first ever mother-son team and the love that comes with it. "We're a mom-son team that's based on a relationship of love and respect. We consult on every challenge and listen to each other's ideas and questions. That allows for our creativity and storytelling to come through in a very unified way. I'm so grateful Liam asked me to join him on this journey and share with him every minute of this once-in-a-lifetime experience!" said Emily.
How to Follow Liam & Emily
Liam also has a YouTube channel (Brixter – YouTube) and Instagram account (@brixter.productions), and you can follow Emily's LEGO builds on Instagram, too (@legomomemily).
The Mohajeri Norris family recently moved to Tucson where Liam is attending the University of Arizona, but they say Charlottesville still feels like home. The family hopes the Charlottesville community will tune in to see their amazing LEGO builds, track their progress, and they hope to inspire others to expand their creativity.
Emily Mohajeri Norris and Liam Norris are a mother and son duo competing as a team on the upcoming third season of the hit FOX show LEGO MASTERS. Emily and Liam are two of the 24 contestants competing in pairs in the show's most ambitious challenges to date, including a treehouse challenge, a LEGO dog show and more. The winning team will earn a $100,000 cash prize, the ultimate LEGO trophy and the grand title of LEGO MASTER. LEGO MASTERS is hosted by actor and executive producer Will Arnett and judged by LEGO employees and expert Brickmasters Jamie Berard and Amy Corbett. LEGO MASTERS season three premieres Wednesday, September 21 at 9/8c on FOX. New episodes air every Wednesday at 9/8c on FOX.
---
ELLEN SEWELL is our Associate Editor. She is a mom of two, including a six-year-old boy, so she is well aware of the LEGO obsession.
---


CharlottesvilleFamily.com, a collection of local resources including a popular calendar of events, family services guides and features on education, health and family day trips for parents and teachers in Charlottesville, as well as the CharlottesvilleWelcomeBook.com a guide to resources for Charlottesville tourists and newcomers. Ivy Life & Style Media also creates other projects including Wine & Country which celebrates elevated living in Virginia Wine Country. Wine & Country Life, a semi-annual life & style magazine, and Wine & Country Weddings, an annual art book celebrating elegant Virginia weddings, are complemented by the Wine & Country Shop in Ivy, VA—a beautiful lifestyle boutique that brings the pages of the magazines to life. The Shop features over 40 Virginia artisans with everything from tailgating essentials and Dubarry attire to locally made foods and award-winning Virginia wines and craft beverages for your next event. Wine & Country covers the grape-growing foothills of the Blue Ridge Mountains from Lynchburg to Leesburg, including points in between like Charlottesville and Middleburg.