TIPS ON CREATING & MAINTAINING STORAGE SPACE NEAR THE DOOR
With the winter season comes all of the necessary clothing and gear that we don the children in before sending them outside to play. And every year, the question of where to store all of this gear arises—no matter the season. Parents alike have experienced the time when you are running late and you can't find one of the kid's other glove or their favorite hat. So, here are some solutions for streamlining and organizing a designated space.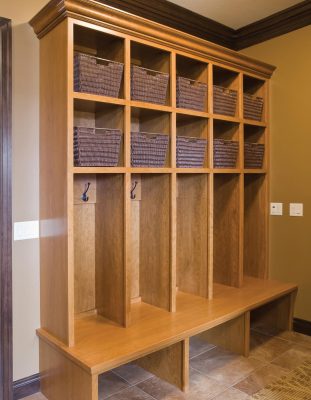 Some homes have mudrooms—those glorious rooms dedicated to entering and exiting a home, especially in inclement and wet weather. Other homes have large enough foyers with closets that make setting up a wet weather station a snap. And then there are the homes that are referred to as charming or cozy, but most oftentimes leave their occupants wishing for just one more closet, or at the very least a few more feet in a particular closet or by the main entrance. No matter the size of your home, winter and its colder weather—and the gear it requires—can be hard to keep up with. 
In a perfect world, every house would have a mudroom, complete with those glorious built-in cabinets with a spot for every member of the family to hang their coat, stash their boots, hats and other assorted gear close to an entryway. It's about having access to everything while also allowing them room to properly dry when required. But alas, we all do not have this luxury. 
How to Organize Winter Gear
So, the question is what to do about that? There are a number of ways to address winter gear organization, one of which is to hang an over-the-door shoe organizer in your coat closet to store scarves, hats and mittens. Labeling the pockets for family members is an extra little step that will make hurried mornings flow a little easier. These labels can even be as simple as a hand-written tag made from laundry tape. Assign each person a few pockets for their items, leaving the lower ones for the smallest members of the family, so they can easily reach their gear without help.
Baskets or other bins can be placed above or under a bench and used for holding items while the bench can be used for pulling boots on and off.
If there is room for a small bench or dresser, they make for another excellent storage solution. Baskets or other bins can be placed under a bench and used for holding items while the bench can be used for pulling boots on and off. A dresser could be organized by giving everyone a drawer, or alternatively by having a drawer for specific items, such as hats in one, scarves in another and so on. A basket, bucket or tub for shoes makes for quick work of creating a spot by the door in which to toss shoes. To keep the shoe bucket from overflowing, assign the task of returning shoes to their more permanent home to a child. This also prevents the inevitable "have you seen…" at the last minute.
Making the Most of Smaller Entry Ways
An armoire or other wardrobe can also be utilized in an entryway, particularly if your's lacks a real closet. Most armoires have a section devoted to hanging items as well as drawers, making a most efficient use of space while offering a storage solution for a number of items. Standing coat racks can also be useful, although if weight hung on them is not properly distributed, they can topple over. 
If solutions like this seem to take up too much floor space in your entryway, consider wall hooks. A series of wall hooks makes quick work in giving everyone a spot to hang their items, from coats to dog leashes and more. Using wall anchors to ensure your hooks can hold some weight is always a good idea. Wall anchors work by filling out hollow space in wall materials. The type of wall you have as well as how much weight you want your hooks to hold will determine the type of anchor you will need to use, but they are fairly easy to install as well as relatively inexpensive. 
Ideas for Hanging Items
A row of hooks doesn't have to be adjacent to a door, although it's certainly helpful. Any small expanse of wall space near the door can work—perhaps in a nearby stairwell? Hanging hooks at a variety of heights can make the most of the space while also ensuring even the smallest of family members can reach their jackets. You should ask the question: Where is there space that could be better utilized? Take a look around at friends' homes to see how they tackle the issue. Sometimes, thinking outside of the box just needs a small nudge. 
Of course, all of these solutions work well for dry weather, too. But come wet weather, the idea of putting those wet mittens back in a pocket in a dark closet seems like a recipe for disaster, or at least a wet mess. Short of hanging a clothesline by the front door, what's one to do with these mounds of wet winter gear our children come in and strip off daily? 
Actually, having a clothesline maybe isn't such an awful idea. There are retractable ones designed to practically disappear when not in use. They come in a wide variety of sizes and can be as simple as one line or have as many as six lines, stretching anywhere from eight to over 100 feet, and mounted temporarily or permanently. A retractable clothesline mounted somewhere like in a basement or garage can be a game changer for wet winter gear for a family with young children, particularly if there is outdoor access to said basement. If you don't have a basement or garage, perhaps install a retractable clothesline in a bathroom, spare room, covered porch or other space that could be used for hanging wet items. Pull out the clothesline when necessary, and then retract it back into its case when done.
Tips for Managing the Wet Weather
Other temporary drying options include collapsible drying racks, although be cautious in loading them with too much weight, as they can topple over. A folding over-the-door hanger is another item can be pressed into service for hanging wet items in a pinch. When not needed, they fold up and can be stored in a closet or drawer. These are also handy for entertaining, when you need a few spare inches of closet space.
Walk-off mats are essential in any weather, but particularly in wet weather. Positioned in the entryway, they protect your floors by helping to clean dirt and other particles off the bottoms of shoes as they transition from the outdoors to your interior. These mats don't have to be ugly but rather a small throw rug with good backing should be sufficient in protecting your floors while also giving feet something to wipe themselves upon. Pairing an indoor mat upon entry to your home with an exterior mat on the outside of the door makes for a double chance for wiping the mud, moisture and chemicals often used in treating ice and snow from your family's shoes. Creating an area for wet boots and shoes to rest will further help protect your floors. If the flooring in the area doesn't lend itself naturally to such an endeavor, create one. Plastic or metal trays make a good temporary station for holding wet shoes while allowing them to properly dry, particularly if your entry has hardwood flooring or carpeting. 
In a pinch, a trash bag works, although not the most attractive solution, but sometimes function wins out over form. Protecting your floors over the long-term makes for a slightly more compelling argument than short-term cosmetic appearance.
It's also quite handy to have a nearby pile of old towels ready for use in this weather, whether they are utilized in drying off the dog after a walk, used to wipe up wet floors or used to wrap up cold, wet, shivering children after they come in from sledding. The towels don't have to be in great condition; in fact, you probably don't want to use your best towels. But they are oh, so handy in dealing with cold, wet weather. Keep them in a small basket along with all your other winter gear so they are easy to access upon entering the house. It's not necessary to have them as accessible at all times, as they are most likely only used in wet weather, so they don't need a permanent spot.
Other Storage Ideas
Last, but certainly not least, is umbrella storage. Whether they have a U-hook handle that easily hangs or are the small, folding sort that neatly tucks away, having a spot for them to live that allows one to effortlessly grab them in the rush to get out the door is essential. Whether they hang from a hook or hanger, are tucked into a drawer or standing in a bin, be sure to have the umbrellas in a spot that is easy to grab along with your hats and gloves.
Whether they hang from a hook or hanger, are tucked into a drawer or standing in a bin, be sure to have the umbrellas in a spot that is easy to grab along with your hats and gloves.
Storing your family's cold and inclement weather gear is an essential part of winter prep, and one that should blend easily into your home and lifestyle. When space is at a premium, it can seem a challenge to be able to effectively deal with it all, so trying to discover ways in which to make your space multi-task effortlessly is worthwhile. It's never too late in the season to realize what works and what doesn't work for your family and to adapt from there.
---
BECKY CALVERT, when not writing, can be found teaching all manners of cooking classes, out in her garden or visiting some of her favorite local wineries. You can follow her adventures at chickenwirepaperflowers.com.
---
YOU MIGHT LIKE


CharlottesvilleFamily.com, a collection of local resources including a popular calendar of events, family services guides and features on education, health and family day trips for parents and teachers in Charlottesville, as well as the CharlottesvilleWelcomeBook.com a guide to resources for Charlottesville tourists and newcomers. Ivy Life & Style Media also creates other projects including Wine & Country which celebrates elevated living in Virginia Wine Country. Wine & Country Life, a semi-annual life & style magazine, and Wine & Country Weddings, an annual art book celebrating elegant Virginia weddings, are complemented by the Wine & Country Shop in Ivy, VA—a beautiful lifestyle boutique that brings the pages of the magazines to life. The Shop features over 40 Virginia artisans with everything from tailgating essentials and Dubarry attire to locally made foods and award-winning Virginia wines and craft beverages for your next event. Wine & Country covers the grape-growing foothills of the Blue Ridge Mountains from Lynchburg to Leesburg, including points in between like Charlottesville and Middleburg.