Welcome to charlottesville Albemarle County, Virginia!
Nestled in the foothills of the legendary Blue Ridge Mountains, our community is known for year-round natural beauty and small city sophistication. Families here enjoy drives alongside the beautiful rolling meadows of horse country where every hill promises a stunning view. In the city, we benefit from the University of Virginia and support a thriving arts scene as well as many gourmet restaurants and local boutiques. You can even daytrip to DC or get away to the mountains for quick escapes. Best of all, everywhere you go you'll be greeted with southern hospitality and welcomed to the hometown of Thomas Jefferson – a great place for families. Be sure to read The Charlottesville Welcome Book, a handy guide for visitors and tourists to dining, attractions, places to stay, concerts and much more. Interested in Virginia wine country? Check out Wine & Country Life, our sister publication that highlights wine, farm-to-table food, architecture, home & garden, the arts and elegant entertaining, as well as Virginia craft spirits, beer and ciders.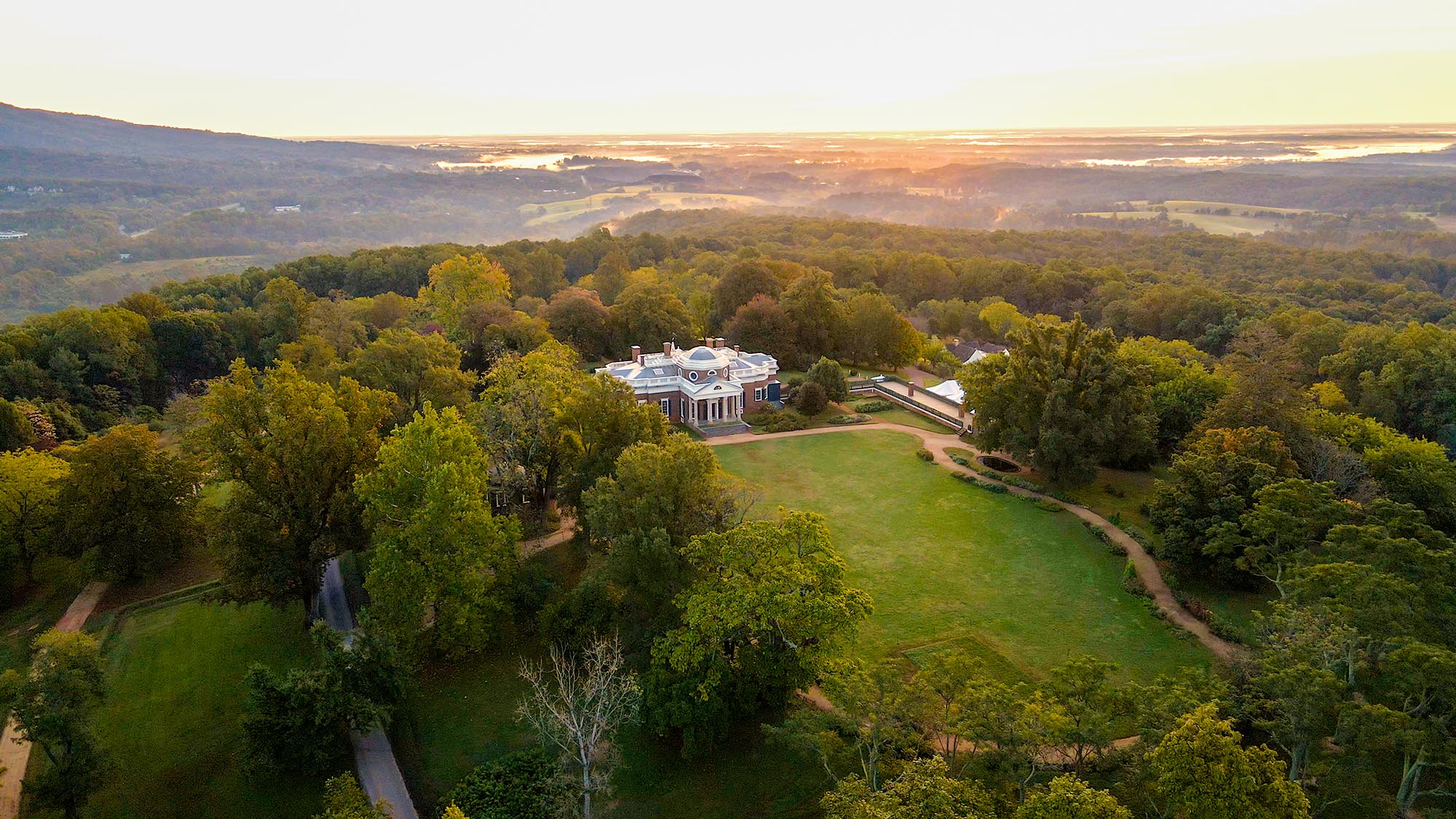 15 THINGS YOU SHOULD KNOW UPON MOVING TO CVILLE
The most popular man in town is Thomas Jefferson. You will do well to quote him often and refer to him with the greatest respect.
The area on which the University of Virginia (UVA) sits is called the "Grounds," not the "campus" and freshmen here are "First Years". And TJ didn't build UVA. Mr. Jefferson founded the University. The big domed building with TJ's statue out front is called the Rotunda and faces a huge "courtyard" area which is surrounded by historic residences (Edgar Allan Poe being one of the most famous residents) that are now occupied by students who consider their stay a great honor even though the facilities are primitive. This famous "courtyard" is known only as "The Lawn" and is packed full of children trick-or-treating every Halloween and UVA students graduating every spring.
If you hear something about Three Notched Road or Three Chopt Road, no one is consistent on this, but we do all agree that today's Route 250 was a colonial highway traversed by Jefferson, James Monroe and others visiting our area.
The best spot for celebrity spotting is the Bellair Market, where, besides getting famously great chicken salad and awesome sandwiches named after local neighborhoods, you may get a glimpse of Howie Long, Sissy Spacek, John Grisham, Mary Chapin Carpenter or Jan Karon. Don't let the fact that this place is a "gas station" fool you.
What's a Wahoo? Legend has it that Washington & Lee baseball fans dubbed the UVA players "Wahoos" during the fiercely contested rivalry that existed between the two in-state schools in the 1890s. By 1940, "Wahoos" was in general use around Grounds to denote University students or events relating to them. The abbreviated "Hoos" sprang up later in student newspapers and has gained growing popularity in recent years. (Interestingly, "Wahoo" is also a predatory fish that can drink twice its weight in liquid.)
Just in case the kids ask, Charlottesville was named for Queen Charlotte Sophia, wife of George III, and incorporated as a city on March 2, 1888. Albemarle was named in honor of William Ann Keppel, second Earl of Albemarle, who was then governor general of the Virginia colony.
You should know that "Rio Road" is not pronounced "Ree-o", but rather "Rye-o". The explanation we have heard is that it used to be Route 10. Others claim it sprung from the nearby Rivanna River (locals pronounce it "RY-vanna" river). Pronouncing it wrong is a dead giveaway that you're not from around here.
"The Dave" or "DMB" refers to the Dave Matthews Band – hometown boys who studied music at Charlottesville High School and then made the big time. You might find many locals referring to Dave like a close friend or acting like a proud second cousin.
The Downtown Mall: To do the pedestrian Mall properly in the day with the kids, you should talk a stroll, have an awesome homemade ice cream cone at Chaps, stop in at the Virginia Discovery Museum and finish up at the TING Pavilion for a little echo testing. If you really want to experience that "small town" feel, stop in at the lunch counter of Timberlake Drugstore. Here you'll forget about all the hip teens hanging out across the way and think you've been teleported to Mayberry.
Though Thomas Jefferson experimented with winemaking, the local vineyard industry didn't begin to boom here until the 1970's. Today, there are more than 35 wineries within a 30-mile radius of Charlottesville, and wines from the area are considered some of the best in the Eastern United States. To learn more about our vineyards and the local wine industry, check out Wine & Country Life.
Depending on where you're coming from you might think our "town" is bigger (or smaller) than you thought. Here are the facts:ALBEMARLE
Size: 726 square miles
Population: 109,722
Number of households: 47,081
Persons under age 18: 19.7%
Growth between 2010 and 2019: 10.8%CHARLOTTESVILLE*
Size: 10.24 square miles
Population: 49,181
Number of households: 20,886
Persons under age 18: 16%
Growth between 2010 and 2019: 12%
(*Includes all residents, so students count.)
University history in the making – The University of Virginia was founded by Thomas Jefferson in 1825, and was an all-male institution until 1970, when it welcomed women to Grounds. Electing a woman president took 40 years longer, when in January 2010, the Board of Visitors elected Teresa A. Sullivan as UVA's eighth president.
Historical heroes abound in Albemarle. The legacy of the three presidents, Jefferson, Madison and Monroe includes magnificent homes and indirectly, thriving local tourism (the second largest industry here). Jack Jouett is credited with saving the skins of at least one of those illustrious men in a famous midnight ride to warn of a British invasion of Charlottesville in 1791. Meriwether Lewis, perhaps the most famous explorer in the United States (at least in 2003 when everyone celebrated the 200th anniversary of the Lewis and Clark Expedition) was from Ivy (a very desirable place to live just west of town) where many relatives still reside. Outside of the obvious visits to Monticello, Highland and others, a great way for you and the kids to get to know Charlottesville's history is to take a historic tour of downtown during the summer months and/or get tickets to the annual downtown Spirit Walk around Halloween. A history-buff tip: When you get settled and have your driver's license up-to-date reflecting proof that you are an official local, you can accompany a paying friend to Monticello and gain entrance for yourself for free.
The Corner is the cool student hangout area at the intersection of University Avenue and the central entrance to the University grounds, the Honor Gate.
Albemarle for many means sophisticated country living. Getting a taste of it is easy. Drive west on Barracks Road straight out of town and within 5 minutes, you'll be driving through rolling hills of grazing horses and majestic views of the Blue Ridge Mountains. Within 20 minutes you'll be taking in the breathtaking countryside and be able to stop of several vineyards to pick up some fine Virginian wine for when the kids are in bed. To catch a glimpse of Albemarle's wealthiest, hop on Rt. 250 going east out of town and make a left at Shadwell toward Keswick. Over the course of your 20 minute drive you'll catch views of the homes of some of our most famous and wealthy residents.
The accolades and "best of" lists abound! Named the #1 Best Place to Live by Sperling's Best Places, and recognized in Reader Digest's "Top 10 List of Best Places to Raise a Family," Charlottesville is a great place to live, and is affectionately known to locals as C'ville.
Explore Charlottesville Online!
Get an Overview
Visitor's Bureau
Chamber of Commerce
Local History
Plan Outings
Daytrip Ideas & Go-To Guide
Jefferson-Madison Regional Library
Family-Friendly Event Calendar
UVA Athletics
Family Fun Guide
Clubs & Classes for Kids
Find a Place of Worship
Getting Settled
Welcome home! Click below to find all you need to know about area utilities, facilities and more.
City of Charlottesville
Albemarle County
Education
Two Books Every Newcomer Family MUST Have
Charlottesville Welcome Book
The elegant Charlottesville Welcome Book debuted in Spring 2009 and reaches out to thousands of newcomers, families and tourists visiting Thomas Jefferson's home at Monticello, the prestigious University of Virginia and the beautiful Charlottesville-Albemarle region. High-quality design, thoughtful editorial and a strong online presence combines to make this free quarterly a must have, even if you're local. With guides to festivals, restaurants, wineries, museums, real estate, theatre, antiques, sports, music and attractions, The Charlottesville Welcome Book offers direction to any and all of your family's interests.
The CharlottesvilleFamily Ultimate Go-To Guide
This annual family directory is packed with useful information that you will want to keep at their fingertips, including timely calendars for keeping track of the family schedule, Charlottesville event highlights, emergency services and amazing resources for those who are new to the area. And of course it's packed with phone numbers for great local businesses for health care options, party places, shopping, education resources, kids recreational activities, family fun and more. Plus, you will enjoy exciting new daytrips features!
Some photos above courtesy of the Charlottesville/Albemarle Convention & Visitors Bureau at visitcharlottesville.org.


CharlottesvilleFamily.com, a collection of local resources including a popular calendar of events, family services guides and features on education, health and family day trips for parents and teachers in Charlottesville, as well as the CharlottesvilleWelcomeBook.com a guide to resources for Charlottesville tourists and newcomers. Ivy Life & Style Media also creates other projects including Wine & Country which celebrates elevated living in Virginia Wine Country. Wine & Country Life, a semi-annual life & style magazine, and Wine & Country Weddings, an annual art book celebrating elegant Virginia weddings, are complemented by the Wine & Country Shop in Ivy, VA—a beautiful lifestyle boutique that brings the pages of the magazines to life. The Shop features over 40 Virginia artisans with everything from tailgating essentials and Dubarry attire to locally made foods and award-winning Virginia wines and craft beverages for your next event. Wine & Country covers the grape-growing foothills of the Blue Ridge Mountains from Lynchburg to Leesburg, including points in between like Charlottesville and Middleburg.