9 FAMILY-FRIENDLY PATRIOTIC DAYTRIPS NEAR CHARLOTTESVILLE
It's no secret Virginia is a top destination for historical attractions. This summer, consider taking the family on a daytrip (or several) to celebrate American patriotism. These attractions offer various tours, hands-on activities and special events. Many of these historic homes and museums even offer specific Independence Day events and exhibits, so be sure to plan your daytrip accordingly to make the most of your patriotic outing.
Patriotic Daytrip Ideas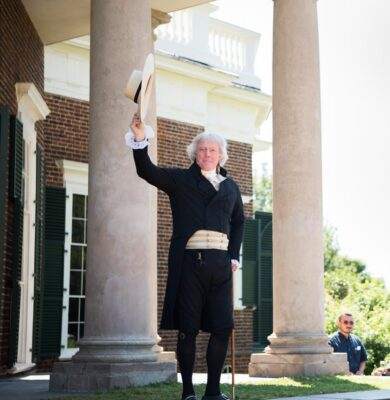 Thomas Jefferson's Monticello (Charlottesville)
0–1 hour drive Get to know Thomas Jefferson—author of the Declaration of Independence and the Statute of Virginia for Religious Freedom, third president of the United States, and founder of the University of Virginia at his home in Charlottesville. Guests can learn extensively about the history of slavery at Monticello, explore the exceptional gardens, participate in special events and more. Every July 4th, Monticello holds the annual Independence Day & Naturalization Ceremony at which more than 50 people are deemed new American citizens. The even features special speaker and it open to the public–registration required.
monticello.org
• (434) 984-9800
James Monroe's Highland (Charlottesville)
0–1 hour drive Also located in Charlottesville is Highland, the home of the fifth president of the United States, James Monroe. Highland offers a variety of engaging group programs–including Slavery at Highland, Founding Friendships, Rediscovering Highland, and more–for adults and students. The annual Independence Day Concert & Celebration features the Heifetz International Music Institute and their classically-inspired ensemble. Guests are encouraged to pack a picnic and make a day of it!
highland.org
• (434) 293-8000
James Madison's Montpelier (Orange)
0–1 hour drive Presidential home, memorial to the Enslaved Community, and museum of American history–Montpelier engages visitors to also enjoy its grounds, gardens and trails. Many special events are offered each year, including the popular Constitution Day Celebration.
montpelier.org
• (540) 672-2728
American Revolution Museum at Yorktown (Yorktown)
1–2 hour drive This museum does an excellent job of telling the story of the nation's founding, from the twilight of the colonial period to the dawn of the Constitution and beyond. Indoor galleries feature period artifacts, immersive environments and educational films. In the outdoor areas, visit a re-created Continental Army encampment to learn about the life of a soldier and take in daily demonstrations on medical treatment, camp life and cooking, and see firings of a flintlock musket. Explore a Revolution-era farm, based on a real-life 18th-century family, to help with chores in the house, kitchen, tobacco barn, gardens and crops. At the annual Liberty Celebration, visitors can enjoy interpretive programs, artillery demonstrations and learn about the challenges that faced our nation's founders, including those who signed the Declaration of Independence, as well as those for whom the new nation's rights of freedom and liberty did not yet apply.
jyfmuseums.org
• (757) 253-4838
Colonial Williamsburg (Williamsburg)
1–2 hour drive A must-visit destination for all families, Colonial Williamsburg is the definition of a living history museum. The tour options and experiences are far too many to name, and rest assured there is something that will interest everyone in your group. There is no better place to celebrate patriotism than on historic Duke of Gloucester Street. The annual July 4th Celebration is a full weekend of patriotic festivities, including public readings of the Declaration of Independence, musical performances, and a dazzling fireworks display to cap off the special evening.
colonialwilliamsburg.org
• (888) 965-7254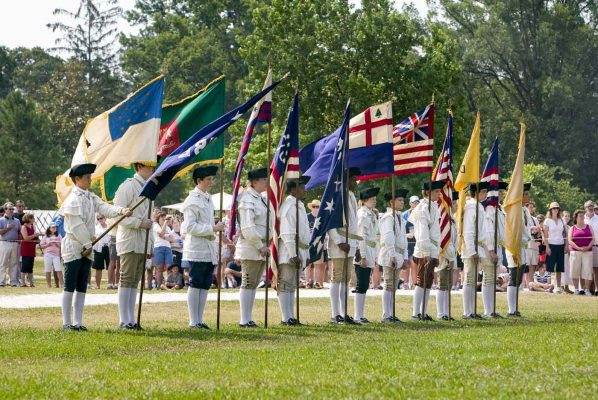 Patrick Henry's Red Hill (Brookneal)
1–2 hour drive Since 1944, Patrick Henry's last home and burial site, called Red Hill, has been lovingly restored, maintained, and shared with the public. Red Hill keeps the spirit of the Voice of the American Revolution alive by inspiring a better understanding of Colonial history. America's first patriot's home is the perfect place to celebrate being an American. The Independence Day Celebration features a day of fun for kids, speeches, music and of course a nightcap of festive fireworks.
redhill.org
• (434) 376-2044
George Washington's Mount Vernon (Mount Vernon)
2–3 hour drive A tour of the first president's home should be a bucket list item for all Americans. Mount Vernon sits perfectly upon the Potomac River, and the estate features a variety of tours and experiences. Learn about life in the 18th century, delve into the start of American independence, and explore Washington's farm, including a replica slave cabin and Washington's 16-sided treading barn. On Independence Day, enjoy an evening of family fun and fireworks to celebration our nation'd founding. They even light up the mansion in red, white and blue during the event!
mountvernon.org
• (703) 780-2000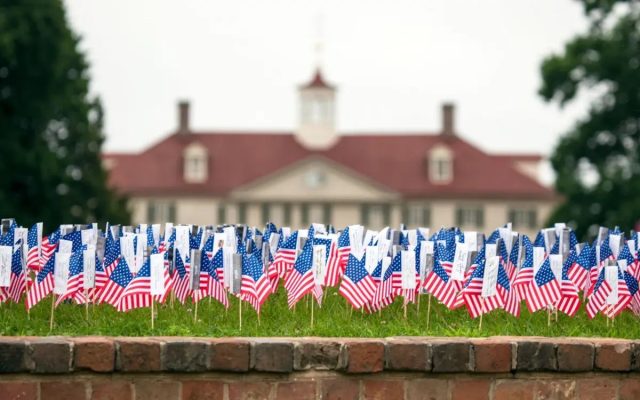 Smithsonian National Museum of African American History and Culture (Washington, D.C.)
2–3 hour drive Learn about the history of how America was created in the context of slavery and freedom, and how with the century-long struggle for civil rights, African Americans challenged the country to live up to its ideals of freedom and equality. The museum's Make Good The Promises exhibit does just that by focusing on the story of Reconstruction. The museum offers many events and workshops for people of all ages throughout the year, with special educational events during the summer months.
si.edu/museums • (202) 633-1000
Smithsonian National Museum of American History (Washington, D.C.)
2–3 hour drive The name of this popular museum says it all. Visitors to the National Museum of American History and can learn all about the founding of American, American Democracy, American Enterprise and Innovation, American presidential history and so on and so on. Plan on spending a full day (or two!) at this staple U.S. museum as there is so much to see and explore.
americanhistory.si.edu
• (202) 633-1000 Enjoy your history-filled patriotic daytrip with your family! For a full list of summer events in the Charlottesville area, including Independence Day celebrations, see our
Events Calendar
. Feeling extra festive? Try making this
easy 4th of July craft
or this
red, white & blue recipe
!
---
---
YOU MIGHT LIKE


CharlottesvilleFamily.com, a collection of local resources including a popular calendar of events, family services guides and features on education, health and family day trips for parents and teachers in Charlottesville, as well as the CharlottesvilleWelcomeBook.com a guide to resources for Charlottesville tourists and newcomers. Ivy Life & Style Media also creates other projects including Wine & Country which celebrates elevated living in Virginia Wine Country. Wine & Country Life, a semi-annual life & style magazine, and Wine & Country Weddings, an annual art book celebrating elegant Virginia weddings, are complemented by the Wine & Country Shop in Ivy, VA—a beautiful lifestyle boutique that brings the pages of the magazines to life. The Shop features over 40 Virginia artisans with everything from tailgating essentials and Dubarry attire to locally made foods and award-winning Virginia wines and craft beverages for your next event. Wine & Country covers the grape-growing foothills of the Blue Ridge Mountains from Lynchburg to Leesburg, including points in between like Charlottesville and Middleburg.