8 BOOKS TO PREPARE YOUR CHILD FOR A VISIT TO THE DENTIST
Once your child's baby teeth have come in and you've scheduled his or her first dentist appointment, you may think you're good to go. Chances are your little one is feeling a little nervous. Remember that sometimes new experiences seem scary to younger kids because they don't know what to expect. These picture books offer the perfect solution to calm those frazzled nerves, and can be purchased online or borrowed from your local library. Introduce them a couple weeks before the visit to show your kids that the dentist is nothing to be afraid of and to allow them time to ask questions. 
Dentist Picture Books
by Rachel Grider RDH, illustrated by Summer Morrison
Ages 4–8
Perfect for young readers, this book is written in rhyme and dissuades fear by showing friendly animals helping with the dentist. Through the use of illustrations, your child will be familiarized with the dentist seat, what the dentist tools look like, and what the dentist might ask him or her to do (such as "swish" and "spit").
by LaTonya Butler, illustrated by Ada Konewki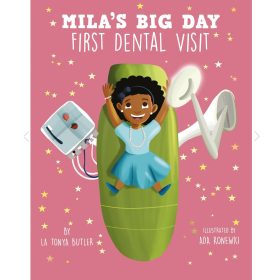 Ages 5–8
This story follows Mila, a brave and curious girl who is getting ready for her first visit to the dentist, and will surely answer your little one's questions before going to the dentist. Butler defines words like "cavity" and "dental hygienist" for young readers, and explains x-rays in a way children can understand.
by Marion Cocklio
Ages 2–5
We're Going to the Dentist follows big-sister Nancy who guides her little brother Teddy through a dentist visit. Flaps that lift and mechanisms that move let your toddler interact with the story and explore the dentist office to find things like toothbrushes, toothpaste and even false teeth!
by Christine Ricci, illustrated by Robert Roper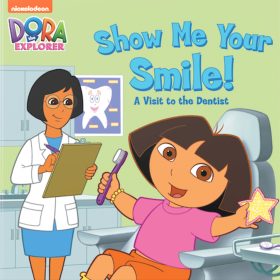 Ages 3–7
Dora the Explorer shows children how going to the dentist is just another adventure. She calmly explains the step-by-step experience of a visit to the dentist, including x-rays and getting a cavity filled. Show Me Your Smile also instructs the reader to brush and floss regularly and incorporates interactive activities.
adapted by Alexandra Cassel Schwartz, illustrated by Jason Fruchter
Ages 3–7
Daniel Tiger is feeling nervous about visiting the dentist but calms down after talking about what to expect with his mom. This book helps prepare your child for their visit by encouraging them to talk out their own fears with a parent or trusted family member.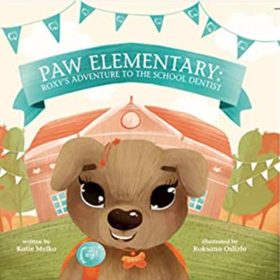 by Katie Melko, illustrated by Roksana Oslizlo
Ages 4–8
Melko's background as a dental hygienist brings a unique and insightful perspective to this book, which follows puppy protagonist Roxy through her first visit to the dentist. This book familiarizes children with a dentist's tools and explains what to expect at a visit. 
by P.K. Hallinan
Ages 3–6
Hallinan writes in cheerful rhyme as he takes readers through a normal checkup, where he identifies a dentist as friendly and helpful! This book is a quick read, and it helps demonstrate how quick and easy a visit to the dentist can be.
by H. A. Rey
Ages 4–7
After one of his teeth starts hurting, Curious George decides to take a trip to the dentist. His curiosity soon overpowers his nerves, and he learns about the different tools in the dentist office. This book will show young readers there is nothing scary about wobbly teeth and that a visit to the dentist can actually be fun!
These books will not only alleviate some of your child's fears but also help start a conversation with them about what part of the visit is worrying them. Be sure to treat their concerns seriously, and offer to look up the answers to any questions that aren't answered by the books you read. Letting your kids know that you're willing to listen to them and help them find a solution to their problem allows you to grow closer with your child, and it fosters a trusting relationship that will last a lifetime.
For tips on addressing your child's fears of going to the dentist and advice on what to look for when choosing a dentist for your family, see "Preparing Your Child for Dental Visits" on page 56 of the Summer 2021 issue.
---
LAUREL FREDERICKS is a third-year Media Studies major at UVA with a love for all things creative. The eldest of 13 cousins, she is always on the lookout for fun ways to keep the little ones (and not-so-little ones!) entertained.

---
YOU MIGHT LIKE


CharlottesvilleFamily.com, a collection of local resources including a popular calendar of events, family services guides and features on education, health and family day trips for parents and teachers in Charlottesville, as well as the CharlottesvilleWelcomeBook.com a guide to resources for Charlottesville tourists and newcomers. Ivy Life & Style Media also creates other projects including Wine & Country which celebrates elevated living in Virginia Wine Country. Wine & Country Life, a semi-annual life & style magazine, and Wine & Country Weddings, an annual art book celebrating elegant Virginia weddings, are complemented by the Wine & Country Shop in Ivy, VA—a beautiful lifestyle boutique that brings the pages of the magazines to life. The Shop features over 40 Virginia artisans with everything from tailgating essentials and Dubarry attire to locally made foods and award-winning Virginia wines and craft beverages for your next event. Wine & Country covers the grape-growing foothills of the Blue Ridge Mountains from Lynchburg to Leesburg, including points in between like Charlottesville and Middleburg.