EXPERT ADVICE, PROACTIVE CAMP POLICIES & A CULTURE OF COMPLIANCE TO HELP CHILDREN ENJOY A SAFE SUMMER EXPERIENCE
This summer, parents all over the country are looking forward to a return of more and more in-person educational and recreational opportunities for their children. We know our kids need face-to-face time with friends and teachers. We know they learn best and benefit most from personal interaction and group play. But, we also want to keep them and the people around them safe. 
A hot topic and question parents everywhere are asking is how they can start planning for a safe, summer camp experience during what we all hope will be the final months of a global pandemic. Without a crystal ball, we can't know for sure what safety precautions will or won't be mandated by local and state officials until closer to the summer, but early preparations and contingency planning can go a long way toward building a "normal" summer camp experience for families in and around Charlottesville.  
No matter whether you are planning to send your child to the same camp he's been happily attending for five summers or looking for a camp for a first-time camper, you'll want to set aside some extra time to research the program's protocols and practices, and to talk with camp staff about their response to the challenges presented by the pandemic. Although a few camp administrators aren't going to make final decisions until closer to the date, the majority are in active planning mode as they prepare for the registration season to start. It's the perfect time to ask: What changes, if any, will you make to your summer operations?
According to the American Camp Association (ACA), more than 3,000 camp directors ran safe day and overnight camp programs across the country during the summer months of 2020. So, we know it can be done. Parents just need to be well informed and select programs that are making choices to keep kids safe. Let's break down some of the things the experts are recommending and how some local camps are responding.
Social Distancing & Hygiene
Social distancing will continue to play a role in keeping kids safe. The key, according to recommendations from the Centers for Disease Control and Prevention (CDC) is dividing campers into smaller groups and keeping them together as "pods" as much as possible for the duration of the camp session. Thomas Bryant, the director of Camp Hidden Meadows, a sleepaway camp located in Bartow, WV, said his team is ready to adopt the pod model. "Several camps that ran successful summers in 2020 used pods to divide their camp into smaller groups. We keep most of our classes fairly small already, so this would only be a minor change for us," he said.
Parents just need to be well informed and select programs that are making choices to keep kids safe.
Libby Rothenberg, RN, is the director of Triple C Camp, which offers year-round day camp programming in Charlottesville. "As a registered nurse," she said, "proactive cleaning, hygiene and disinfection has always been a priority." Rothenberg says Triple C has already instituted safety and sanitation standards to match or exceed recommendations from authorities.
At this time, Rothenberg says Triple C Camp is not anticipating any full-camp activities, for which all campers and staff gather as a group. There may be an opportunity to adjust that if conditions change, she explained, but for now "to support the Virginia Department of Social Services Child Care guidelines, camp programming will be scheduled to prevent groups from coming together for all camp activities, unless physical distancing can be maintained."
Testing, Masks & Hygiene
Be prepared for some level of testing and or health/screenings before camp begins. This can include temperature checks and answering daily health screening questions.
Both Rothenberg and Bryant said there will be daily health screenings and temperature checks for campers and staff throughout summer camp sessions. Handwashing and sanitizing will be frequent and thorough. According to Bryant, "Handwashing facilities and hand sanitizers will be strategically located throughout the camp. It won't be just the 10-year-old boys that will need reminding anymore! Everyone at camp will be required to wash their hands between activities and prior to meals. Our counselors, senior staff and medical staff will be there making sure this happens."
As recommended by the CDC to keep campers and staff safe, masks may still be mandated for all indoor activities at all summer camps. Face coverings for outdoor activities will be less widespread. As of November 2021, Triple C will require campers to bring two masks each day and the masks somehow must be attached to the camper (with a carabiner or lanyard, etc.).
Modified Daily Activities
Carlos E. Armengol, Jr., M.D., FAAP, a pediatrician who works with Pediatric Associates of Charlottesville, suggested that parents go a step further than asking about distancing and hygiene, recommending that they also ask about planned daily activities. "Parents should inquire about the mitigation strategies that camps will have," he confirmed. "These will include strategies with which we are all familiar now." He also recommends asking how will meals be eaten and how typical camp activities will be organized. For example, how will transportation to activities or to and from day camps be handled? Will activities be primarily held outdoors? Digging a little deeper will give you more information about the full safety of the program. 
Supercharged Staff Training
Relying on nearly two years of data and experience relating to the spread of COVID-19, recommendations from the CDC and the ACA provide details about best practices to mitigate risk and stop the spread. Camp leadership and staff are training to adopt and enforce the new measures. 
Rothenberg pointed to revised staff training that focuses on cleanliness and compliance—and a culture of community in which staff members model behaviors that respect the health and safety of others. "Our staff are mature individuals who choose to work at camp for the positive impact camp makes on the lives of everyone involved," she said. "Our staff have committed to be mindful of their personal activities, to limit contact with people outside of our staff circle and to adhere to all the local safety guidelines. Our staff trainings will continue to focus on growth and development of our campers, creating a supportive and fun atmosphere. While we will be eliminating high fives, we will be true to our mission."
Special Health Considerations
Dr. Armengol cautioned parents to proceed more carefully if their child is in a high risk group. "Avoid dangerous situations," he said. "If your child has a medical condition that makes him or her more susceptible to COVID-19, then reconsider attending a camp in person." Likewise, he advised those with vulnerable family members to take extra steps to keep everyone as safe as possible. "If someone in your household is more susceptible to COVID-19, your child may need to quarantine prior to returning to the household.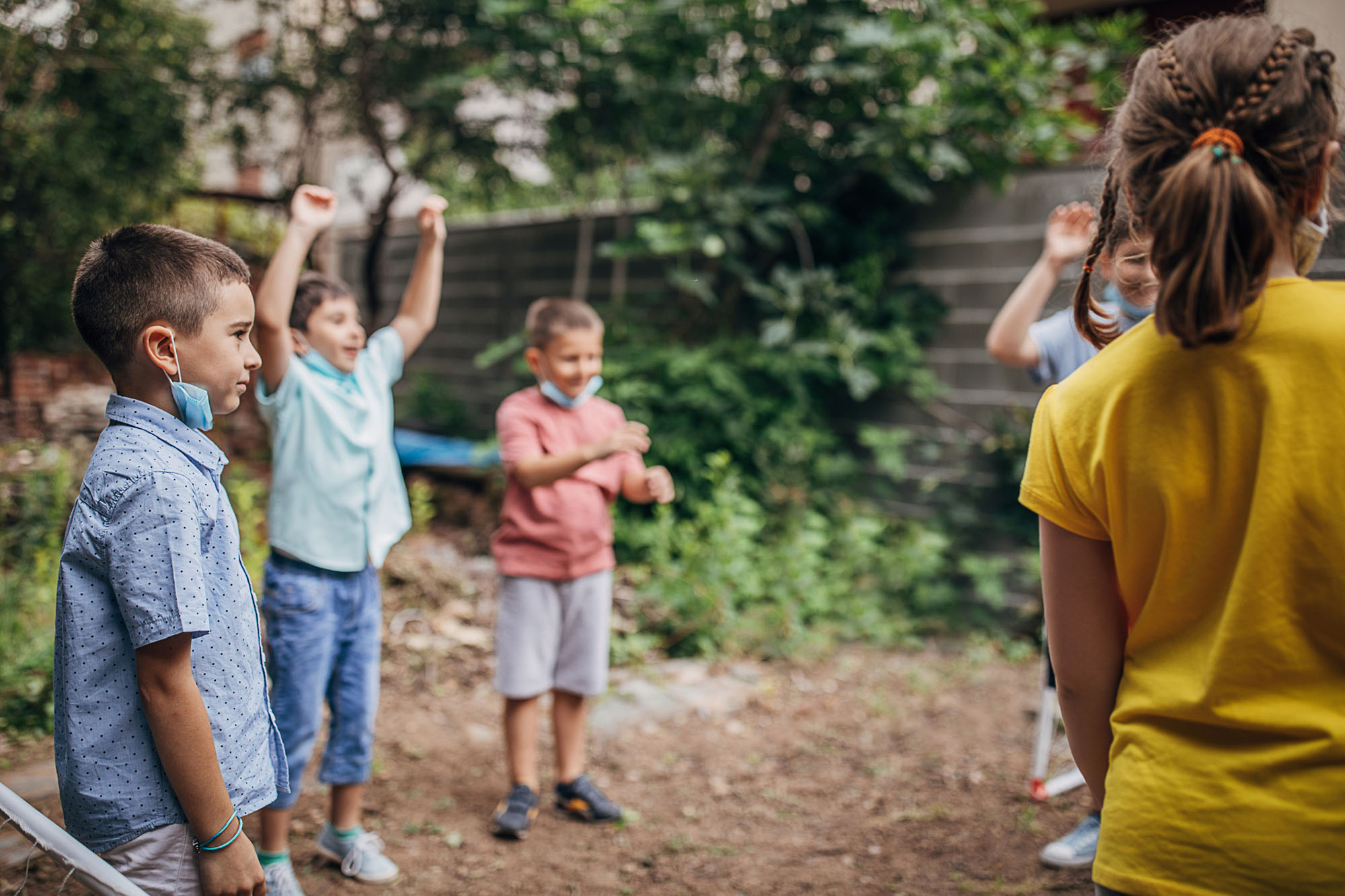 Now, More Than Ever
Researchers, legislators, physicians, educators and parents have all voiced concerns that children and adolescents may feel the impact of this year of isolation well into the future. If appropriate precautions allow for a safe return to summer camp experiences for families, it will be a welcome development.
Tom Rosenberg, the CEO of the ACA, looked back to the summer of 2020 to underscore the importance of summer camp experiences. "Perhaps the most important story of camp 2020 is the least reported one," he said. "Camp directors reported that many children arrived feeling anxious, out of shape or disconnected. They desperately sought—and ultimately found—the belonging, independence and resilience they had needed for months."
From interaction with nature to interaction with peers, Rothenberg agrees that summer camps and programs deliver what children need, especially during these times of unease. "It is critical for youth to have a summer full of outdoor experiences and social interactions," said Rothenberg. "Camp offers an in-person community of caring individuals. The role modeling adults will offer experiential education that will result in self-respect, self-worth, self-esteem, leadership and self-worth­—building personal competencies." 
"We have been providing summer experiences for youth since 1992," said Bryant. "I believe there has never been a greater need for what we offer. A place where life is simple and free from worldly distractions. A place where young people's needs come first."
---
CATHY ASHBY STAMM is a University of Virginia student and a Charlottesville local who is dedicated to making her community a better place. She also enjoys exploring and writing about all that Virginia has to offer. 
---
YOU MIGHT LIKE


CharlottesvilleFamily.com, a collection of local resources including a popular calendar of events, family services guides and features on education, health and family day trips for parents and teachers in Charlottesville, as well as the CharlottesvilleWelcomeBook.com a guide to resources for Charlottesville tourists and newcomers. Ivy Life & Style Media also creates other projects including Wine & Country which celebrates elevated living in Virginia Wine Country. Wine & Country Life, a semi-annual life & style magazine, and Wine & Country Weddings, an annual art book celebrating elegant Virginia weddings, are complemented by the Wine & Country Shop in Ivy, VA—a beautiful lifestyle boutique that brings the pages of the magazines to life. The Shop features over 40 Virginia artisans with everything from tailgating essentials and Dubarry attire to locally made foods and award-winning Virginia wines and craft beverages for your next event. Wine & Country covers the grape-growing foothills of the Blue Ridge Mountains from Lynchburg to Leesburg, including points in between like Charlottesville and Middleburg.