FUN SCIENCE TRIPS FOR THE FAMILY
Warmer weather is here and whether you are traveling this spring/summer or not, keep in mind there are plenty of closer options for families to explore. Consider taking a day (or two) to get away and experience an educational trip your little scientists are sure to enjoy.
Science Fun For Kids in Lynchburg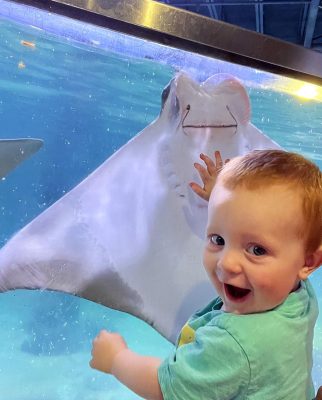 Seaquest Lynchburg
SeaQuest Lynchburg–A land and sea adventure! Lynchburg's newest family attraction features over 20,000 square feet of fun where visitors are invited to touch, feed, and interact with animals from five continents, including an Icelandic Fishing Village, the Great Wall of China, the Amazon River and beyond. Hands-on learning takes on a whole new, fun meaning at SeaQuest. Current activities and exhibits include the Asian Otter Interaction, Baby Sloth Encounter and the Snorkel With Stingrays experience. Kids can even learn to be a zookeeper and work alongside the animal crew, spending time learning about three different areas of the profession. Learn about land mammals and sea creatures all in one unique aquarium space that's close to home! visitseaquest.com.
Science Fun for Kids in Harrisonburg
John C. Wells Planetarium
The John C. Wells Planetarium at James Madison University (JMU) is a state-of-the-art hybrid facility that offers a look into where no one has gone before. In 2013, the planetarium upgraded the video system that makes journeying through the solar system possible through a Digistar 5 system that displays full-dome videos that are two-and-a-half times sharper than high-definition television. This upgrade makes the JMU planetarium one of only a handful of facilities in the world currently to have both the Digistar 5 ultra-high resolution digital projection system and a Goto CHRONOS opto-mechanical star projection system. The planetarium can display the nighttime sky as it would appear from anywhere on earth at any time of year. Imagine seeing what the nighttime sky would look like without interference from lights, something that's practically impossible from just about anywhere on Earth. It's possible just down the interstate in Harrisonburg. The planetarium offers free Saturday public shows from early September through May (except during JMU Breaks). jmu.edu/planetarium.
Explore More Discovery Museum
The Explore More Discovery Museum offers kids an interactive, multi-sensory experience that gives them a greater understanding of their minds and the world around them. Stroll into the museum's "CK's Kitchen and Farmer's Market" exhibit, where your child can handpick his or her own fruits and veggies and then cook up a culinary delight in the kitchen. Build skyscrapers with Keva planks in the Construction Zone. Discover what organs look like inside the body as you perform surgery in the Friendly City Medical Center or keep teeth squeaky clean in the Friendly City Dental Exhibit. Take the kids to the theater, which is complete with curtains, costumes and lighting that even little stagehands can manage. There is no shortage of educational fun at the museum with its variety of exciting programs. The museum has expanded its space to include a TV station where little journalists can deliver breaking news, and the fully-functional lab has all the tools young scientists need to perform experiments and make new discoveries. iexploremore.com.
Science Fun for Kids in Richmond
Science Museum of Virginia
Take a day to explore the Science Museum of Virginia in Richmond. The museum works to inspire kids to think big with hundreds of experiential exhibits on topics such as space, health, electricity, the Earth and more. When planning your trip, make sure to check online for current exhibit information and to see what's playing in the museum's Dome Theater–the largest screen in Richmond, measuring at nearly a quarter of an acre. Throughout the 223,000-square-foot space, live science demos can be seen as well as live science labs, including eco, animal and art labs. The museum's newest exhibit, Playing With Light, offers visitors the opportunity to explore our world and how it is illuminated through 22 exhibits with a multitude of outcomes. Smv.org.
Science Fun for Kids in Hampton Roads
Virginia Air & Space Center (Hampton)
Many people do not realize the Virginia Air & Space Center in Hampton is the official visitor center for NASA Langley Research Center. The facility features interactive aviation exhibits, more than 30 historic aircraft, a hands-on space exploration gallery, unique space flight artifacts, and much more. The Center is also home to the Apollo 12 Command Module and the Orion PA-1 Test Vehicle. The new Space Exploration Gallery and Adventures in Early Learners Gallery The SPACE (Smile, Play, Achieve, Create, Explore), invites guests of all ages to celebrate the spirit of exploration through state-of-the-art exhibits that explore our solar system. The Center also recently renovated the IMAX theatre, where visitors can currently learn about the Grand Canyon, Great Bear Rainforest and The Story of Earth. vasc.org.
Virginia Living Museum (Newport News)
Just down the road from Hampton is the Virginia Living Museum in Newport News–Virginia's Animal Attraction and Dino Destination. The museum is home to over 250 species of animals that live in the state, and one of the largest displays of native plants in the Commonwealth. The museum's Underground Gallery allows visitors to experience geology in action, and the state-of-the-art Abbitt Planetarium Theater offers a fully digital simulation of the sky in the 71-seat space. Young palentologists will want to visit just for the permanent outdoor dinosaur exhibit. Walk through the woods to discover realistic one-third to full-size dinos from the Jurassic and Cretaceous periods. Enjoy a photo op. with a baby T. Rex and get little hands dirty searching for fossils in the dig pits. thevlm.org.
Science Fun for Kids in Baltimore
Maryland Science Center
Take your educational trip outside of Virginia and head north to Maryland. The Maryland Science Center's signature brand of science education celebrates the "how come?" and the "what if?'' From astronomy to paleontology, the human body to physics and phenomena, the facility is packed with innovative exhibits that demonstrate the wonders of scientific discovery with a focus on open-ended exploration. Exhibits include, Math in Nature, Newton's Alley, SpaceLink, Dinosaur Mysteries, and The Shed, where kids can learn a new skill, create an invention and find a solution to a design challenge through various drop-in activities. Located in Baltimore's Inner Harbor, the Maryland Science Center is worth the trip! mdsci.org.
Feel good about your plans with the family. From dinos and wildlife to the solar system and aircraft, kids are sure to walk away from these daytrips with a head full of knowledge and a heart of happy memories. Find many more family-friendly daytrip ideas on CharlottesvilleFamily.com.
Check the CharlottesvilleFamily Events Calendar for even more specific family-friendly ideas.
---
ELLEN SEWELL is our associate editor. She enjoys visiting museums of all kinds with her 6-year-old mathematician and 4-year-old animal enthusiast.
---


CharlottesvilleFamily.com, a collection of local resources including a popular calendar of events, family services guides and features on education, health and family day trips for parents and teachers in Charlottesville, as well as the CharlottesvilleWelcomeBook.com a guide to resources for Charlottesville tourists and newcomers. Ivy Life & Style Media also creates other projects including Wine & Country which celebrates elevated living in Virginia Wine Country. Wine & Country Life, a semi-annual life & style magazine, and Wine & Country Weddings, an annual art book celebrating elegant Virginia weddings, are complemented by the Wine & Country Shop in Ivy, VA—a beautiful lifestyle boutique that brings the pages of the magazines to life. The Shop features over 40 Virginia artisans with everything from tailgating essentials and Dubarry attire to locally made foods and award-winning Virginia wines and craft beverages for your next event. Wine & Country covers the grape-growing foothills of the Blue Ridge Mountains from Lynchburg to Leesburg, including points in between like Charlottesville and Middleburg.