HOW THE WHOLE FAMILY BENEFITS WHEN KIDS HELP IN THE KITCHEN
When was the last time your entire family sat down to dinner together? According to a 2016 report by National Public Radio (NPR) on the eating habits of American families, more than 40 percent of American families struggle to find the time for meals at home. Kids' schedules, especially when back in school, make it feel impossible to get everyone at the table. The juggle between work hours, school pick up, activities and homework doesn't leave an easy answer. But the secret to making family meals work may be simpler than you think. Instead of taking it all on yourself, it's time to bring your kids into the kitchen with you. Read on for more tips and advice on The Importance of Cooking with Kids.
How Cooking Together Keeps Kids Healthy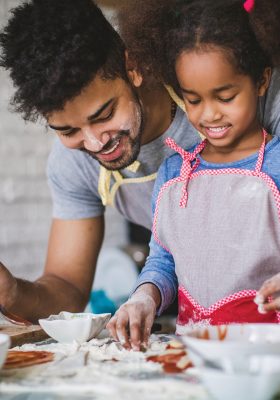 Family mealtimes are an important element of teaching your kids good eating habits, as well as developing their social-emotional skills that will serve them throughout life. "Research shows that having family meals, sitting together at the table without outside distractions, helps children socially and academically," says Rita Smith, a Registered Dietitian and Certified Diabetes Educator at Sentara Martha Jefferson Hospital who helps families develop healthy, nutritious eating habits. In her work, Smith has found that family meals are a game changer for both kids and parents. "It's an important time each day to connect with family members, develop verbal skills and learn table manners." But, getting your kids to sit down and eat the meal you prepare is challenging for many parents. That, says Smith, is where cooking together comes in handy. "Children who participate in meal planning and food prep are more interested in eating the meal that they have helped make."
"There are so many benefits [to cooking with kids]," agrees local personal chef and cooking instructor Ingrid Berger, including patience, teamwork, independence and how to appreciate and enjoy a variety of foods, which can be a huge game-changer for many families.
Cooking together is one of the best ways to help picky eaters get interested in and excited about the food they're going to eat. And, once kids are helping out in the kitchen, the rush to get dinner on the table stops being one more task for parents to check off their daily list and starts being a time for the whole family to learn, play and bond.
When To Start Cooking Together

The right time to start cooking with your kids is probably earlier than you think. "Kids naturally are curious and like to be involved in family activities, and so even at the youngest ages, they can jump into food preparation," says Smith. She recommends having children as young as age 2 help with simple tasks like pouring or mixing. As they get older, the cooking tasks can expand as skills improve, Smith adds. "By the teen years, kids can read and understand recipes, following through with the preparation of the dish on their own. This also gets them ready for being out on their own in a few years."
The most important thing to keep in mind when bringing your kids into the kitchen is not to worry if something isn't quite right or if there's a mess at the end.
Of course, as kids get older, they pick up more activities and more homework, which is another set of challenges for families to overcome around mealtimes. Instead of stressing over who is at which meal, and what's being served, try to make choices that are easy on everyone's schedules and stress levels. "Pick one or two evenings weekly when the schedule is more relaxed, perhaps without any after-school activities [for cooking together]," Smith suggests. It's okay if family meals only happen once or twice a week, or if you all make breakfast together on Sunday mornings instead of dinner together on Monday nights. You can also assign older children a night to choose and prepare a meal, which teaches them to appreciate the work that you put into feeding the whole family. "Learning to cook healthy meals that are budget-friendly is hugely important," Berger explains. "My teenage daughter recently made a delicious pasta dish, using things we had around. The more cooking kids do, the more resourceful and creative they can be."
The most important thing to keep in mind when bringing your kids into the kitchen is not to worry if something isn't quite right or if there's a mess at the end. "I recruit [my clients' children] to help, and they are happy and proud when they can lend a hand," says Berger. "Instilling pride and a desire to be in the kitchen is more important than whether the task is done perfectly."
What Can Kids Do in the Kitchen?

Wanting to get your kids involved is the first step. But what can you ask them to do, while still keeping them safe (and making sure dinner actually ends up on the table)?
With supervision, Toddlers can:
• Scoop Dry Ingredients,
• Stir Wet or Dry Ingredients Together,
• Tear Up or Spin Greens,
• Shake Dressings or Sauces in A Plastic Jar, and
• Add Herbs, Sprinkles or Other Toppings.
With supervision, Preschoolers can:
• Wash Vegetables and Fruits,
• Using a Plastic Knife, Cup Up Soft Foods Like Zucchini or Cheese,
• Measure Liquids,
• Pull Herbs Off Stems,
• Shape Food into Balls, such as Protein Balls or Cookie Dough (washing up thoroughly afterwards), and
• Knead Dough.
With supervision, Elementary-Age Kids can:
• Stir or Flip Food on The Stove (think easy things like pancakes–foods cooking in oil or grease),
• Follow Simple Recipes,
• Peel Potatoes,
• Grate Vegetables and Cheese, and
• Use A Can Opener, Mixer, Food Processor or Blender.
By the time your kids are in middle and high school, they can start to follow more complicated recipes and take full responsibility for portions of the meal, such as making sides and salads or baking a main dish. Of course, every child's development, interests and physical abilities are different. If a certain task feels unsafe for your child to do, or if they don't show interest in it at a young age, don't force them to participate. Instead, talk to them about what you are doing and let them watch. "Keeping fear and shame out of the kitchen is the way to go," Berger advises, which is the same advice she gives for dealing with picky eating. "Patience and food go well together." Eventually, most children will become curious and want to get involved. If you don't feel comfortable having your child do things like wash and chop, Smith recommends setting up a spot where they can play safely at the sink or nearby with a few pots and spoons. They'll be able to imitate you by mixing, stirring and pouring, and you'll still have the opportunity to talk to them about what you're preparing and how cooking works.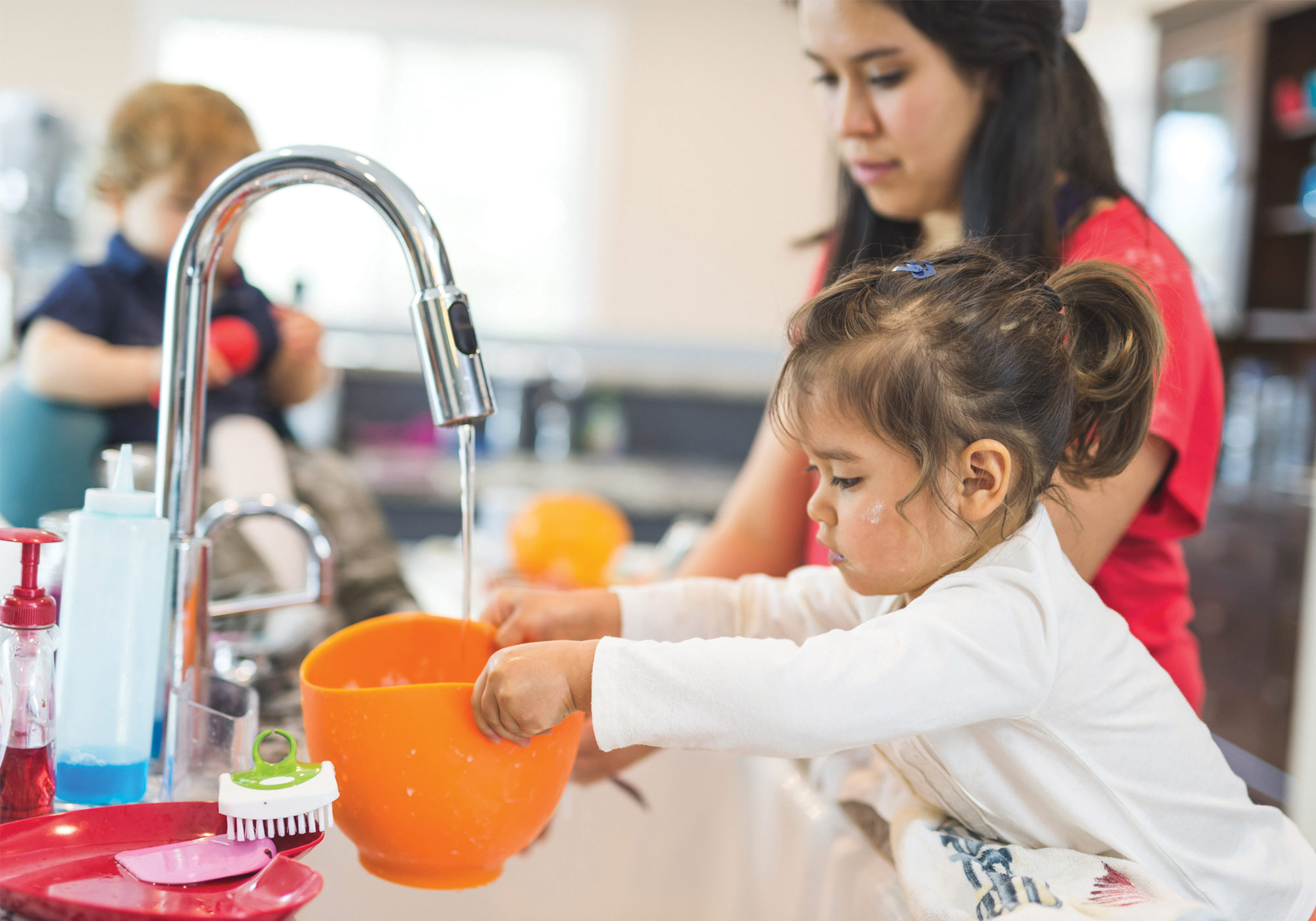 The Benefits of Having Kids Help in the Kitchen

Getting your kids involved in the kitchen teaches them how to cook and gets them excited about eating a variety of foods. It also benefits their parents.
Most importantly, cooking together gives you time to connect with your children, no matter how old they are.
Teaching children can improve the entire family's eating habits by encouraging everyone, parents and children alike, to think about what they are eating. It also helps adults who don't cook much expand their own skill set. If you don't feel comfortable in the kitchen yourself, Berger suggests choosing simple recipes to start, or even trying out children's cookbooks, which often have helpful illustrations and clear instructions. "It could be something as simple as beans and rice or an omelette," she says. "Have the child or children choose from the array, and they can be 'in charge of' the recipe. Be a team and create something together."
Most importantly, cooking together gives you time to connect with your children, no matter how old they are. "My children are now grown adults, but I remember the times spent in the kitchen, chatting about school, friends and activities, all while making a dish for dinner," says Smith. "It was a great catch-up time from the day, but also the opportunity to talk about the future," so be sure and embrace The Importance of Cooking with Kids.
For some kid-friendly recipes to try as a family, see our Food & Home section.
---
KATHARINE PALJUG is a freelance writer, CharlottesvilleFamily's Family Health Editor and mother to one busy toddler. You can see more of her work at www.katharine-writes.com.

---
YOU MIGHT LIKE


CharlottesvilleFamily.com, a collection of local resources including a popular calendar of events, family services guides and features on education, health and family day trips for parents and teachers in Charlottesville, as well as the CharlottesvilleWelcomeBook.com a guide to resources for Charlottesville tourists and newcomers. Ivy Life & Style Media also creates other projects including Wine & Country which celebrates elevated living in Virginia Wine Country. Wine & Country Life, a semi-annual life & style magazine, and Wine & Country Weddings, an annual art book celebrating elegant Virginia weddings, are complemented by the Wine & Country Shop in Ivy, VA—a beautiful lifestyle boutique that brings the pages of the magazines to life. The Shop features over 40 Virginia artisans with everything from tailgating essentials and Dubarry attire to locally made foods and award-winning Virginia wines and craft beverages for your next event. Wine & Country covers the grape-growing foothills of the Blue Ridge Mountains from Lynchburg to Leesburg, including points in between like Charlottesville and Middleburg.