3 STRATEGIES FOR REIMAGINING YOUR LAUNDRY ROOM
The laundry room is easily one of the most used spaces in the entire household, second only to the kitchen. Its functionality is important to helping you prepare for the upcoming week, as well as for secluding the clothes clutter. This is why remodeling and upgrades are needed not only to safeguard this spot in the home but also to make it comfortable and functional for a never-ending chore. Small to big spaces all need to be pre-planned out for maximizing efficiency, and those small decorative touches will help make a sometimes daunting task more enjoyable. Here are some tips for making the most of any size laundry space and making it feel more like a part of the home.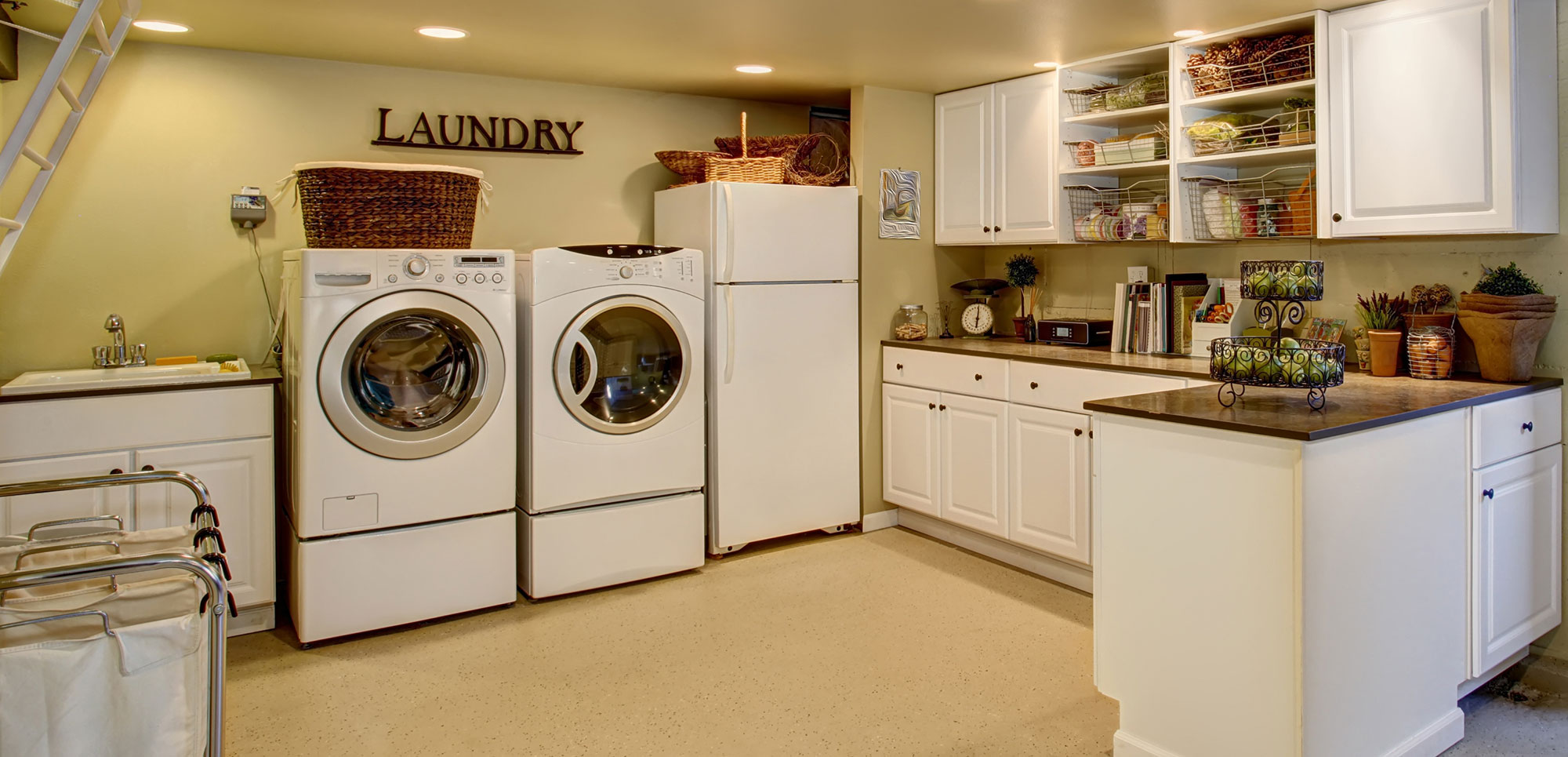 Tips for Turning A Laundry Room into A Multi-Purpose Space
Space is a key factor in turning your spacious laundry room into a multi-functional paradise. The ultimate goal is to design this room/space into an efficient, yet inviting, spot in your house that helps turn laundry day into a labor of love. First things first, the placement of the washing machines themselves are important for the whole layout of the space. It depends on the dimensions of the room, but many designers agree that homeowners should put washing machines in the middle of the wall, so other items like a utility sink and refrigerator can be tucked in next to them. If you have the space, items that help the whole laundry process go by quicker include sinks, extra laundry baskets for sorting, a folding station or space, a hanging clothes rack and storage for housing all of your cleaning supplies. In a more modern time, multitasking is practiced habit—one that many of us do without even realizing it. So, why, too can't your laundry room serve a greater purpose? A carefully designed multi-purpose laundry room can double as a home office, a mudroom, a shower zone for a pet, an arts and crafts room, a kitchen pantry and so much more.

How to Maximize A Small Laundry Room
Laundry rooms are a must-have in every household, but when you can't designate an entire room or space to just this chore, it's important to reimagine a multi-purpose space, closet or nook. There are many different laundry room styles, but when needing to maximize the space of a small laundry room, many are preferring a modern-take on a tight space. Stacking your washer and dryer is a great way to make room for additional storage solutions. It can give you the opportunity to build in cabinets, shelves and storage space for all of your necessities, as well as close off the area from your everyday view. Crafting a small space begins with planning and visualizing how one wall, closet or tight space can be used to the max while still serving your family in an efficient manner. And before beginning, make a list of everything you will need this space to house, such as a step stool, an ironing board, cleaning supplies, baskets or hampers for dirty laundry, a pull-out or pull-down drying rack, etc. This will ensure you aren't left with items missing a home or being separated from their partnering materials and tools.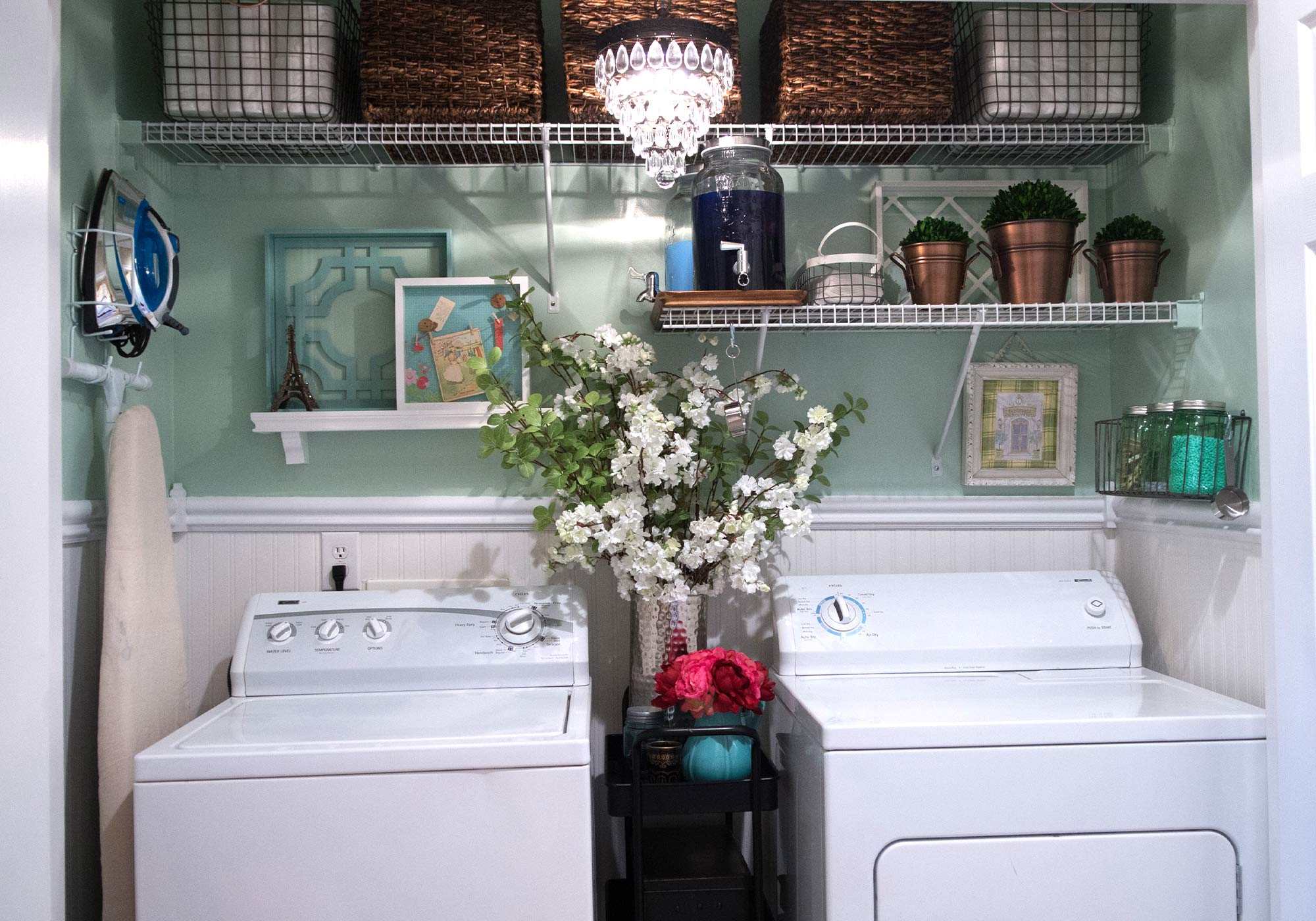 How to Personalize/Decorate Your Laundry Space/Room
Have your special laundry room exude comfort and love, by using your creativity to make the space uniquely yours. First, decide on a theme and color palette. Some people strive for a more cottage look and pick up wire baskets with cloth lining to combine utility with style. While another might go with a somewhat French, garden-inspired theme. From muted to bold colors, the color wheel is in your hands, from the wall behind the washer and dryer to accent colors of picture frames and storage bins. Next, choose organizing baskets with the same style, but ones that hide extra supplies from the eye. 
Since this area can be a dark, windowless closet or space with zero natural light, nothing will grow here. So, preserved boxwoods and silk branches are a great option for bringing in some warmth and life. For a more feminine space, a small chandelier can be a fun lighting upgrade that can be paired with patterned-lined storage bins and colorful picture frames. A modern-chic style can be achieved with muted colors, whites, blacks and a handy crafters cart that can hold a flower vase or other décor. Crafters carts come with three shelves, to place everything from tide pods to sewing supplies for a quick fix before the garment enters the dryer. Other ways you can add personal touches can be decorative shelves, glass jars for cleaning up the space from ugly detergent boxes and artwork. It's all about creating a functional and pretty space that is uniquely yours.
No matter what size your laundry room is, everyone can agree that a much needed remodeling will brighten up that super vital room in any household. From utilizing new structural shelves for maximizing space to taking a large laundry room space to laundry heaven, anything is possible. And with décor, a room or space can become a cohesive home for a never-ending chore. 
---
YOU MIGHT LIKE


CharlottesvilleFamily.com, a collection of local resources including a popular calendar of events, family services guides and features on education, health and family day trips for parents and teachers in Charlottesville, as well as the CharlottesvilleWelcomeBook.com a guide to resources for Charlottesville tourists and newcomers. Ivy Life & Style Media also creates other projects including Wine & Country which celebrates elevated living in Virginia Wine Country. Wine & Country Life, a semi-annual life & style magazine, and Wine & Country Weddings, an annual art book celebrating elegant Virginia weddings, are complemented by the Wine & Country Shop in Ivy, VA—a beautiful lifestyle boutique that brings the pages of the magazines to life. The Shop features over 40 Virginia artisans with everything from tailgating essentials and Dubarry attire to locally made foods and award-winning Virginia wines and craft beverages for your next event. Wine & Country covers the grape-growing foothills of the Blue Ridge Mountains from Lynchburg to Leesburg, including points in between like Charlottesville and Middleburg.