DIY VALENTINE AND DOILY ENVELOPE
I love making "pretty" things, but as a mom and publisher, I don't have a lot of time for crafting. So, I'm always dreaming up easy projects that pack a lot of punch. I think this Valentine DIY doily envelope is a great example of this. They are seriously so easy and take less than one-minute to make! And, the card doesn't take much longer.
How to Make Your Own Valentine Envelope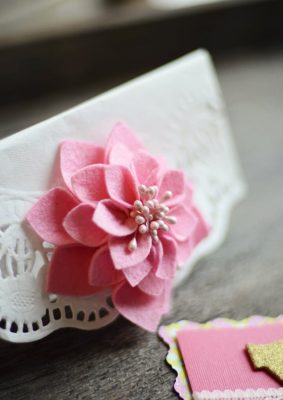 Here's what I used:
1 – 10″ round doily
1 – 3 1/2″ x 5″ piece of scrapbook paper
1 – 3″ x 4 1/2″ piece of solid paper
1 – 5″ piece of ribbon
1 – "X" & "O" chipboard letters
1 – Martha Stewart Pink Felt Flower sticker
Deckled-edge cutting tool
Permanent double stick tape
Glue
Instructions:
For the envelope, simply center the card on the doily, then fold sides of doily in over card. Next, fold bottom of doily up over the card, and, finally, fold top flap down. Note: A bit of double-stick tape between the bottom flap and the sides will help the envelope to hold it's shape.
I added a felt flower sticker to the outside because I wanted an extra embellishment, but you could also use a piece of ribbon or leave it with just the pretty detail of the doily.
How to Make Your Own Valentine Card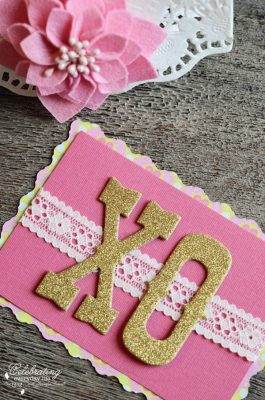 For the card, I trimmed a piece of scrapbook paper to 3 1/2″ x 5″ using a deckled-edge cutter. Next, I trimmed the solid pink paper to 3″ x 4 1/2″. I wrapped the ribbon around the card and attached it on the back with double stick tape. I then attached the pink card to the patterned card with a bit more double stick tape. The "X" & "O" were the final additions, and I attached them with a bit of glue since they are a bit too heavy for tape alone.
Now isn't that sweet—a pretty Valentine DIY card in under 10 minutes!
---
JENNIFER CARROLL is a Southern gal with an unquenchable thirst for all things creative. She wears many hats—photographer, blogger or designer—but always, an extremely enthusiastic home entertainer. No matter what she is doing, she is committed to celebrating everyday life. Visit celebratingeverydaylife.com.
---
YOU MIGHT LIKE


CharlottesvilleFamily.com, a collection of local resources including a popular calendar of events, family services guides and features on education, health and family day trips for parents and teachers in Charlottesville, as well as the CharlottesvilleWelcomeBook.com a guide to resources for Charlottesville tourists and newcomers. Ivy Life & Style Media also creates other projects including Wine & Country which celebrates elevated living in Virginia Wine Country. Wine & Country Life, a semi-annual life & style magazine, and Wine & Country Weddings, an annual art book celebrating elegant Virginia weddings, are complemented by the Wine & Country Shop in Ivy, VA—a beautiful lifestyle boutique that brings the pages of the magazines to life. The Shop features over 40 Virginia artisans with everything from tailgating essentials and Dubarry attire to locally made foods and award-winning Virginia wines and craft beverages for your next event. Wine & Country covers the grape-growing foothills of the Blue Ridge Mountains from Lynchburg to Leesburg, including points in between like Charlottesville and Middleburg.