WHERE TO SEE THE BEST HOLIDAY LIGHTS IN VIRGINIA
Family-Friendly Destinations for Holiday Lights
Wherever you are in Virginia, you're sure to find an inspiring twinkling light display worth a drive to go visit. Here are a few favorite light exhibits from around the state to inspire your holiday plans. Be sure to plan early because tickets are limited and often have timed arrivals. Popular times sell out quickly. Double check time and admission details as weather and special events can be impactful. Most holiday light venues are open mid-November to mid-January. These magical light displays are all sure to brighten your spirits and warm your heart this season.
GardenFest of Lights at Lewis Ginter Gardens
Part of the magic of winter nights is how a twinkle of light can transform the darkness. In the natural world, seeds hold a similar mystical power. So tiny, yet so mighty, seeds are the "spark of life" containing the secrets of a never-ending creation. This year, Dominion Energy GardenFest of Lights at the Lewis Ginter celebrates their wonder with the theme: "Seeds of Light." The sparkle of more than a half-million lights and dramatic imaginative displays make GardenFest an annual delight. It is a favorite tradition that also features charming model trains, shopping and food. For dates, times and tickets to experience the Dominion Energy GardenFest of Lights at Lewis Ginter Botanical Garden in Richmond:
https://www.lewisginter.org/visit/events/dominion-gardenfest-of-lights/
Lighting of the Vines at Bluemont Vineyard
The illumination of 10,000 grapevines magically brings the Bluemont Vineyard hillside to life under the night sky in a spectacular display. The vines at Bluemont Vineyard will be illuminated with thousands of shimmering lights creating a wintry wonderland. Special events abound during the Lighting of the Vines as well as a delicious winter tasting menu. For the luxurious Lighting of the Vines Chef Dinner, ascend the mountain to The Stable at Bluemont Vineyard. Guests will experience the iconic view in a new light as they enjoy a four-course dinner. Each course features local ingredients and during dinner, the chef and winemaker will share the history of the farm vineyard and stories of each wine vintage from grape to glass. For dates, times and tickets to experience Lighting of the Vines at Bluemont Vineyard: https://www.bluemontvineyard.com/events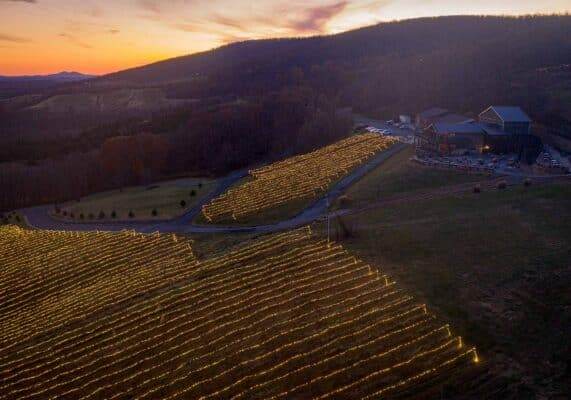 Winter Wander at Boar's Head Resort
The Boar's Head Resort Winter Wander presented by the University of Virginia features a stroll around Heritage Lake at the resort in Charlottesville. The centerpiece of the show is a spectacular Fountain of Dreams light display. A fantastic, charming family of boars with cubs are portrayed in illuminated sculpture to light up the hillside. The popular tunnel of lights is doubling in length in 2022. In addition to the beautiful holiday lights, local food vendors will be on site to offer meals, s'mores, hot cocoa, local wines & more. Visit before Christmas for shopping and photos with Santa and Mrs. Claus too. For dates, times and tickets to experience the Winter Wander at Boar's Head Resort: https://www.boarsheadresort.com/wander
Veritas Illuminated
Be transported to a winter wonderland at Winery! This festive season, the grove and vines of Veritas Winery will come alive, sparkling with holiday lights and decorations. Experience a spectacular 1/4 mile walk through the enchanting woods and venture into the vineyard, twinkling with lights. Winding through the woods and among the vines, the lighted path is an immersive experience from the tops of the towering trees to the forest floor under your feet. Learn more and reserve your slot here: https://veritaswines.com/veritas-illuminated. 
Read more about the Veritas Illuminated experience on Wine & Country Life here: https://wineandcountrylife.com/veritas-illuminated/
ZooLights at the Smithsonian
Experience the Smithsonian National Zoo of Washington DC in a whole new way this holiday season. Enter a winter wonderland of tree-lined paths lit by thousands of environment friendly twinkling LED lights. Take a stroll through festive decorated park areas as the zoo transforms into a winter wonderland. Several creative illuminated large-scale animal lantern displays will light up your winter's night. Food, shopping, hot cocoa, performances and more add to the twinkling tradition. New: Admission to ZooLights is free, but everyone attending ZooLights must have ZooLights-specific entry and (paid) parking passes. For dates, times and tickets to Experience ZooLights at the National Zoo: https://nationalzoo.si.edu/events/zoolights
Busch Gardens® Christmas Town™
​One of North America's largest light displays transforms the Williamsburg park with over ten million lights! New this year–be immersed in the magic of the season with an all-new holiday dining experience, Santa's Fireside Feast presented by Coca-Cola®, holiday scavenger hunt celebrates traditions from around the world, and enjoy over 20 rides and coasters including all-new Pantheon™. Festive treats, holiday shopping and special photo opportunities complete this holiday tradition for friends and families. Learn more about Christmas Town here: https://buschgardens.com/williamsburg/events/christmas-town/.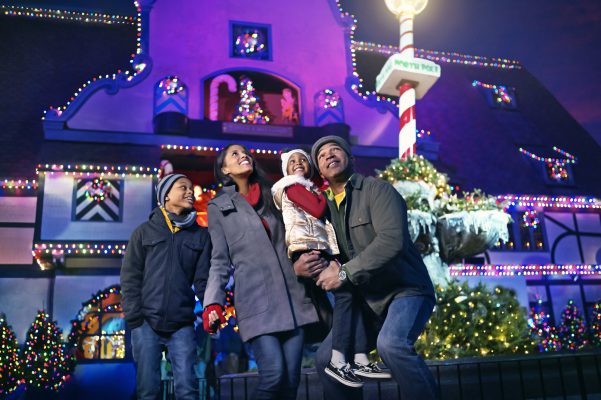 Illuminights Winter Walk of Lights in Roanoke
Brighten your nights and explore your holiday spirit through a dazzling world of over 650,000 lights in Roanoke. Walk the half-mile wooded path while taking in the sights and sounds of the season. Visitors will experience 50,000 new lights, new displays, trail enhancements and family-friendly activities. While you're there, shop for artisan crafts, roast marshmallows around the campfire, and enjoy additional special activities on select nights. Learn more about Illuminights here: https://www.roanokecountyparks.com/545/Illuminights. 
Bull Run Fest of Lights in Fairfax
​Every year from November until just after New Year's Day, you can experience the Bull Run Festival of Lights, 2.5 miles illuminated by holiday light displays. Drive the festival route from the comfort of your car; turn off your headlights and just follow the magical glow. Want to avoid the crowds?  Fridays, Saturdays and Sundays and the week before and after the Christmas holiday are the busiest times. For a less crowded experience guests are encouraged to enjoy the show during the weekdays. Learn more about the Bull Run Festival of Lights here: https://www.novaparks.com/events/bull-run-festival-of-lights. 
Holiday Lights at the Beach
The Virginia Beach Boardwalk will come alive again with holiday joy with this year's annual Bayport Credit Union Holiday Lights At The Beach. The display, which is sponsored by Food Lion, allows you to drive your car down the boardwalk and listen to cheerful music with your family and friends while enjoying Surfing Santa, color-changing archways, a 40-foot tall Christmas tree and more. There are Christmas lights lining the boardwalk and set up all over the beach. Beginning on Atlantic Avenue at 21st Street and proceeding South towards Rudee Loop, you'll follow the signs and have a jolly good time. In order to enjoy the experience, you have to purchase a timed ticket for your car in advance. Learn more here: https://beacheventsvb.com/events/bayport-credit-union-holiday-lights-at-the-beach-presented-by-food-lion/ 
Looking for more holiday happenings? Our Event Calendar has a full list of family-friendly events in the Charlottesville area.
---


CharlottesvilleFamily.com, a collection of local resources including a popular calendar of events, family services guides and features on education, health and family day trips for parents and teachers in Charlottesville, as well as the CharlottesvilleWelcomeBook.com a guide to resources for Charlottesville tourists and newcomers. Ivy Life & Style Media also creates other projects including Wine & Country which celebrates elevated living in Virginia Wine Country. Wine & Country Life, a semi-annual life & style magazine, and Wine & Country Weddings, an annual art book celebrating elegant Virginia weddings, are complemented by the Wine & Country Shop in Ivy, VA—a beautiful lifestyle boutique that brings the pages of the magazines to life. The Shop features over 40 Virginia artisans with everything from tailgating essentials and Dubarry attire to locally made foods and award-winning Virginia wines and craft beverages for your next event. Wine & Country covers the grape-growing foothills of the Blue Ridge Mountains from Lynchburg to Leesburg, including points in between like Charlottesville and Middleburg.