3 HEARTY SOUPS TO HELP YOUR FAMILY THROUGH THE WINTER
Busy families need plenty of healthy soup and stew recipes to make it through the winter. This chicken or turkey soup puts leftovers to good use. The beef stew recipe is so good that it makes a tasty featured dish at any gathering. And, split pea soup is the perfect go-to for weekday meals and weekend lunches. All three recipes have been tested, and they will never let your hungry family down. Serve soup with a fresh loaf of bread from the bakery, sliced, toasted and buttered. Add a soft cheese to the meal if everyone is very hungry.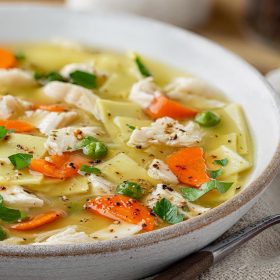 Homemade Chicken or Turkey Soup with Vegetables Recipes
Ingredients
For Broth
Onion (any type), chopped

Carrots

Celery + greens

Fresh herbs (like thyme, parsley, and rosemary)

1-2

Roasted chicken or turkey carcasses, picked over (home-roasted or store-bought or both)

Organic chicken broth
For Soup
Homemade chicken broth (see recipe above)

Remaining meat from bones

1

large

Onion, chopped

1

large handful

Carrots, chopped

1

large handful

Celery, chopped

1

bunch

Rainbow chard leaves, rinsed and chopped (no stalks)

1/2

bunch

Parsley leaves, chopped (no stems)

1

small bag

Frozen petite peas
Instructions
For Broth
Strip remaining meat from bones and refrigerate.

Break apart carcasses and place them in a large soup pot. Add chopped veggies and herbs. Fill the pot with water or organic chicken broth until the ingredients are just covered. Add a hefty shake of both salt and pepper.

Bring mixture to a boil and simmer uncovered for 2–3 hours. Your home will smell cozy and soothing.

Turn off the broth, move the pot off the heat, and allow it to cool to room temperature.

Once cooled, put a colander over a large bowl and pour the broth through. Then pour the broth through a strainer into a storage container. Line the strainer with a layer of cheesecloth if you have some handy. Refrigerate broth overnight. A layer of fat will accumulate. Skim it off with a spatula and discard.
For Soup
Put your soup pot back on the stove. Add your homemade broth plus one quart of organic chicken broth. Heat to boiling and add onion, carrots and celery.

Simmer veggies until barely cooked. Do not overcook because you will be reheating your soup later.

Add rainbow chard leaves, parsley leaves, and frozen petite peas. Simmer soup for a few minutes until peas are cooked. Again, do not overcook.

Add chopped, cooked chicken or turkey meat. I often use the leftover meat or purchase a new roasted chicken and chop up about half of the meat. Taste the soup and add salt and pepper to taste. Do not over-salt your soup.

When serving, add cooked brown rice, cooked white rice, cooked egg noodles, or pasta to each bowl. Heat each bowl in the microwave to serve soup piping hot.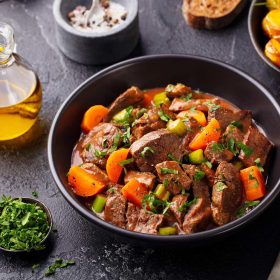 Best Beef Stew Recipe
Ingredients
4

tbsp

olive oil

2

tsp

minced garlic

2

lbs

trimmed beef chuck, cut into cubes or short strips, at least one-inch thick (use fresh, unfrozen meat when possible)

1/4

cup

flour tossed with meat, salt and pepper to taste

20

small red potatoes

2

medium

onions

2

sliced

peeled carrots (I use rainbow carrots)

2

cups

sliced celery

1

large

parsnip, sliced and chopped

2

cups

red cooking wine

2

cups

organic, salted beef stock

14.5

ounce

can of diced tomatoes

1

pint

sliced fresh mushrooms

3

bay leaves

1/2

cup

finely chopped fresh parsley leaves or 1 tbsp dried parsley

1

tbsp

finely chopped fresh thyme leaves or 1/2 tsp dried thyme

1

tbsp

finely chopped oregano leaves or 1 tsp dried oregano

salt and pepper to taste
Instructions
Put the flour, salt and pepper in a large plastic storage bag and shake half the meat to lightly coat. If you need to add more flour, salt and pepper for the second coat, go ahead.

Coat the bottom of a large skillet with olive oil and heat to medium. Do not overheat the pan and scorch the meat or oil, or you may ruin the flavor of your stew. Brown the beef, turning gently onto all sides for about five minutes. You are not trying to cook the meat; you just want to brown it.

Split the meat into two batches, if all of the meat won't fit in your pan in a single layer at once. Afterwards, put all the sautéed meat back in the pan and add the onions and garlic and sauté for three more minutes. Then pour in the red wine, beef broth, diced tomatoes, bay leaves and dried herbs if you are using them. If you are using fresh herbs, save them for later and only add the bay leaves now. Scrape the bottom of the pan so nothing sticks (always avoiding scorching) and bring mixture to a boil. Then turn down the heat to low, cover and simmer for one hour, stirring every quarter hour.

Add the vegetables and simmer.

Add potatoes, carrots, celery and parsnip. Stir and bring to boil. Then turn down the heat to low, cover and simmer for 30 minutes. Stir once in the meantime. Afterwards, remove the bay leaves.

Finish the stew and let it sit.

Add the mushrooms and fresh herbs, if you used them. Bring mixture to a boil and then turn off heat. Allow stew to sit on a cold stove for several hours for the best flavor. Once cool, add salt and pepper to taste, and either serve or refrigerate.
Notes
*The whole process will go much more smoothly, if you do all the chopping first or if two people make the stew together with one person chopping and the other cooking. Have the butcher cut your meat and that will be one less thing to prepare.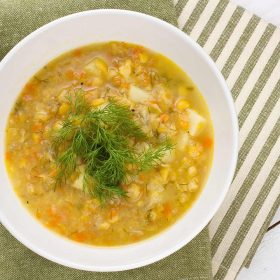 Hearty Split Pea Soup
Ingredients
2

cups

dry split peas

1/4

cup

butter

2

small

yellow onions or one large yellow onion, chopped

3

carrots

chopped

3

celery stalks, chopped

2–3

cloves

garlic, to taste

8

cups

organic chicken broth

3/4

lb

high quality, thickly sliced deli ham, chopped

1

handful

fresh parsley sprigs

3

bay leaves

1 1/4

tsp

dried thyme

salt and pepper to taste

3

tbsp

fresh parsley, chopped
Instructions
Pour your split peas in a large bowl and comb your fingers through them. Make sure there are no unwanted objects, but discolored peas are no big deal.

Melt the butter in a soup pot over medium heat and sauté, all at once, the onions, carrot, celery and garlic until almost translucent.

Add chicken stock, peas, ham, parsley sprigs, bay leaves and thyme. Bring to boil, then lower to a simmer for one and a half hours, stirring occasionally. Remove pot from heat and let soup sit for a few hours.

Add chopped parsley to cooled soup. Reheat only as much soup as you are serving, adding salt and pepper to each bowl according to taste. Refrigerate leftover soup.
---
CHRISTINA KATZ is a local journalist and writing coach. She loves to feed her family soups from the first chill of fall until the first coatless day of spring. 
---
YOU MIGHT LIKE


CharlottesvilleFamily.com, a collection of local resources including a popular calendar of events, family services guides and features on education, health and family day trips for parents and teachers in Charlottesville, as well as the CharlottesvilleWelcomeBook.com a guide to resources for Charlottesville tourists and newcomers. Ivy Life & Style Media also creates other projects including Wine & Country which celebrates elevated living in Virginia Wine Country. Wine & Country Life, a semi-annual life & style magazine, and Wine & Country Weddings, an annual art book celebrating elegant Virginia weddings, are complemented by the Wine & Country Shop in Ivy, VA—a beautiful lifestyle boutique that brings the pages of the magazines to life. The Shop features over 40 Virginia artisans with everything from tailgating essentials and Dubarry attire to locally made foods and award-winning Virginia wines and craft beverages for your next event. Wine & Country covers the grape-growing foothills of the Blue Ridge Mountains from Lynchburg to Leesburg, including points in between like Charlottesville and Middleburg.