HOW TO MAKE A BEADED WIND CHIME
Keeping the kids entertained can be a challenge during the summer months, so try this DIY Wind Chimes craft for kids. My kids love working on new craft projects every day, and it just helps to break up the hours. We decided to just make a classic wind chime with some driftwood and beads. This is a great project for kids of any age, but I do suggest helping kids 6 and under with this. The finished product is perfect for hanging outside, on a porch, or even in a bedroom for some colorful indoor decor.
Materials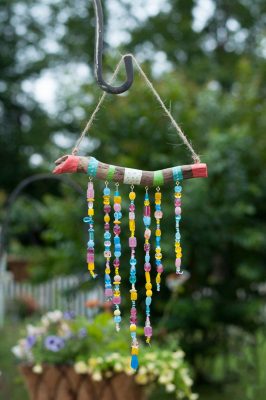 1 stick or piece of driftwood

Paint
Paint brushes
Red, white and blue acrylic paint
Twist-in hooks
Beads
String for beads
String or jute for hanging
Instructions
1. Paint your driftwood stick. This part is where the kids can get as creative as they want. We painted our stick first, just giving it some extra detail. Then they chose to either freehand it or tape off a pattern.
Once it's dry, you can add some more details with a fine paint brush. I also think adding some glitter paint would be a fun addition! Since I used Patio Paint from DecoArt, this wind chime will be long-lasting outside!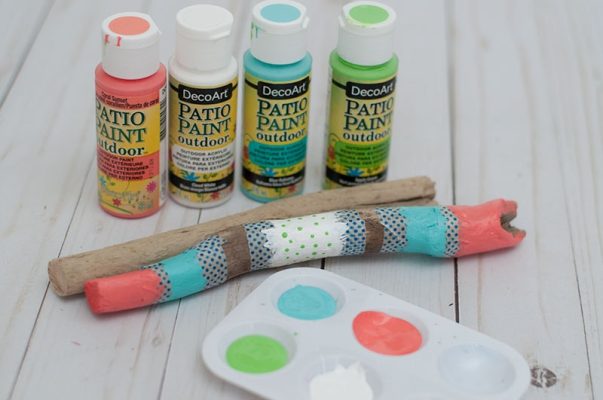 2. Add Hooks. Adults should take on this step, even though the hooks actually go into the driftwood pretty easily. Just mark the spots and start twisting them into place. For kids a little older, this might be hard to do, but you can always get it started for them and they can finish it.
3. Add beads. When adding the beads, you don't need a rhyme or reason. I was just mixing them up as best as I could. Once we were done adding our beads, we tied a knot at the end using a smaller bead to help keep it in place.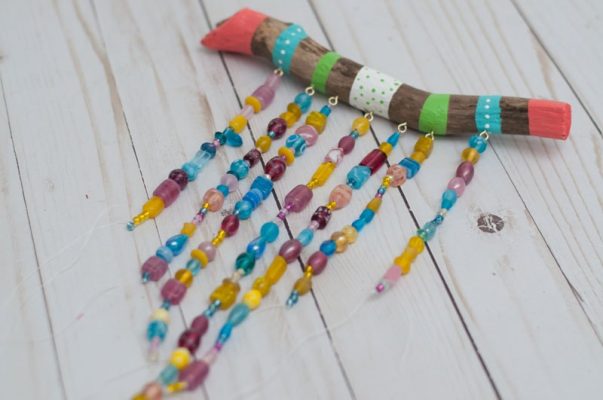 4. Add hanger. It's time to hang it up! I added two more of the hooks at each end of the wind chime, then used some jute to hang it up.
This Wind Chime DIY Craft is perfect project to keep the kids busy any time of the year. It will make a great statement in the yard that the kids can be proud to show off to everyone!
Need more craft and activity ideas for the summer? Browse the Family Fun section of our site. This No-Sew Patriotic Burlap Windsock craft also makes a fun and easy addition to any outdoor space.
---
CRAFTS BY COURTNEY is a maker of fun kids and home decor crafts along with creative DIY party ideas. See more at craftsbycourtney.com.

---


CharlottesvilleFamily.com, a collection of local resources including a popular calendar of events, family services guides and features on education, health and family day trips for parents and teachers in Charlottesville, as well as the CharlottesvilleWelcomeBook.com a guide to resources for Charlottesville tourists and newcomers. Ivy Life & Style Media also creates other projects including Wine & Country which celebrates elevated living in Virginia Wine Country. Wine & Country Life, a semi-annual life & style magazine, and Wine & Country Weddings, an annual art book celebrating elegant Virginia weddings, are complemented by the Wine & Country Shop in Ivy, VA—a beautiful lifestyle boutique that brings the pages of the magazines to life. The Shop features over 40 Virginia artisans with everything from tailgating essentials and Dubarry attire to locally made foods and award-winning Virginia wines and craft beverages for your next event. Wine & Country covers the grape-growing foothills of the Blue Ridge Mountains from Lynchburg to Leesburg, including points in between like Charlottesville and Middleburg.