THE INTERNATIONAL SCHOOL OF CHARLOTTESVILLE
My first foreign language exposure came through an extracurricular Saturday morning program where we shellacked our drawings of the French flag onto squares of painted wood one week and baked French bread another. But it's only because of a French conversation class my husband and I are currently taking that I know the words dessiner, le drapeau, cuisiner and le pain. The idea of language immersion and the goal of bilingualism were unavailable to me in my childhood, but they define the mission at the International School of Charlottesville (ISC).
Language Immersion at the International School of Charlottesville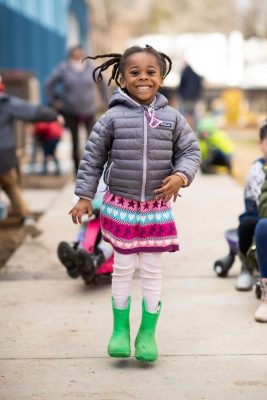 What does language immersion education look like? Students usually enter the program at 2 or 3 years old, and, according to the ISC's Head of School Tini Bennett, whose children attend the school, "The day looks really typical to any preschool and younger elementary school." Also like anywhere else, "our toddlers start out just trying to find their ways through life's big moments—being able to take turns, sharing," says Director of Admissions, Danielle Schaeber. "The main difference," says Bennett, "is their whole day is in Spanish or their whole day is in French." 
The ISC is the area's only language immersion school. Currently offering French and Spanish immersion experiences for just over 140 preschool through 3nd-grade students, the school will add a grade each year until it tops out at 5th-grade. 
Meet the ISC Staff
Teachers in the program hail from 14 different countries, including France, Argentina, Chile, Togo, Canada, Spain and the Democratic Republic of the Congo, bringing a depth of language expertise along with a breadth of cultural richness. Students absorb that richness alongside their language acquisition, learning to appreciate, among other things, how different places celebrate the same holidays in different ways, as well as how some places celebrate entirely different holidays.
How Do Children Learn a New Language?
How do children approach learning in a language they don't yet know? "It's really just like how you learn everything else," says Bennett. "You practice your language in every aspect of your day. You acquire your language, but you're also in the process of acquiring other skills. You can't separate the two." 
So children begin with no prior exposure to the target language and gain fluency over the course of the next few years. "It's just woven naturally into the day. The natural discussions of the day, interacting with the children, it's all in that target language," says Schaeber. "They're such sponges in those younger years, they really absorb everything, and because the structure of the day is the same every day, they pick up on social cues, too." 
When children are learning their native languages at home, we echo their words back to them, correcting by example rather than pointing out errors. Similarly, says Schaeber, "Teachers repeat a lot, too, which is a big way for children to develop and understand language."
If they're learning a language at school, does that mean parents need to be learning or speaking it at home, too? "Parents don't need to be able to speak the language at home," Bennett says. In fact, sometimes it's better if they don't. "The children who are most successful in a new language are really strong in their native language," she says. "The best thing you can do for your child is to continue to practice their home language."
Progressive Education at the International School of Charlottesville
Aside from language immersion, the rest of the learning experience feels like most other progressive education experiences. Classrooms are organized into learning centers. Students learn to read and write, to develop math skills. They go outside, rain or shine, to play, explore and exercise. They grow and learn and make friends—and, at the ISC, they become bilingual along the way. 
"They learn by absorbing at the beginning," says Bennett, "and then by speaking. We typically see fluency happening somewhere between 1st and 2nd grades."
Language acquisition is the name of the game at the ISC, but when students graduate from the program and move into more traditional schools, "The transition is generally quite a simple one," Bennett says. All along, "They're taught the same skills," she says, all the different subjects, everything they need to succeed in any academic environment, and "we've developed our curriculum based on our children having a successful transition from 5th-grade into middle school."
Advantages of Learning Languages Young
There are many advantages to learning a language so young. Part of why little kids are such learning sponges is because their brains and bodies are still developing. As we grow, our vocalizations shape our vocal cords and other body parts that we use to make sounds, tuning our bodies for the sounds of our own languages. "If children start younger," says Bennett, "they can acquire a new language without an accent," because they're tuning their bodies to make those other sounds, too.
Early language learning transfers to language aptitude later, too. "A lot of research shows, if you grow up bilingually, by the time you hit 4th and 5th grade, your linguistic ability in any language takes off," says Bennett. Plus, language exposure in general, according to Bennett, "builds natural curiosity to learn more about other languages. It helps with a lot of basic skills, such as spelling, understanding and deciphering new words, finding root words."
Mastery of skills like these sets students up for long-term success.
Mastery of skills like these sets students up for long-term success. "Proficiently bilingual people have statistically better scores [on SATs and similar tests]," says Bennett. Recognizing language root words pays off for students learning math and science terms, too.
Language skills have benefits outside the classroom, too. "Some of the parents who come to visit the school didn't take another language, or they took it later in life and they see themselves at a disadvantage," says Schaeber. "They want their children to learn another language so they don't feel at a disadvantage if they decide to travel the world, and also to expand them culturally, to open their eyes to all the places these languages are spoken in the world."
The ISC Teaches Global Citizens
This is where global citizenship comes into play. A major aim of multilingual education is, Bennet says, "understanding the world is made up of lots of different languages, lots of different cultures, different worldviews. We want [our students] to have an innate understanding of differences across cultures."
In our increasingly multicultural world, such understanding is a priceless skill. Did you know that the population of Charlottesville City Schools includes speakers of 39 different languages? That's 81 languages for Albemarle County Public Schools. Our area owes its surprising wealth of languages in part to the diversity of the University of Virginia student and faculty community, as well as to our city's immigrant resettlement programs, and even to our area's thriving hospitality and viticultural industries that draw chefs, restaurant workers, hoteliers, vintners and vineyard workers from around the world to explore their careers here. 
The ISC's philosophy of embracing cultural diversity is precisely what attracts many of ISC's families to the school. "Understanding that the world is made up of lots of different cultures," says Bennett, "creates a culture of openness and acceptance and leads to a more peaceful worldview."
History, Plus the New ISC Building
Born all the way back in 1998 as La Petite Ecole, the ISC spent the past two decades growing from a mostly parent-driven preschool into a fully staffed and National Association for the Education of Young Children (NAEYC) accredited language-immersion preschool and elementary program. Now, the school is moving toward International Baccalaureate accreditation as this encompasses their entire community rather than focusing on just the younger students. Its brand-new building, off Linden Avenue in Charlottesville's Belmont neighborhood just opened its doors to students January 2.
Before moving into their new forever home, "We spent 20 years in the basements of old churches with suboptimal lighting and suboptimal plumbing," says Bennett. With so much time to imagine their ideal space, the result fits the schools' needs to a T. "It's a very purpose-built space," she says.
Every light-filled classroom has its own bathroom, built-in sinks and access to the outdoors, where children can enjoy the school's playground, and even spill into the adjoining four acres of Rives Park. Their multipurpose area includes separate visual arts and performance arts spaces that can be joined into a single space large enough to gather the entire school community and to host special events, such as the recent Lion Dance that Laughing Dragon Kung Fu performed in celebration of the Chinese Lunar New Year.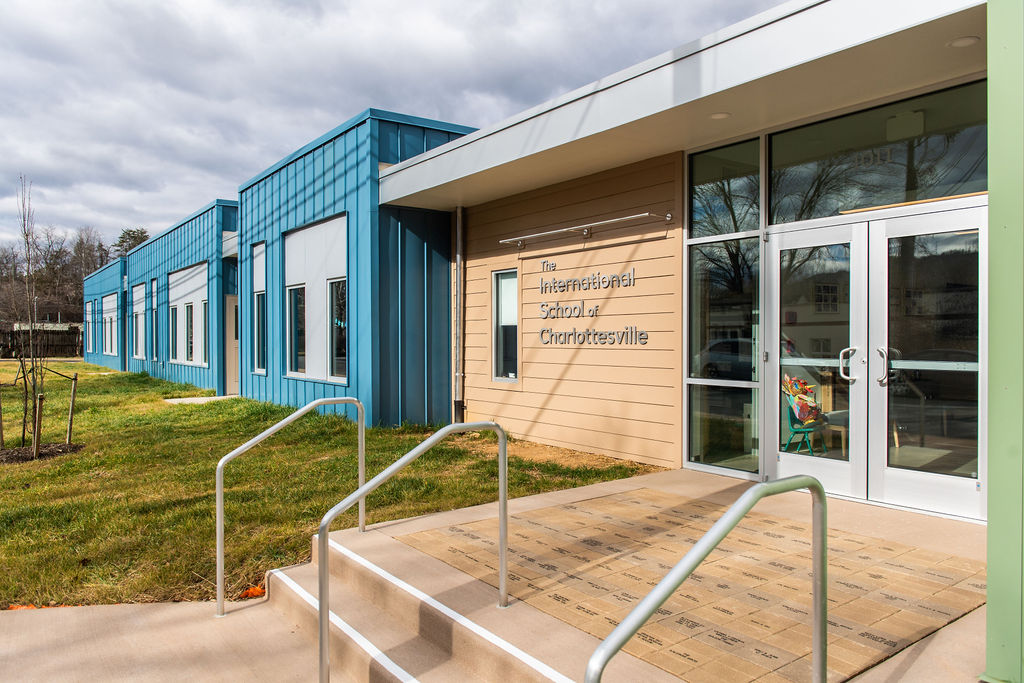 A Bigger International School
​Despite their recent growth, the ISC is committed to sustaining the family-like culture that has defined the school since its inception. "We know all the kids by their name. We've met their siblings. We know their dogs' names," Bennett says. Schaeber adds, "We want all our families to feel like they're part of this community." With their own children at the school, when Bennett and Schaeber say the school feels like family, they know what they're talking about. 
Small class sizes, with a 1:10 teacher student ratio, are one source of the school's close-knit vibe. Another is after-school programming that includes opportunities for alumni to return for lessons to maintain their language proficiency, allowing families to stay connected after their students age out of the program. 
A mutual commitment to raising global citizens also brings people together. "As a mom, I've made really great friends here," Bennett says. "We align philosophically on what world we want our children to grown up in. We want them to be global citizens, open-minded," and such alignment deepens these friendships.
What the Future Holds For ISC
​Now that the ISC has secured its home base, it's time to reach out. The same global citizenship that the school instills in its students informs their desire to act as a resource for the Charlottesville area. "We really want to be a community asset," says Bennett.
One particularly valuable resource is their teaching staff. "We have teachers here who are language immersion experts," Bennett says, which could make the ISC an excellent resource for other area language programs. 
Their building is another resource. "Our school isn't utilized in evenings or on weekends," Bennett says, making it possible for them to offer free meeting space for things like trainings and presentations for the International Rescue Committee and other local agencies that align with the school's vision. 
In all that they do, preserving their close community is paramount. "We've just grown," Bennett says, "but we're not a big school, and we'll never be a huge school."
---
JODY HOBBS HESLER is a mom who has chaperoned her share of school tours and local historic places, and every time she learns something new. Viva la history! Learn more about her writing at jodyhobbshesler.com.
---


CharlottesvilleFamily.com, a collection of local resources including a popular calendar of events, family services guides and features on education, health and family day trips for parents and teachers in Charlottesville, as well as the CharlottesvilleWelcomeBook.com a guide to resources for Charlottesville tourists and newcomers. Ivy Life & Style Media also creates other projects including Wine & Country which celebrates elevated living in Virginia Wine Country. Wine & Country Life, a semi-annual life & style magazine, and Wine & Country Weddings, an annual art book celebrating elegant Virginia weddings, are complemented by the Wine & Country Shop in Ivy, VA—a beautiful lifestyle boutique that brings the pages of the magazines to life. The Shop features over 40 Virginia artisans with everything from tailgating essentials and Dubarry attire to locally made foods and award-winning Virginia wines and craft beverages for your next event. Wine & Country covers the grape-growing foothills of the Blue Ridge Mountains from Lynchburg to Leesburg, including points in between like Charlottesville and Middleburg.