HARRY POTTER INSPIRED RECIPES TO MAKE WITH KIDS
More recently, cooking as a family may have become a shared experience for both parents and kids. With The Unofficial Hogwarts for the Holidays Cookbook ($19.95, 978- 1646040728, Ulysses Press, October 2020), your young ones will be eager to hop into an apron and work their magic with a whisk.


Some of the most iconic Harry Potter moments happened around mealtimes and holidays at the castle, and The Unofficial Hogwarts for the Holidays Cookbook shares step-by-step instructions for the dishes from those scenes that you can recreate in your own kitchen.
Chocolate Frogs Recipe
This recipe is surprisingly easy and is sure to delight any Potterhead. The only specialty utensil is a frog-shaped mold, which you can find online. Feel free to enchant your frogs after you're done making them. But be careful not to let them escape out the train window. This recipe makes between 24 and 36 frogs, depending on the mold size.
Chocolate Frogs
Equipment
frog-shaped mold

(you can find online)
Ingredients
12

ounces

semisweet chocolate chips

2

tbsp

unsalted butter

4

tbsp

milk

miniature marshmallows

pecan halves in pieces, or shredded coconut

(optional)
Instructions
Lightly spray a candy mold with coconut oil cooking spray.

Combine the chocolate and butter in a double boiler over medium heat, stirring constantly until the chocolate begins to melt, approximately 5 minutes.

Once the chocolate is quickly melting, reduce the heat to low. Continue stirring for 2–3 minutes.

Add the milk, 1 tablespoon at a time, until it is thoroughly combined and the chocolate is smooth and easy to pour, approximately 3–5 minutes.

Remove the mixture from the heat and immediately start spooning the chocolate into the molds. Be sure to push the chocolate into any crevices of the mold. If you wish to add filling, fill the molds only halfway.

Add miniature marshmallows, pecans, coconut or other filling choices, if using, to the middle of the chocolate mold, then top the rest of the mold with chocolate. Smooth the back off with a butter knife.

Place the mold in the refrigerator and chill for at least 4 hours before serving.
Pumpkin Pasties Recipe
A magical must-have, pumpkin pasties are an autumnal tradition. Warm, packed with pumpkin flavor and immensely satisfying, these iconic treats are sure to be a crowd-pleaser. Plus, thanks to the fact that they're encased in a delicious golden crust, they are super portable. Perfect for a train ride! This recipe yields 6 pasties.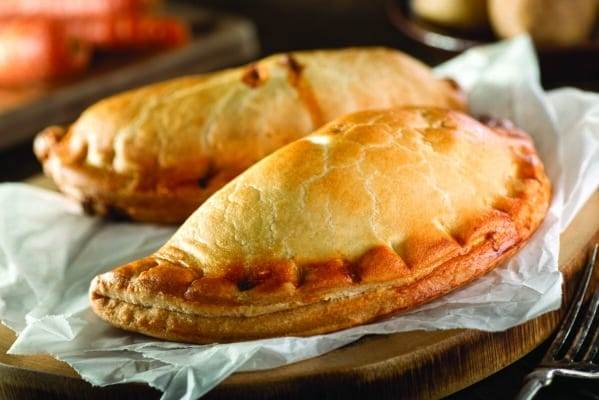 Pumpkin Pasties
Ingredients
Filling
1

cup

canned pumpkin puree

1

green apple, minced

1/4

cup

granulated sugar

1

pinch

ground nutmeg

1

pinch

ground cinnamon
Pastry Crust
1.25

cups

all-purpose flour

1

tbsp

granulated sugar

1/4

teas

salt

5

tbsp

cold butter, cut into chunks

3

tbsp

vegetable shortening, chilled and cut into chunks

4-6

teas

ice water
Instructions
Combine all filling ingredients in a mixing bowl, mixing well until everything is thoroughly incorporated.

To make the crust, put the flour, sugar and salt into a food processor bowl. Pulse several times to combine.

Scatter the chunks of butter and shortening over the flour mixture and pulse about 15 times until everything is combined and resembles a coarse meal. No powdery bits should remain.

Transfer the mixture to a large mixing bowl.

Sprinkle 4 tablespoons of ice water over the mixture and toss it with a spatula until it starts to clump together. If the mixture is too dry, add 1 tablespoon of water at a time, until the texture is smooth.

Gather all of the dough into a ball and pat it down into a disc.

Wrap the disc in plastic wrap and chill in the refrigerator for 1 hour.

After the dough has chilled, preheat the oven to 400 degrees.

Roll the dough to 1⁄8-inch thickness.

Use a saucer, small plate or bowl to cut out 6-inch circles.

Put 1 to 2 teaspoons of filling into each circle, and then fold the dough over into half circles.

Moisten the edges of each circle with ice water and crimp with a fork to seal.

Cut small slits into each pasty to make vents.

Bake the pasties on an ungreased cookie sheet for 30 minutes, or until browned.

Cauldron Cakes Recipe
Here's a fun take on the cauldron cake: a decadent chocolate cupcake topped with fiery orange frosting. They are so easy to make that anyone could do it! This recipe yields 12 Cauldron Cakes.
Cauldron Cakes
Ingredients
Cupcakes
1

cup

all-purpose flour

1/4

cup

cocoa powder

1/4

teas

baking powder

1/4

teas

baking soda

1/2

teas

salt

1/4

cup

olive oil

1

cup

cane sugar

1

egg

1/2

teas

vanilla

1/2

cup

milk, divided
Filling
1/4

cup

milk

2 1/4

teas

all-purpose flour

2 1/2

teas

powdered hot chocolate mix

1/4

cup

butter, softened

1/4

cup

cane sugar

1/4

teas

vanilla
Icing
1

cup

unsalted butter, softened

4 1/2

cups

powdered sugar

1

teas

vanilla

4-5

tbsp

heavy cream or whole milk
Instructions
Preheat the oven to 350 degrees. Grease or line a muffin tin and set aside.

Combine the flour, cocoa powder, baking soda, baking powder and salt in a medium bowl.

In a separate bowl, mix together the oil and sugar until thoroughly combined.

Add the egg and vanilla to the oil mixture and beat until fully incorporated.

Add in 1/3 of the flour mixture and mix well. Add half of the milk and mix again.

Add another 1/3 of the flour and mix well. Add the second half of the milk and combine thoroughly.

Finally, add the last of the flour mixture and mix until completely incorporated.

Spoon the batter into the muffin tins, filling them about halfway. Bake for 12–15 minutes, or until a toothpick inserted in the center comes out clean.

Remove the cupcakes from the oven, then, with a knife, remove each cupcake from the tin to a cooling rack. Let cool completely, 45–60 minutes.

While the cupcakes cool, combine all the ingredients for the filling in a small saucepan over medium heat. Stir well until the mixture thickens, about 7 minutes, then remove it from the heat and cool completely.

Using an electric handheld mixer, mix the filling again for 5 minutes or until it becomes fluffy and light.

Once the filling is fluffed, use your thumb or a small spoon to press a hole in the cupcakes, creating a "cup" inside each one.

Fill each cup with the filling and let stand while you make the icing.

To make the icing, beat the butter on medium speed with an electric handheld mixer until it is soft and creamy. While beating, gradually add in the powdered sugar, stopping the mixer every now and then to scrape down the sides with a spatula.

Once the sugar and butter are thoroughly incorporated, add the vanilla and beat again.

Add the heavy cream or milk, 1 tablespoon at a time, until the desired consistency is reached.

Let stand for 5 minutes, then frost your cauldron cakes and serve.
The Unofficial Hogwarts for the Holidays Cookbook by Rita Mock-Pike Bring your love of wizardry and Harry Potter into the kitchen with your kids with this Harry
Potter-inspired cookbook. Featuring 75 recipes, this book will inspire you to stir up your holiday season and make every day a spell-tacular celebration. Available for $17.95 at BarnesandNoble.com.
Looking for even more holiday recipe ideas? See the Food & Home section of our website for good eats, decor ideas, crafting fun and more!
---
---
YOU MIGHT LIKE


CharlottesvilleFamily.com, a collection of local resources including a popular calendar of events, family services guides and features on education, health and family day trips for parents and teachers in Charlottesville, as well as the CharlottesvilleWelcomeBook.com a guide to resources for Charlottesville tourists and newcomers. Ivy Life & Style Media also creates other projects including Wine & Country which celebrates elevated living in Virginia Wine Country. Wine & Country Life, a semi-annual life & style magazine, and Wine & Country Weddings, an annual art book celebrating elegant Virginia weddings, are complemented by the Wine & Country Shop in Ivy, VA—a beautiful lifestyle boutique that brings the pages of the magazines to life. The Shop features over 40 Virginia artisans with everything from tailgating essentials and Dubarry attire to locally made foods and award-winning Virginia wines and craft beverages for your next event. Wine & Country covers the grape-growing foothills of the Blue Ridge Mountains from Lynchburg to Leesburg, including points in between like Charlottesville and Middleburg.