AN EASY FALL APPLE RECIPE
One of my absolute favorite annual traditions that I have with my sons is our fall journey to a local orchard to pick apples. We've been doing this every September since they were toddlers, and even though they've now entered their teen years, it's no less exciting than it was years ago.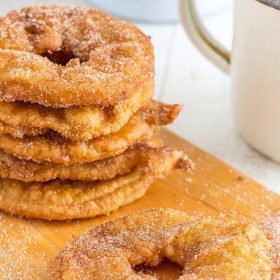 In fact, I think each year it becomes a more treasured field trip. Naturally, they still do just as much snacking as they do picking, only now they can reach the higher branches as easily as I can. It's a great way to spend an afternoon—visiting a local orchard, gathering (literally) the fruits of our labors, chatting about the world for a few hours and arguing over which yummy apple recipe we should make first. It never fails, no matter how experienced we are at apple picking, we always come home with way more apples than we could ever use. We refrigerate the small, more perfectly shaped ones for snacking and set aside the mushier, more be speckled ones for canning. Then, all the others are there, just ready and waiting for delectable recipes.
Upon the return of one of our first apple picking trips, my husband requested apple fritters, which stopped me right in my tracks. I'd never made apple fritters before; they sounded hard but good. So, I tried a few different recipes and settled on one I made up on my own from a combination of others I'd attempted. It's become a fall family favorite, too.
What is An Apple Fritter?
An apple fritter is a batter-based, deep-fried pastry made with flour, eggs, sugar, cinnamon, apples and a few other basic pastry ingredients. They can be made with apple rings (apples whose core has been removed) or chopped apples. When made with rings, your fritters will resemble the donut shape you see here. They are a quick and delicious recipe that is filled with fall flavor.
Can You Freeze Apple Fritters?
Yes, you can! Make sure to cool the fritters completely before freezing. Fritters can be stored in an air-tight, freezer-safe container for up to three months. When you're ready to reheat your fritters, we recommend you either toast them in a toaster oven or a sauté pan. Heating in the microwave will result in a mushy fritter, so it's best to avoid that method.
Can You Use Other Fruit to Make Fritters?
Fritters can actually be made with almost anything! You can make zucchini fritters, corn fritters, even meat or seafood fritters by swapping the sweet ingredients for savory ones. You can also make fritters with cherries, bananas or even plain cinnamon fritters to name a few possibilities.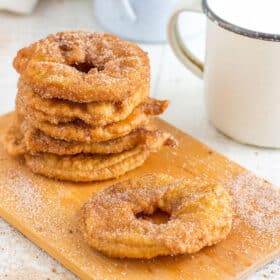 Apple Fritter Donut Recipe
Ingredients
4

cups

apples, peeled & cored

1/2

tsp

cinnamon

3 1/4

cups

flour

2

tbsp

sugar

2

tsp

baking powder

1/4

tsp

salt

2

eggs, beaten

1/4

cup

corn syrup

1/8

cup

milk

1

tsp

vanilla

Vegetable oil

Powdered sugar
Instructions
Place the oil in a deep fat fryer, and turn on to 350 degrees.

Place the apples in a food processor and coarsely chop, then set aside.

Sift the flour, sugar, baking powder and salt together.

Combine eggs, corn syrup/milk and vanilla, and add to the flour mix.

Fold in the apples and cinnamon.

Drop by the teaspoonful into the hot deep fat fryer.

Fry for about 2 minutes, turning after 1 to ensure both sides are cooked evenly.

Remove from oil and immediately roll in a bowl of powdered sugar. Best if served warm.
Notes
Variations: Instead of 4 cups of apples, try 3 1/2 cups of apples plus ½ cup of raisins, or 3 1/2 cups of banana plus ½ cup of walnuts.
Need a place to pick apples this fall? Check out our local
Apple Picking Guide
, and be sure to call ahead to check their inventory. If you want to try another local apple recipe, consider making these
Apple Cider Donuts
on our
Wine & Country Life
website, and for a date night idea, head to one of these
Cideries in Central Virginia
.
---
JENNIFER HEYNS is a Virginia writer and mom.
---
YOU MIGHT LIKE


CharlottesvilleFamily.com, a collection of local resources including a popular calendar of events, family services guides and features on education, health and family day trips for parents and teachers in Charlottesville, as well as the CharlottesvilleWelcomeBook.com a guide to resources for Charlottesville tourists and newcomers. Ivy Life & Style Media also creates other projects including Wine & Country which celebrates elevated living in Virginia Wine Country. Wine & Country Life, a semi-annual life & style magazine, and Wine & Country Weddings, an annual art book celebrating elegant Virginia weddings, are complemented by the Wine & Country Shop in Ivy, VA—a beautiful lifestyle boutique that brings the pages of the magazines to life. The Shop features over 40 Virginia artisans with everything from tailgating essentials and Dubarry attire to locally made foods and award-winning Virginia wines and craft beverages for your next event. Wine & Country covers the grape-growing foothills of the Blue Ridge Mountains from Lynchburg to Leesburg, including points in between like Charlottesville and Middleburg.