EDUCATIONAL OUTING IDEAS FOR FATHER'S DAY WEEKEND
Looking up with puppy dog eyes as bright as the sun, she earnestly declares, "It is the only thing I've ever wanted, and will ever want again!" Every day for nearly a month, it seems she's begged and pleaded for this special toy. I can appreciate her sincerity, and at one point, I was almost convinced. However, it seems awfully flimsy, and it is rather expensive, even for today's toy standards. Honestly, with that price tag, it would almost need to be the last thing she'll ever want or receive for a while.
Well, she wore us down, and we purchased her this mystical, magical, majestic toy—the toy to end all toys. Wouldn't you know it, she played with it for about two days, and I haven't seen her touch it since. I touched it recently though and moved it down to the garage, adding it to the growing slush pile of dusty and forgotten, misfit toys. This is the last stop before donation.
As parents, once this pattern repeated itself a few times, we began to ask why we continue to purchase things that do not bring long-term value into our children's lives. If my daughter is "over" that toy in a matter of two days, then perhaps it's time to reboot our idea of what's important for us as a family. So we consciously questioned, "Are we spending enough quality time with our children? Are we doing things with them that create timeless expressions and lasting impressions? Do we wish to choose presents or presence, extravagance or experience, great memories or material goods?"
From that point on, we decided to focus our efforts toward promoting experiences over material items for our daughters, and ourselves. We've since discovered that for us, shared experiences and memories are our most valuable family possessions! Now, we make it a point to plan outings that do just that.
We live in a fantastic city that is rife with so many opportunities that make it easy to enjoy the area's natural beauty and atmospheres while learning, unwinding and just having fun. Here's a list of places we've enjoyed as a family.
Visiting Virginia Safari Park (Natural Bridge)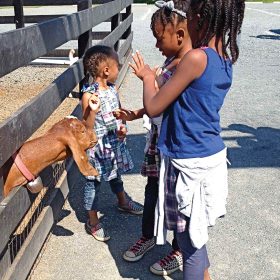 Zoo trips are always popular with my girls. Seeing pictures of giraffes and rhinos may be impressive, but nothing beats seeing the majestic creatures live and in-person. Safari Park is known for its 180-acre drive-thru that allows you and your family to take a trip through the many animal habitats from the comfort of your car. No more complaints from little ones about the heat or long walk. Instead, cruise through at your own pace in your air-conditioned car. The stretch of road you travel along is three miles long, but the length of your trip may vary depending on how the animals are feeling that day. You have the option to roll down your windows and feed the deer, elk, and other animals a special grain-mixture that is available for purchase at the gift shop. Fair warning, because of the frequent feeding, the animals are not shy about approaching cars. Seeing the animals so close is a real treat, but don't be surprised if you have to stop once or twice for a llama or ostrich to cross the road. After paying for everyone's tickets, you can drive through the park as many times as you want, which is great if you want to switch between who's driving and who's feeding the animals with the kids.
While the drive-thru is the main attraction, if you'd like to get out and stretch your legs, there are other things to do. Inside the park, there are opportunities to feed and pet farmyard animals like pigs, baby llamas and goats, as well as feed giraffes or colorful birds called budgies. These are also great photo opportunities, so be sure to snap a couple if you get a chance. Bringing the animals outside food is not allowed, but the gift shop provides all manners of treats for the animals for a small additional cost.
There are a couple events that happen throughout the day where you can meet rhinos, sloths, anteaters and penguins, though these all have limited availability and their own tickets you need to purchase. Some are free however, such as viewing the cheetah enrichment course that takes place on Saturdays, Sundays, and Wednesdays at 11 a.m. Because of its emphasis on respectful interaction with the animals, Safari Park provides a unique experience with every visit, as you can't ever predict what the animals will be up to. It's also a great way to spark an interest in the wider world around you as your children learn about the different places from which the animals came.
Visiting Crabtree Falls (Nelson County)
Boasting the highest vertical-drop waterfall east of the Mississippi River, Crabtree Falls is an awesome destination for outdoorsy types, lovers of natural beauty and those who just like exploring nature.
Once we reached the falls, the hike began right in the parking lot. We continued until we came upon a sobering sign, which read: "Danger – The Rocks Are Covered With Plant Growth and Can Be Slippery." My middle daughter, who possesses a quick wit, immediately turned to her older sister who was acting rambunctious at the time and warned her to act right on this hike. It's important to remain on the path and not hop over the railings to take pictures. There are observation platforms at the base and at spots on the hike up to the top of Crabtree Falls that lends itself well for all those family pictures we love to capture. We only made it to the platform at the top of the lower falls that day, but it was one filled with laughs and a sense of adventure.
We've tried to nurture a love of nature in our girls; so, for the most part, hiking has become a popular activity for our family. Each time we go hiking though, there is the usual complaining and whining, "It's hot," "We're thirsty," "I'm tired" and "There's too many bugs." And we can't forget the two typical questions, "How long do we have to keep walking," and "Are we done yet?" But if we can push through all the moaning, hiking can be fun and a great way for the kids to get some exercise. It also creates some wonderful family memories. And who knows, one day they may even thank us for taking them out for those long, hot, tiring, buggy, thirst-inducing walks. We've hiked many of the more popular trails in the area, such as Humpback Rock and Ivy Creek, and all of them are great with their own unique characteristics.
Even though my daughters were armed with their usual complaints about the annoying bugs and excessive walking, I heard few, if any, while at the falls.
Nothing compares, though, to the magnitude of water that is Crabtree Falls gushing down a hillside, plunging to Earth like a giant natural waterspout. It's a feast for the senses! Even though my daughters were armed with their usual complaints about the annoying bugs and excessive walking, I heard few, if any, while at the falls. This time, it was me who ended up getting all tuckered out as we ascended the trail. I was the one who was hot, sweaty and complaining to my wife—"Do we have to keep walking," "Are we done yet?"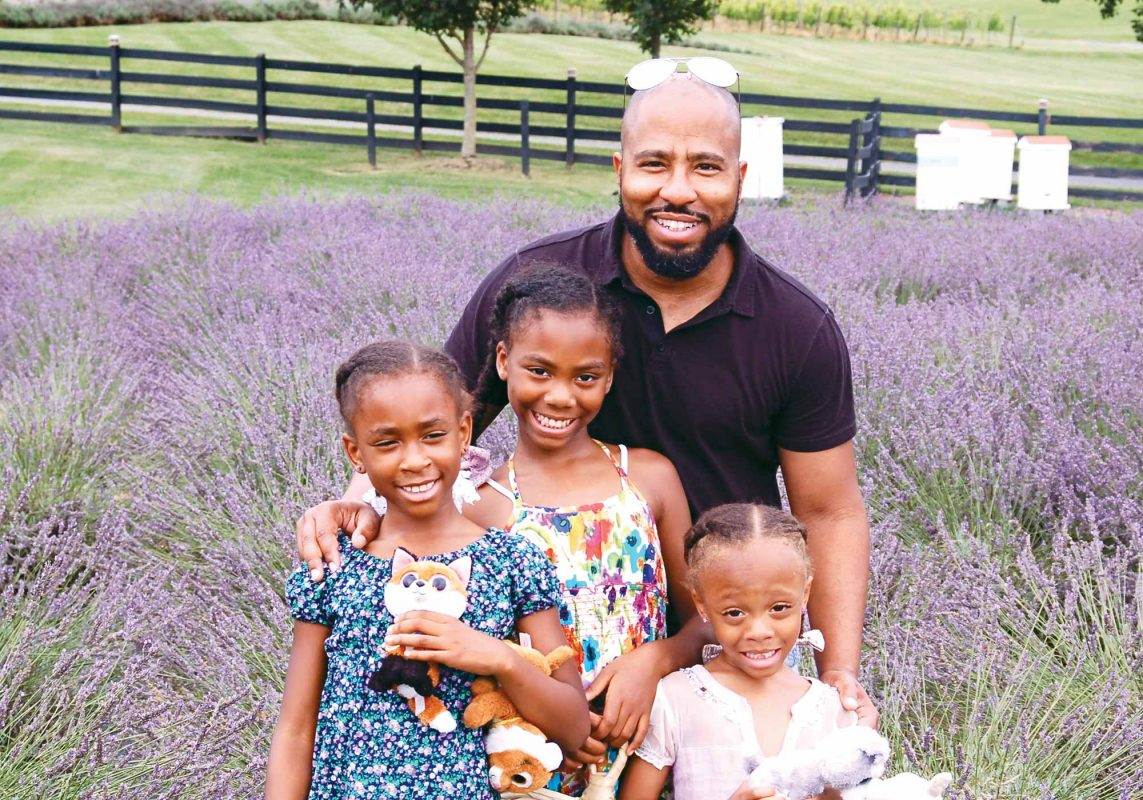 Visiting White Oak Lavender Farm (Harrisonburg)
Picture a meadow, consisting of rolling green hills, juxtaposed with vibrant bursts of purple and sky-kissed mountains stretching above. This is what you'll see while visiting White Oak Lavender Farm in the Shenandoah Valley. This family-owned farm grows several varieties of lavender, and allows guests to pick the flower buds through their U-Pick offer. With U-Pick, you can gather as much of the lavender as you'd like for a nominal fee; scissors are provided, and instruction if needed.
In the Discovery area, my girls enjoyed engaging with the variety of farm animals accessible for petting. They played a short game of chess on the life-size chessboard, and mindfully meandered the farm's peace-promoting labyrinth path. The splendidly manicured landscape provides a tranquil place to spend an afternoon, so much so that my girls didn't even mind all the bees that were drawn to the vibrant sight and wonderful aroma of these purple blossoms. This is truly saying something, considering their distinct aversion to anything crawling on six or eight legs. While I sat in a rocking chair taking in the scene, the girls tapped into their inner craftsperson using the large blocks that were provided to build inventive structures that suited their fancies. And of course, the day wouldn't have been complete if they hadn't sampled the delicious lavender ice cream. This is certainly a great place to come and unwind with the kids.
Visiting Yoder's Market (Madison)
​
Why would you want to take your children to a market for fun, you might ask? Well, Yoder's is not your typical market. Aside from the regular grocery store items, they offer what's known as the barnyard experience. You'll be pleasantly surprised to find live goats, sheep, alpaca, turkeys, pigs, ducks and rabbits, just to name a few. You can knock out your grocery list and feed the goats at the same place. That's one-stop shopping at its best! The girls were thrilled to feed the goats and chickens. We plunked a few quarters into a feed dispenser and received handfuls of dried corn and such, and held out our hands for the animals to have at it. My youngest remarked that she didn't mind that one of the chickens pecked her hand while she was feeding it. She told me about this later, as we sat rocking in chairs on the porch in front of the store while eating Yoder's homemade ice cream.
The market also boasts a variety of homemade pies, cakes, breads and cookies, and all-natural meats from local farms, as well as a selection of organic and gluten-free products. And if you happen to work up an appetite, grab a sandwich at the deli counter. We left with our stomachs full, and felt fulfilled after a fun-filled outing.
Exposing our daughters to a variety of activities not only strengthens our family bond but also stimulates their minds, creating lifelong mental mementos. My wish is to continue to consciously plan activities that will create glowing memories my girls can carry as keepsakes, forever. See our Family Fun page for more outing and activity ideas, and for upcoming events, hop over to our Event Directory.
A special thank you to
Charlottesville Orthodontics
for sponsoring
CharlottesvilleFamily's
Father's Day content.
---
MARC BOSTON is a husband, father of three daughters and the author of The Girl Who Carried Too Much Stuff, Dad is Acting Strange, and A Promise to Grow. Find out more about him at marcboston.com.
---
YOU MIGHT LIKE


CharlottesvilleFamily.com, a collection of local resources including a popular calendar of events, family services guides and features on education, health and family day trips for parents and teachers in Charlottesville, as well as the CharlottesvilleWelcomeBook.com a guide to resources for Charlottesville tourists and newcomers. Ivy Life & Style Media also creates other projects including Wine & Country which celebrates elevated living in Virginia Wine Country. Wine & Country Life, a semi-annual life & style magazine, and Wine & Country Weddings, an annual art book celebrating elegant Virginia weddings, are complemented by the Wine & Country Shop in Ivy, VA—a beautiful lifestyle boutique that brings the pages of the magazines to life. The Shop features over 40 Virginia artisans with everything from tailgating essentials and Dubarry attire to locally made foods and award-winning Virginia wines and craft beverages for your next event. Wine & Country covers the grape-growing foothills of the Blue Ridge Mountains from Lynchburg to Leesburg, including points in between like Charlottesville and Middleburg.