EXPERT ADVICE FROM LOCAL DESIGNERS
When planning a kitchen remodel, it's undoubtedly crucial to consider functionality, but increasingly remodelers are concentrating on comfort, too. Not only a place to prepare food, the kitchen also serves as a place for families to relax and bond over meals — or while preparing those meals together. In 2023, creating comfortable (yet still stylish) kitchens is a top priority.
"We're seeing a lot of requests for kitchens that serve as a place not just for cooking, but as a space for families and friends to gather and spend time together," said Cristin Morgan of u-fab interiors. Morgan and her team members at u-fab, the stylish retailer located in both Charlottesville and Richmond, have some suggestions for making your kitchen one of the coziest spots in the house.
Family Kitchen Remodel Seating Ideas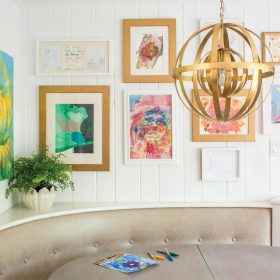 Built-in benches and banquettes for seating are trending. Morgan says that benches and banquettes are trending thanks to both their customizability and comfort. In terms of customization, this style of seating can be created to perfectly fit into any space and the design can be crafted to match existing decor which makes it an ideal upgrade that doesn't require an entire remodel. As for comfort, both styles of seating can be created with comfortable cushions and backs. Added bonus: storage can be built into benches and banquettes, making organization easier in the kitchen.
Benches and banquettes can also be made to exact height and depth requirements and can feature customized cushions, making it easier to create seating that works for the littlest members, too, whether they're dining or helping with food prep. Kelsey Spicer, store manager and Design Consultant at u-fab's Richmond store has one caveat, though. "Builders don't always take into consideration the cushion height and depth when building out the frame. Typically you want the finished product to have an 18-inch seat height. If the piece is built to be 18 inches, you'll be limited in your choice of cushion/seat thickness. The same goes for the back cushion," she said.
Design Consultant Katie Fulton at u-fab's Richmond store says that it's possible to simplify the process of installing benches and banquettes, not involving a builder. "We have custom order benches and banquettes that don't require a contractor to build a frame, and can still be customized using the same fabrics we use for custom built-in projects," Fulton said.
Upholstery is having its time in the spotlight. Ana Conceicao, u-fab Design Consultant in Richmond, says there has been an uptick in the demand for upholstered furniture in the form of swivel chairs, club chairs, and ottomans. Performance fabrics are particularly popular with kitchen remodelers, thanks to the fact that they are durable, stain-resistant, easy to clean, fade-resistant, and breathable. "They offer practical benefits that make them perfectly suited for a busy and functional kitchen environment," said Spicer.
Family Kitchen Remodel Color Trends
Color is key. Over the last several years the popularity of the modern farmhouse-style kitchen drove remodelers to design their kitchens using neutral colors. Current kitchen, trends, however, are leaning toward bolder color, and the introduction of patterns and textures. "White and grey are seeing their way out and being replaced by lots of color and dark, moody spaces," said Conceicao.
Not only are darker colored appliances, cabinets, floors, and furniture stylish, they're functional, too, masking fingerprints or minor damage to surfaces. In addition, introducing runners and rugs is another way to add visual interest that's practical as well. "Durable runners in the kitchen and rugs with color and pattern under tables to cover any spills are always a great choice," said Fulton.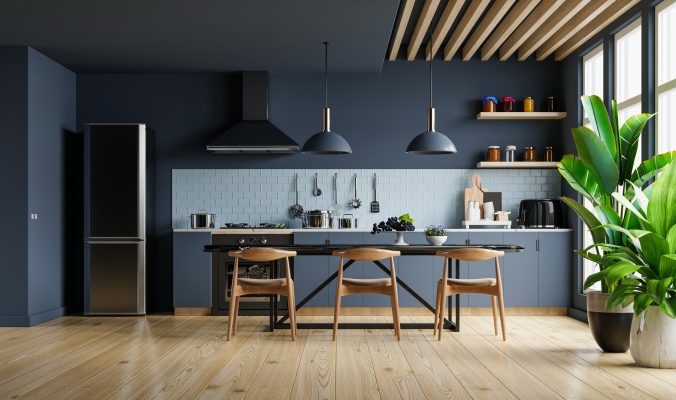 Family Kitchen Remodel Window Ideas
​For those concerned about a kitchen space being too dark, finding ways to introduce natural light into the kitchen can help balance the overall feel of the space.
Just the right amount of natural light is as important to crafting a meal as it is to creating a comfortable ambiance. Window treatments are the key to controlling the light as well as adding to the aesthetics of the room. "Lots of our customers are choosing to refresh their window treatments as a way to make a big impact. The more popular styles we've seen recently are cordless or motorized Roman shades, and we've noticed that more people are choosing to bring color, pattern, and soft textures in with the fabric, adding softness to the space," said Fulton.
Incorporate one or all of these trends into your remodeling project to instantly update the overall space. Just a few minor changes can vastly improve functionality, as well as save time when it comes to cleaning, while making the kitchen an inviting place to gather. It may just elevate the room to everyone's favorite space in your home. "[The kitchen] really is the central place of the home, and as such it is becoming a more comfortable place," said Conceicao.
For even more home and garden tips, ideas, and local expert advice, see the Food & Home section of our site.
---
JENNIFER WALDERA is an award-winning freelance writer published in numerous print and digital publications. When she's not crafting creative content, Jennifer can be found exploring new spots, indulging in some quality time with a new novel or magazine, or streaming shows about food, drinks, and travel.
---


CharlottesvilleFamily.com, a collection of local resources including a popular calendar of events, family services guides and features on education, health and family day trips for parents and teachers in Charlottesville, as well as the CharlottesvilleWelcomeBook.com a guide to resources for Charlottesville tourists and newcomers. Ivy Life & Style Media also creates other projects including Wine & Country which celebrates elevated living in Virginia Wine Country. Wine & Country Life, a semi-annual life & style magazine, and Wine & Country Weddings, an annual art book celebrating elegant Virginia weddings, are complemented by the Wine & Country Shop in Ivy, VA—a beautiful lifestyle boutique that brings the pages of the magazines to life. The Shop features over 40 Virginia artisans with everything from tailgating essentials and Dubarry attire to locally made foods and award-winning Virginia wines and craft beverages for your next event. Wine & Country covers the grape-growing foothills of the Blue Ridge Mountains from Lynchburg to Leesburg, including points in between like Charlottesville and Middleburg.